Culture news
Best in show
11.09.2004 14:32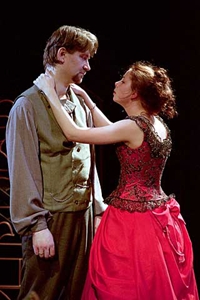 The St.Petersburg Times
By Olga Kalashnikova
Special to The St. Petersburg Times
St. Petersburg's Molodyozhny Theater is in line for a top arts prize for its production of "Lyubovniye Kruzheva" ("Love Lace"), to be announced Nov. 15.
The Molodyozhny Theater has been nominated in the literature and arts category for one of five prizes awarded by the government under new nominating rules for achievements in science and culture.
The nomination is a proud achievement for the theater's director Semyon Spivak, who celebrated 15 years at the Molodyozhny last weekend. The prize is worth 5 million rubles ($15,000), part of the 25 million ruble-fund established for the prizes this year.
"Love Lace," directed by Spivak and Mikhail Chernyak, is an updated version of Alexander Ostrovsky's 19th century classic "Belugin's Marriage." In their version, the directors seek to move on from the broad social comedy of Ostrovsky's world full of evil merchants and acquisitive maids.
"When we hear 'Ostrovsky,' we say: everything is clear, but in this play nothing is clear. Everything is difficult," says actor Leonid Osokin, who plays merchant Andrei Belugin in "Love Lace."
The production, though set against a 19th century Moscow backdrop, aims to show that the human motives contained in the play - greed, love, forgiveness - are just as relevant in 21st century Russia.
"Ostrovsky accurately noticed that there is such a feeling as sincere love in our lives and anyone can encounter it," says Spivak. "When a person falls in love, he doesn't see anything, he concentrates on the object of his love, and this object can easily manipulate him. I think it's a very interesting theme because the contemporary world manipulates people. It's a very dangerous thing."
The play had been in production for many months when, a week before the first night, Spivak decided to move away from a classical interpretation of the piece.
Lead actor Roman Ageyev was replaced by Osokin from the company of St. Petersburg's Theater on Liteiny.
"This role is important because in it Spivak discovered another side of me. I've worked in the theater for more than 10 years but [till now] I didn't think I could act like this, " said Osokin.
News source: times.spb.ru


Print this news
---
Culture news archive for 09 November' 2004.
Culture news archive for November' 2004.
Culture news archive for 2004 year.