Culture news
Unique record of war goes back to Russia with love
11.16.2004 14:11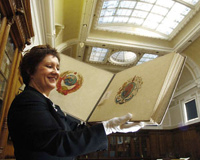 Evening Times
A moving album sent to women in the west of Scotland by starving families during the siege of Leningrad is to go back to Russia for the first time.
It was created after German tanks cut off the last overland link between the historic Russian city and the outside world in 1941.
More than 2.5million citizens, most of them women and children, were trapped.
Food supplies ran out during the 900-day stand-off and survivors were forced to eat the last horses, dogs and rats in the city.
Women of Airdrie and Coatbridge were so touched by their plight that they sent a book containing 5000 messages of support to the women of Leningrad.
In return they received what became known as the Leningrad Album, which has watercolours and prints contributed by Russian artists on each page.
They depict the palaces, canals and statues of their city before the German attack.
There are also more than 3000 messages, some written in English, by distinguished women scientists, scholars, artists, musicians and ballet dancers.
A message on the first page reads: "We have been moved to the depths of our soul by the words of love and greeting from those distanced from us in far off Scotland.
"Our husbands and brothers are cut off from us, our homes are in danger, our children are doomed to destruction or bondage.
"The women of Airdrie and Coatbridge have risen to the defence of their homes. We are proud we have such a worthy ally as the people of Great Britain."
Since 1943 the album has been kept under lock and key in Glasgow's Mitchell Library and only taken out on specific occasions.
But now it is to take centre stage at an exhibition in the State Museum of the History of St Petersburg - formerly Leningrad - to celebrate the 60th anniversary of the Allied victory in World War II.
It will be displayed next to the album sent by the Scots.
Karen Cunningham, head of Glasgow libraries, said: "It is a wonderful story which is incredibly moving.
"During the siege the women of Coatbridge and Airdrie managed to get messages of support through to the women of Leningrad.
"Despite incredible deprivation and suffering, and being under constant bombardment from artillery, the women of Leningrad responded with an album thanking the Scots for their support.
"We have now been asked by the museum in St Petersburg if we can take the album across to have it displayed.
"The remaining siege survivors will be brought together to see the Leningrad album and the Scottish album together for the first time. The album is one of our real treasures."
News source: eveningtimes.co.uk


Print this news
---
Culture news archive for 16 November' 2004.
Culture news archive for November' 2004.
Culture news archive for 2004 year.