Culture news
Unsung inspiration
11.18.2004 13:50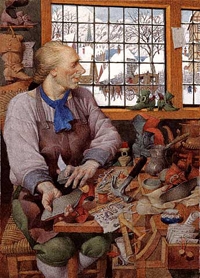 The St.Petersburg Times
By Caroline McGregor
Staff Writer
Photo for SPT
Gennady Spirin's name does not appear on the cover of Madonna's most recent storybook for children, though it's as much his work as hers.
Spirin, a Russian-born artist who lives in New Jersey, illustrated scenes of Eastern Europe of the 1600s to accompany the pop star's book, "Yakov and the Seven Thieves," but his name appears only on the title page.
In a recent telephone interview, he described researching 17th century architecture, clothing and furniture to capture the time and place Madonna wanted.
"Yakov and the Seven Thieves" is about a cobbler, Yakov, and his wife, Olga, who seek a cure for their very ill son, named Mikhail. "They seek advice from a wise old man, who enlists the help of seven thieves and proves that miracles can occur if we do good deeds," the book's official summary reads.
Madonna, who was born Catholic, has publicly embraced the Kabbalah, the ancient tradition of Jewish mystical wisdom that has enjoyed a New Age revival of late. In connection with this, Madonna, now a mother of two, has said she wants to go by the name Esther.
Her previous two books, "The English Roses" and "Mr. Peabody's Apples," are also morality tales. A total of five books are planned. A fourth, "The Adventures of Abdi," is due this fall. So far, she has collaborated with a different artist on each book.
Reviews for "Yakov and the Seven Thieves," were mixed when it was released in the United States in June by Viking, though Spirin's drawings were widely praised.
The Russian version, "Yakov i Semero Vorishek," was released Aug. 16 by the publisher Eksmo and is selling for 150 rubles (about $5).
A New York Times reviewer in 1998 compared Spirin's style to that of Renaissance artists like Raphael for his combination of rich colors and fine detail. Spirin says his art is also rooted in Russian traditions, including the art of the Orthodox church.
Spirin, 55, was born in the town of Orekhovo-Zuyevo, near Moscow, and studied at the Surikov School of Fine Art, opposite the Tretyakov Gallery. He moved to the United States in 1991, on the invitation of picture book publishers, Dial Books and Philomel, both of which are now imprints of Penguin Books.
"I didn't flee anywhere; I didn't emigrate. I was invited for work and have worked ever since," he said, adding that he settled in Princeton, New Jersey, because his editor lived in the town.
The Russian-speaking community in the sleepy, elite college town is tiny, he said, though he has friends among fellow artists who are American. A Russian friend named Tanya had a gallery in Princeton, where he showed his work, but rising rents forced it to close.
"I have my kids, so the Motherland is always with me," he said.
He has three sons, aged 28, 20 and 12. The eldest, Ilya, is following in his footsteps as an illustrator.
These days, Spirin's art is available for sale only through the Storyopolis gallery in Los Angeles, he said. Listings at Storyopolis.com show that his work goes for anywhere from $6,000 to $20,000.
In 1997, the Saks Fifth Avenue department store recruited him to design their Nutcracker-themed holiday window display in New York after seeing his illustrations for the E.T.A. Hoffman fairy tale.
Spirin said that he thinks Madonna herself handpicked him to illustrate "Yakov and the Seven Thieves" because "her team can't handle anything without her, not even the smallest detail," he said.
He admits it is a guess, since he never spoke with the pop star. "I never needed to," he said.
He did send her a letter once. "I wrote to her to explain why certain details needed to be done my way and not the way she suggested," he said. He composed the letter in Russian and had it translated and sent.
His contact was with the publisher and through a translator. Despite having lived in the United States for more than 10 years, he said he does not speak English.
He said his lawyer in New York helps him negotiate contracts and sometimes doubles as his translator.
Numbers are not his thing. He said he did not know which of his 33 books has been the most popular. "I don't know about sales. All I know is I have no money," he said.
The contract with Madonna paid better than his previous projects, he said.
"I get practically no royalties. It's frighteningly unfair," said Spirin, who describes himself as a practicing Russian Orthodox Christian.
"I'm waiting for the Lord to get angry with them and they give me at least a little bit," he said with a chuckle that clashed with his mildly bitter tone.
It is not that Spirin has not found professional success. He won four gold medals from the Society of Illustrators, a group of his peers, for four books, including "The Tale of Tsar Saltan," based on the story by Alexander Pushkin.
Four others have been named best-illustrated book of the year by The New York Times. His illustrations for "Kashtanka," based on a short story about a dog by Anton Chekhov, won an international prize in 1994 in Spain. The original watercolor illustrations - he only paints in watercolor - now hang in a Barcelona museum.
Spirin had an exhibit at the Russian Consulate in New York. But he has never shown his work in Moscow, and he has never returned.
His friends here keep telling him to come visit, but work has always gotten in the way, he said. His current project is an alphabet book.
"It's not that I don't want to, but I just never have had enough time," he said.
"To go for a week is too short. You see two friends and leave. And a month is too long for work. Publishers also have limited time schedules."
News source: times.spb.ru


Print this news
---
Culture news archive for 18 November' 2004.
Culture news archive for November' 2004.
Culture news archive for 2004 year.