Culture news
Rising stars Jury president Vladimir Atlantov (c) announces winners at the Mariinsky Theater.
11.23.2004 13:53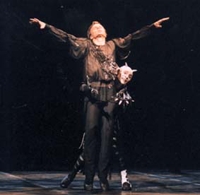 The St Petersburg Times
By Galina Stolyarova
Staff Writer
The sixteen finalists of The Sixth International Rimsky-Korsakov competition for young opera singers, which concluded last weekend, are set to fill their diaries with international engagements, and very soon.
Belorussian counter-tenor Yury Minenko, a finalist, is being seriously considered for the role of Ziebel in a forthcoming staging of Gounoud's "Faust" at the Vienna State Opera, Ioan Holender, the company's director and a member of the contest's jury, said.
"Usually the role is sung by a mezzo-soprano, so inviting a counter-tenor would be a departure from tradition. But it is not impossible, and the singer is definitely worth a look," Holender said. "Minenko demonstrated a rare beautiful timbre, a captivating stage presence and strong technique. He was born to perform baroque music."
Holender also praised soprano Olga Shurshina of the Mariinsky Academy for Young Singers, who took the first prize, but said he can't immediately think of a role for her.
The festival's international element has increased year after year. This year the jury featured Vienna State Opera director Holender, director of Askonas Holt international artist management agency Mark Hildrew, Bulgarian soprano Ghena Dimitrova and Estonian bass Matti Palm.
The internationally known tenor and St. Petersburg native, Vladimir Atlantov, who was awarded the title of Kammerzinger of the Vienna State Opera in 1987 and now lives in Austria, was the president of the jury.
Over 150 participants from Russia, Lithuania, Armenia, Germany, Norway, Finland, Japan, China, New Zealand, Israel, Poland, Kazakhstan, Belarus, Estonia and Ukraine competed for prizes at this year's event.
In line with the contest's name, the lion's share of the program is devoted to Russian music and Rimsky-Korsakov's ouvre in particular, but the contestants are also required to perform Italian, French and German pieces.
"It is as easy for foreign participants to perform the Russian repertoire as it is for Russians to sing German, Italian and French arias," Atlantov said. In his opinion, the festival is gaining greater recongition abroad thanks to its reputation as a springboard for new talents.
"Young singers see who emerged [from this event] and got noticed ... they want to get noticed too," Atlantov said. "Amending the program, trying to placate foreign participants and make it easier for them would make no sense. The competition's name is the best promotion it can get, better than any bending-over-backwards would be."
Hildrew said his agency is not ready to offer an immediate contract to this year's winners but added that engagements are only a matter of time.
"They are very young - still in their early 20s," Hildrew said. "I have been representing [world famous baritone] Dmitry Khvorostovsky for fifteen years, but he was 28 years old when I started working with him."
The Askonas Holt agency already represents a number of Mariinsky singers who first showed promise in previous Rimsky-Korsakov contests, including soprano Anna Netrebko, bass Yevgeny Nikitin, mezzo-soprano Yekaterina Semenchuk, tenor Daniil Shtoda and baritone Vassily Gerello.
In Atlantov's opinion, the participants' young age is an advantage.
"Performers start their careers much earlier these days," he said. "It used to be that singers would graduate from a conservatory and get their first roles around the age of 30, but now you see 23- and 24-year olds doing brilliantly. Not only do they possess the necessary skills but they bring youthful vigor to their interpretations of characters." Dimitrova, who pointed out before the competition that she will be looking for "big voices," has noticed several talented mezzo-sopranos, and is planning a trip back to St. Petersburg to give them a series of master classes.
"I have encountered some beautiful voices," she said, "but they need to be taught how to breathe properly and definitely work on their Italian vowels which sound very Russian."
News source: times.spb.ru


Print this news
---
Culture news archive for 23 November' 2004.
Culture news archive for November' 2004.
Culture news archive for 2004 year.