Culture news
Mariinka Opens New Season
01.12.2005 14:36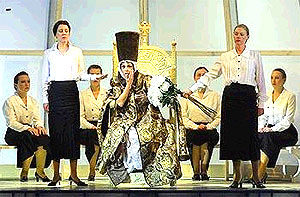 Talking to RIA Novosti, people at the Mariinka theater's press center noted that this was a joint production involving the theater and Holland's Diaghilev Festival Foundation. The new stage version of this opera was first performed December 10 in Groningen, Holland.
Yury Alexandrov directed this production, what with Zinovy Margolin acting as decorator. For his own part, art director Valery Gergiyev supervised all music scores, conducting the orchestra, as well.
"Tsar's Bride" was first performed October 22, 1899 at Mamontov's private opera house in Moscow.
This is one of the most legendary operas in the Mariinka theater's repertoire. Its premiere was held October 30, 1901, with Eduard Napravnik acting as conductor. The theater then performed "Tsar's Bride" two more times, that is, in 1924 and 1966, press-center officials noted.
Rimsky-Korsakov is one of those Russian composers, whose works are represented to the greatest possible extent in the theater's repertoire, they added.
"Tsar's Bride" is one of Rimsky-Korsakov's two opera premieres, due to be held at the Mariinka theater in the current season. The theater would be expected to stage its "Tale Of Tsar Saltan" for the second time next March, press-center people stressed.
Nikolai Rimsky-Korsakov's basic biography follows below.
Nikolai Rimsky-Korsakov (1844-1908) was a Russian composer, professor, musician, public figure and orchestra conductor. In 1861 Rimsky-Korsakov joined the so-called Moguchaya Kuchka (Mighty Five) circle headed by Balakirev. That group decisively influenced Rimsky-Korsakov's personality and esthetic tastes. He worked rather intensively in the late 1890s, writing such operas as "Sadko" (1896) and "Tsar's Bride" (1898).
Rimsky-Korsakov's extremely unique creative work relies on classic traditions all the same. His harmonious world outlook, clear-cut musical vision and subtle artistic virtues bear a resemblance to those of Mikhail Glinka. Rimsky-Korsakov, who was linked with progressive ideological-artistic movements of the 1860s, showed considerable interest toward folk art. He was really fascinated with folk art, ancient Slavic mythology and popular rites. All this was reflected in Rimsky-Korsakov's operas "May Night" (1879), "Snow White" (1881), "Mlada" (1890) and "The Night Before Christmas" (1895). His 15 operas highlight diverse genres, as well as stylistic, dramatic-art and composition-related solutions. Rimsky-Korsakov's talents were displayed most vividly in his fairy-tale operas that have something to do with those diverse forms of Russian folk art. The composer focused on the mentality of human beings, unraveling their image with the help of subtle psychological methods. All this was embodied in his "Tsar's Bride" true-story opera (1899), which deals with an episode of Russian history.
And here is what director Yury Alexandrov has to say about this opera. "Tsar's Bride" provides an insight into the problems of Russian people, Alexandrov believes. In his opinion, Russians are renowned for their unbridled passions, sentimental nature, nobleness, generosity and cruelty. Rimsky-Korsakov's opera highlights all aspects of our national mentality, that is, the harmonious coexistence of contradictory sentiments, Alexandrov stressed. The subject of love is also quite important, he added. Any person always displays love, which sometimes takes on ugly forms. Lyubasha, who is a loving, wonderful and strong woman, becomes a murderess, treading upon human morals and selling her soul to the devil. For his own part, Gryaznoi becomes a sufferer. He acts as his own executioner; and we can speculate that nothing can be more terrible than this execution. Therefore all aspects of Rimsky-Korsakov's opera boil down to the human factor, Alexandrov said in conclusion.
News source: www.en.rian.ru


Print this news
---
Culture news archive for 12 January' 2005.
Culture news archive for January' 2005.
Culture news archive for 2005 year.