Culture news
Cruise control
03.19.2005 18:20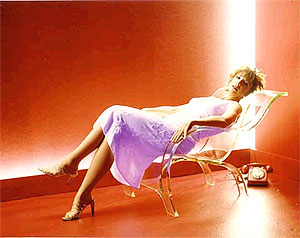 Julee Cruise, who first came to fame as an ethereal-voiced roadhouse singer in the television series "Twin Peaks," seems always to have been open to new ideas. A theater and movie personality, solo vocalist, and one-time member of the B-52's, she first toured Russia in 2001 as part of a trio with New York dance artists Khan and Kid Congo Powers.
Cruise returns to St. Petersburg this week with a full rock band to promote her most recent work, a collaboration with the German band Pluramon, which was hailed by The Wire as "just about the best avant-pop/noise record to emerge from the independent sector since My Bloody Valentine's 'Isn't Anything.'"
According to Cruise, who spoke to The St. Petersburg Times by telephone from her New York home, the concert will be based mostly on Pluramon's 2003 album "Dreams Top Rock," with a few new songs.
But the diva will not hesitate to perform the David Lynch/Angelo Badalamenti songs that brought her fame in the first place.
"We're doing old vintage Julee Cruise from 'Twin Peaks' days because I think our fans will like that, and they always go crazy when they hear it," she said.
"People like familiarity, especially in Russia it's embraced, and my St. Petersburg and Moscow audiences have always been so warm and so kind."
"Twin Peaks" is almost always mentioned in articles written about Cruise. She sang the theme song "Falling" in the 1990 TV series directed by David Lynch, who also co-wrote the song with Angelo Badalamenti.
"It's an honor to be related to such a ground-breaking television series," she said.
"I don't regret it for a minute, I think it was God looking down on me, and it was just by chance that it happened."
Cruise first worked with Lynch on his film "Blue Velvet" in 1985; she was a talent scout for Badalamenti at the time, and eventually contributed the song "Mysteries of Love" to the film's soundtrack.
"David didn't know me then, only Angelo Badalamenti, with whom I worked on a Broadway musical, and I was belting. I have a big voice with a large range. And he called me four years later and said, 'Would you do this children's album?' It was for a magazine. And I said, 'OK.'
"So I did it and then a year later he called and said, 'I have a project from a very strange man, David Lynch. He's doing a movie called 'Blue Velvet,' and I really could use your help finding a singer.' So we tried a rock singer, a soul singer, a folk singer, you know, all these singers.
"And I brought him all these people, and he didn't like any of them. It didn't go with the music, and I said, 'Let me try it.' So I gave an angelic interpretation, and he, you know, followed me and I followed him, and then David loved it."
Her work for "Blue Velvet" resulted in a record contract with Warner Bros. and her debut album "Floating Into the Night" followed in 1990.
"I got the call from Warner Bros. and they said, 'Do you want a record deal?' I had a career in theater and television. I never wanted to be in the record business. I still don't really fit in," she said.
"I always arrive on time, I'm not a rock star, you know. I am sort of out-of-sync, I don't go to clubs, I'm not hip, you know. I'm just interested in my art."
However, Cruise's involvement with pop music went even further: she actually joined a rock band. She replaced B-52's founding member Cindy Wilson on a tour through North and South America and Europe, including a featured performance at former U.S. president Bill Clinton's first inauguration.
"It was like being asked to [join] The Beatles, you know. I was so excited and so happy, and it was the happiest tour of my life.
"And now they just do industrials and billionaires' birthday parties, and they enjoy their lives. They've been on the road for 20 years, and, you know, they deserve their life."
Cruise teamed up with Badalamenti and Lynch again on her second album, "The Voice Of Love," in 1993. But it was only after a nine-year hiatus that she released her next solo album, "The Art of Being a Girl," in 2002.
"I've done everything from collaborating with Moby, Delirium, Hybrid, the B52's, everyone, and I have a very versatile voice and versatile music background. I'm lucky I can blend into that," she said.
"And I am very lucky that I've created the style that young women like Portishead and other people have duplicated, and that to me is the greatest compliment."
"'The Art of Being a Girl' is something that I wanted to do myself, it has a lot of humor, and it has a lot of sad moments in it. It's me, and I wanted that to be all about me and my experiences."
She met Pluramon's Marcus Schmickler through her friend and collaborator Khan, who gave her the German act's CD to listen to. "I heard interesting, more innovative work, and when we got to the studio, I realized that he was a classically trained musician - as I am," said Cruise, who holds a degree in french horn from Drake University .
"So it was grueling because we both have perfect ears. But I really think Marcus Schmickler put a brilliant album together with ethereal vocals combined with rock."
Cruise said she was "amazed" when she visited St. Petersburg in 2001.
"Oh, I was absolutely amazed at how hip everyone is, and how progressive, you know, the music scene is, the art scene is, and how everything is like a brand new city! It's not like New York in that it's not as diversified as much. But it's getting there, there's really a lot of cool things happening now. And people are hungry for art and for music. They're just ahead of their time. They are ahead of the United States, I think."
Julee Cruise and Pluramon will perform at Platforma at 9 p.m. on Saturday. www.juleecruise.net, www.pluramon.com
News source: www.times.spb.ru


Print this news
---
Culture news archive for 19 March' 2005.
Culture news archive for March' 2005.
Culture news archive for 2005 year.