Culture news
American spirit
07.08.2005 13:19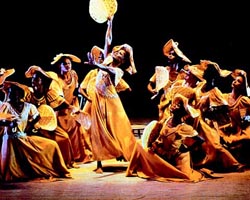 The Alvin Ailey American Dance Theater, a legendary U.S. modern dance troupe, performs at the Mariinsky Theater as part of the Stars of The White Nights Festival this weekend, making its third trip to Russia.
Headed by former dancer Judith Jamison, the company will be performing "Revelations," Ailey's classic masterpiece from 1960, which originally brought the groundbreaking choreographer international fame.
Based on African-American spirituals and gospel music, this work is frequently described as the most popular ballet created in the twentieth century.
The troupe will also dance two recent works created in 2004, Jamison's hip-hop "Love Stories" and David Parsons' "Shining Star", set to music of '70s funksters Earth, Wind & Fire, among other works.
"Russian audiences accepted us very warmly during the previous visits, and we are thrilled to perform here again," Jamison, the company's artistic director, said.
"We are delighted to be able to share the immense artistic potential, incredible drive and the best of Alvin Ailey's choreographic legacy with the audiences of this prestigious cultural forum."
The troupe was formed in New York in the 1950s by the late Ailey and quickly established itself as a leading exponent of progressive choreography and contemporary dance.
Ailey was born in Texas in 1931 to a poor family of humble origins, and was abandoned by his father three months after his birth. Ailey's passion for modern dance began with a high school class trip to the Ballet Russe de Monte Carlo. Performances of the highly acclaimed troupe, featuring Russian dancers brought up in the St. Petersburg classical ballet tradition, inspired the teenage boy to start taking dance classes.
The start of Ailey's professional career in ballet is associated with choreographer and dancer Lester Horton, the founder of the first racially integrated dance company in the United States.
After Horton's death in 1953, Ailey succeeded him as the director of the Lester Horton Dance Theater and it was then that he first tried his hand at choreographing his own ballets.
In 1954, he was invited to New York to dance in the Broadway show, House of Flowers by Truman Capote. In New York, he eagerly absorbed technique and style from a number of outstanding dancers such as Martha Graham, Doris Humphrey and Charles Weidman, while also taking acting classes with Stella Adler. The versatile Ailey won a number of acting roles, continued to choreograph and to perform as a dancer.
In 1958, Ailey founded his own company dedicated to the preservation and enrichment of the American modern dance heritage and the uniqueness of black cultural expression. "Revelations," was an early success based on the religious heritage of Ailey's youth.
As a dancer, Ailey gained fame and attention for the sensuality of his style and his distinct sexual charisma, described as "like a young lion."
But he won international recognition and critical attention mainly as a choreographer. Ailey's choreographic legacy features around 80 ballets, with most of them designed for, or eventually appearing in repertoires of major international dance companies across the globe, including American Ballet Theatre, The Joffrey Ballet, Dance Theatre of Harlem, Paris Opera Ballet and La Scala Ballet.
Ailey received critical attention for helping to lessen the gap and encourage understanding between modern dance enthusiasts and the general public in the U.S. and abroad. In his works, Ailey attempted to reach out to mass audiences by incorporating classical ballet elements in modern dance and juxtaposing jazz, primitive and contemporary forms.
As well as being a durable part of African-American culture, the Alvin Ailey American Dance Theater has, since its earliest days, been a cultural ambassador for the U.S. In its 46-year history the company has performed before an estimated 15 million people in 48 states and 45 countries, including performances in the U.S.S.R. in 1970 and 1990.
The company features thirty talented performers from all over the globe, with many of them graduating directly from the Alvin Ailey Dance School.
Earlier this year the troupe moved into a purpose-built $54 million building in Manhattan which is now the largest facility dedicated to dance in the U.S.
When Ailey died in 1989, the ballet critic of The New York Times, Anna Kisselgoff, wrote in an obituary that the audiences "didn't need to have known Ailey personally to have been touched by his humanity, enthusiasm and exuberance and his courageous stand for multiracial brotherhood."
See listings for details.
www.mariinsky.ru, www.alvinailey.org
News source: sptimes.ru


Print this news
---
Culture news archive for 08 July' 2005.
Culture news archive for July' 2005.
Culture news archive for 2005 year.