Culture news
Funky fortress
07.15.2005 12:55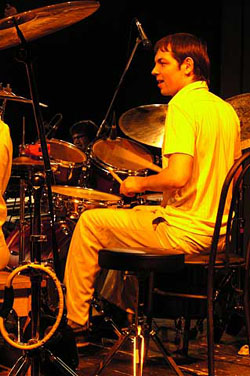 If Nevsky Prospekt is the spine of St. Petersburg, the Peter and Paul Fortress (Petropavloskaya krepost) is its beating heart. That will be more evident than ever this week when the fortress plays host to the Third International Peter and Paul Jazz Festival, a Bastille Day concert and even a sand sculpture competition.
The fortress mirrors the city built around it in its sometimes gruesome past and now wildly eclectic present. Within its thankfully now defunct bastions and fortified walls lies a motley collection of museums and the magnificent cathedral where the Romanovs are buried. Outside the walls on the shores of Zayachy Ostrov there are grassy lawns and, famously, an urban beach that was there long before the French decided to pile sand on the banks of the Seine to entertain city-bound Parisians in the summer. The beach is the focus for this weekend's events, with the Fourth International Sand Sculpture Festival running Monday through Thursday.
The jazz festival runs Friday through Sunday and features some of the world's most acclaimed jazz musicians including U.S. bass guitarist Marcus Miller and his Marcus Miller Band, drummer Dave Weckl and vocalist Mark Murphy who will perform with local jazz pianist, Andrei Kondakov, the musical director of the festival.
Befitting the fortress' 19th century role as the "Russian Bastille" where political prisoners opposed to Tsarist oppression were locked up without mercy, it has also been decided to hold Bastille Day celebrations at the fortress.
Bastille Day, the French national holiday, actually fell on Thursday and celebrations at the fortress Friday coincide with the opening of the jazz festival (see page x).
The event, organized by the French Institute on the beach of the fortress, kicks off at 9.30 p.m. and, in true White Nights style, continues until 3 a.m. The jazz festival will meanwhile open in the newly renovated Atrium performance space in the Commandant's House inside the fortress.
"This change is not going to affect anything: we have the same set of musicians, and everyone who wants to attend the performance will be able to do so," the festival's general director Innokenty Volkomorov said, adding that the concerts on Saturday and Sunday will take place at the usual spot on the beach.
Moscow bassist Alexander Rostotsky and guitarist Pavel Chekmakovsky kick off the festival at its gala opening at 7 p.m. with what is promised on the festival web site as "a new ethno fusion project." Later U.S. saxophonist Jesse Jones will perform for a V.I.P. audience.
A key theme of this year's festival is the introduction of "surprise" guests into familiar lineups. For example, the Lithuanian-Russian-German combo the Vysniauskas-Volkov-Kugel Trio will perform with St. Petersburg trumpeter Vyacheslav Gaivoronsky.
"In a collaborative project masterminded by Andrei Kondakov and Dmitry Kolesnik, these two will be joined by New York luminaries, resident musicians of the famed Smoke jazz club, sax player Eric Alexander and trumpeter Jim Rotondi, as well as the Moscow/
St. Petersburg drummer Alexander Mashin," organizers write on the web site. "Paris-based vocalist, Afro-Greek diva Elisabeth Kontomanou, will regale the festival with her elegiac singing."
Dutch veteran guitarist Jan Akkerman is scheduled to appear on Saturday.
The festival has established a partnership with one of the best known and well established events on the international jazz calendar, the North Sea Jazz Festival in the Hague in the Netherlands. Some of the biggest names in this year's event were contacted through this inter-festival link.
"For the first time we are having the big names here as opposed to last year and the year before when the festival started," said jazz singer and DJ Jennifer Davis, a member of the St. Petersburg Ska-Jazz Review, which is also appearing this year. "It is definitely a huge step forward. This is much more of a real international jazz event."
If successful, the festival will soon attract even more famous names and may even evolve into something more diverse, Davis believes.
"If you look at international jazz festivals happening right now - the popular and successful ones like that in Montreux, Switzerland - then you see that 50 or even 70 percent of the music is not actually traditional jazz," Davis said.
Miller is undoubtedly this year's main draw at the festival.
"No stranger to out-of-body experiences, the highly chameleonic and influential Miller has played an integral role in the careers of no less than Miles Davis, Luther Vandross, David Sanborn and many other legendary artists," reads the festival's web site.
"Jazz has no preordained boundaries; I, for one, am unable to dwell entirely within the bounds of any single music philosophy, and that's exactly what advances my sense of musical harmony and helps me, as a performer, to remain my own self," the musician has said.
Volkomorov, general director of the festival, explained that arranging Miller to perform in St. Petersburg was bedeviled by a unhappy mishap.
Along with many of the foreign guests of this year's festival, Miller was approached through the organizers of the North Sea Festival. His agent, who single-handedly prepared Miller's European tour, died about a month ago, leaving nothing written down, which left the tour's logistics to collapse, Volkomorov said.
"The man had everything in his head, and with his sudden death the tour was at risk of being canceled," Lukomorov said, adding that almost a quarter of the concerts had to be struck off the list.
But Miller himself emphasized to organizers that his St. Petersburg performance was a high priority, Volkomorov said. "He hasn't been to Russia yet and told us he is very willing to present his new CD here," he added.
The three-day festival will feature St. Petersburg and Russian jazz acts in the afternoon such as Dmitry Serebrov's and Vadim Lebedev's Bossa Nova CCCP, Moscow's Pyotr Ivshin with the SPb Funk Alliance, Daniil Prokopiev's DP Band, Fun2Mass, the Alexander Berenson Quintet, Irina Zubareva and Yulia Bamm with their group Silk Stocking Jazz. Classic jazz is boosted by a bit of ska on Sunday when club act St. Petersburg Ska-Jazz Review takes to the festival stage.
A novel idea has been borrowed from popular jazz festivals in Europe at this year's festival: its own currency. Festival goers will convert rubles to "jazziks" (one jazzik is equal to 30 rubles) and throughout the event, everything from food and drink, to catalogues and CDs can only be purchased for jazziks.
The organizers say that this year they have paid particular attention to the food stalls so that festival-goers can choose from a wide range of national cuisines - "from sushi to tandoori."
"The important thing is to make it a well organized, comfortable and exciting event for everyone, where everything runs smoothly and things start on time, and people can enjoy a nice day outside," St. Petersburg Ska-Jazz Review's Davis said. "The location itself is a really wonderful, beautiful and inspiring place. It is nice to spend a day sitting on the beach of the Peter and Paul Fortress - even when there is no live music - but to be able to go there and relax sitting outside on a blanket and listen to good music is always a great pleasure."
Tatyana Pchelyanskaya, an art historian heading the marketing department of the fortress, said jazz events fit its 300-year-old walls best. Classical music sounds somewhat gloomy in its foreboding environs, while rock concerts, which used to be held at the site, were even banned by museum authorities after complaints from residents living nearby.
"The spectators made a lot of noise and left piles of garbage, while the jazz audiences are elegant and quiet," Pchelyanskaya said.
Additional reporting by Galina Stolyarova.
The Third International Peter & Paul Jazz Festival, Friday through Sunday at the Peter and Paul Fortress.
www.jazz-festival.spb.ru
News source: sptimes.ru


Print this news
---
Culture news archive for 15 July' 2005.
Culture news archive for July' 2005.
Culture news archive for 2005 year.