Culture news
Past perfect, present continuous
09.16.2005 14:21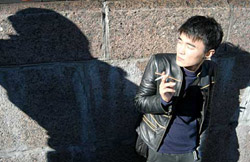 Now in its eighth year, the city's groundbreaking Early Music Festival returns this week. Every fall, vibrant performances of its refined ensembles evoke, embody and revive the long-lost noble spirit of St. Petersburg.
A relative newcomer on the festival calendar, the event, subtitled this year "The Extreme Edges of Baroque" kicks off on Tuesday with a concert by the flamboyant British ensemble "Red Priest."
Established in 1997 and named after prolific Venetian composer Antonio Vivaldi (1676-1741), who was a red-haired Catholic priest, the quartet has carefully cultivated its image as a group of "baroque punks."
The ensemble brings to St. Petersburg its "Nightmare in Venice" program, featuring Vivaldi's "Nightmare Concerto," Tartini's "Devil's Trill Sonata," Jacob van Eyck's "The English Nightingale", Jean-Marie Leclair's "Demon Airs and Simphonie" and Christophe Wilibald von Gluck's 'Dance of the Blessed Spirits."
Absurdist humour, innovative musical arrangements, whimsical dress sense and impeccable technique distinguish the ensemble. International media have described the group's style as "sonically supercharged," "electrifying," "deliciously twisted" and "immaculately forged."
"Mad, bad and delicously dangerous... whacky ideas, an impish sense of humor and astonishing virtuosity," reads a review in Gramophone in 2003.
The ensemble's leader Piers Adams has a reputation of one of the world's finest recorder players. The quartet also features violinist Julia Bishop, cellist Angela East and harpsichordist Howard Beach. The musicians almost always perform from memory.
Early music, embracing everything created between the medieval era through to early classicism, long remained a missing link in repertoires of Russian orchestras. The brainchild of local enhusiasts Marc de Mauny and Andrei Reshetin, the Early Music Festival was originally designed for a narrow circle of the initiated. But interest was instantly sparked, news traveled fast, and the event is now in full blossom.
During the nearly two weeks of the festival, which ends on Oct. 4 with a concert by the festival's own Catherine the Great Orchestra in Moscow, audiences will be treated to performances of Italy's Mala Punica, France's L'Arpeggiata, William Byrd and Alla Francesca, and Belgium's Ausonia. The Catherine the Great Orchestra was the first ensemble dedicated to performing early music and baroque works in contemporary Russia.
"The Extreme Edges of Baroque" will be explored simultaneously in three cities — St. Petersburg, Moscow and Nizhny Novgorod — with almost all guests traveling to all three places.
L'Arpeggiata and Alla Francesca have performed at the festival before. Founded in 1989 and led by flutist Pierre Hamon, "Alla Francesca" has the music of the 13th to 15th centuries as its main focus, and is connected with the Center for Medieval Music in Paris. The ensemble has a flexible membership varying from two to ten depending on the needs of the program.
Specializing in medieval music, Alla Francesca, a sensation during last year's festival, is bringing its instrumental program "Istanpitta" this year which introduces festive dance music from the Visconti court to the festival. The music comes from a surviving Italian manuscript of the late-14th century discovered and still kept in the British Museum in London. Very little medieval instrumental music has survived to the present day — which makes this chance to immerse oneself in the instrumental arts of the minstrels of the royal courts especially precious. The French ensemble appears in the Glinka Philharmonic on Sept. 28.
"Not all the pieces performed in Istanpitta come from the London manuscript," Hamon said in an introfductory note to the program. "We have decided to broaden it to achieve a mirror effect by incorporating some examples of folk Italian tunes from the same or later period. The program also features one of the most fascinating medieval tunes, 'Lamento di Tristano.'"
L'Arpeggiata, founded and led by Christina Pluhar since 2000, and focusing on improvisatory music of the 17th century, is presenting a much-praised program "All'Improviso" to make full use of its array of instruments, including voice, theorbo, baroque guitars, clarinet, percussion and double bass.
In this program, L'Arpeggiata is joined by jazz clarinettist Gianluigi Trovesi to juxtapose historical and modern improvisation techniques.
Despite the festival's impressive geographical expansion, the selection of local venues this year has slightly shrunk — being limited to Glinka Philharmonic Hall, the Sheremetev Palace, the Menshikov Palace, the Maltese Cappella of the Mariinsky Palace and Peterhof's Grand Palace.
Thankfully, the magnificent Menshikov Palace, which beautifully suits this kind of music and has hosted several of the festival's concerts in previous years, including a mesmerizing performance of Alla Francesca last year, hasn't been dropped from the list. But this gracious, atmospheric palace, resembling an Italian Renaissance palazzo, is has a low profile and is rarely used as a concert venue. This time, the Menshikov Palace is hosting "Handel and his Italian Friends," a program featuring renowned flautist Peter van Heygen, cellist Marian Minnen and harpsichordist Kris Verhelst.
The festival also features top-flight Italian ensemble Mala Punica, which performs at the Glinka Philharmonic on Oct. 2. Its Narcisso Speculando program is devoted to madrigals of the Florentine abbot Don Paolo da Firenze from the early 15th century.
Established in 1987, Mala Punica, which translates into English as pomegranate, specializes in the music of the Trecento and Ars Subtilior in Italy, a repertory which is frequently referred to as "the avant-garde of medieval Europe."
"'Fra duri scogli' depicts the violence of a tragic and desperate shipreck, while 'Un pellegrin uccel' evokes a courtly idyll of falconry, and the subtle anxieties of a lady who has released her hawk, with layer upon layer of word-play, and a maze of references to political allegiances and the threats exchanged by rival factions in Paolo's Florence," the ensemble's leader Pedro Memelsdorff said in the program introductory note.
Links: http://www.earlymusic.ru,
www.redpriest.co.uk, www.arpeggiata.com
News source: times.spb.ru


Print this news
---
Culture news archive for 16 September' 2005.
Culture news archive for September' 2005.
Culture news archive for 2005 year.