Culture news
Chilling out in warm cafes of rapidly modernizing St. Petersburg
09.21.2005 13:47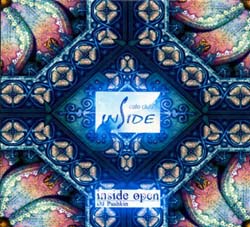 I hardly expected to find a "chill out section" in a Russian dining establishment during my summer vacation last year, but that's what I chanced upon in St. Petersburg when I ducked into the Zoom Cafe Club one evening.
I had traveled to the town known for Dostoyevsky and Pushkin for the same reasons most tourists flock there: the museums, the palaces, the cathedrals and the chance to see a city steeped in literature and history. But I had also come to soak up the atmosphere of a place in transition, reaching out to the West and modernizing even as it proudly adhered to its formidable intellectual and cultural roots.
One of the joys of St. Petersburg, as opposed to Moscow, is that most of the city is negotiable by foot, at least if you're staying near Nevsky Prospect, one of the city's main avenues. The host of the bed and breakfast where I was staying, Rufe, was eager to show me a few new night spots, so we ventured out one August night to one of his favorites, Zoom (22 Gorokhovaya Ulitsa, 011-7-812-972-1805). The cafe is white, sleek and modern and boasts glossy black tables and book-lined walls. From the outside, it looks more like a sushi restaurant than a Russian bistro.
Inside, however, Zoom strives for a traditional library theme, complete with drawers from a card catalog that feature written descriptions of dishes on individual cards. The food is an eclectic mix of soups, salads and main courses, all quite cheap. I opted for a fairly tasty mushroom soup, while Rufe ordered fish fritters with a creamy dipping sauce. The entire meal came to a little less than $9, though we stuck with tea instead of alcohol.
The waiter had to be prodded into giving us our bill, which was tucked inside Graham Swift's novel "Waterland," along with the note, "Tips is your decision." (The cafe's slogan, incidentally, is "Tell me where you eat, and I will tell you what you read.") While the food was fine, Zoom's ambience is the main draw: In addition to the chill-out section with sleek black couches, it featured tunes by Swiss singer Paolo Conte that night, which enhanced the laid-back mood.
Next up: FX-017 (13 Gorokhovaya Ulitsa, 011-7-812-314-8444), where St. Petersburg Times scribes take refuge after meeting late deadlines. It charmed me immediately with its cool blue ocean decor, complete with aquariums and sheets suspended from the ceiling. While it's best-known for live music, the pub won me over with its food, which was the best meal I had in St. Petersburg. After conferring in Russian with the friendly waitress, I opted for the wild mushroom salad and the freshwater fish with white asparagus. The salad offered a bevy of local marinated mushrooms, and the grilled fish was cooked in an understated nouvelle style. Again, my bill came to about $10, which I considered a bargain.
After having my fill of classy cafes, I decided to seek out the more ethnic enclave of Kafe Grot (38 Obtahka Ulitsa, 011-7-812-272-9749), an Uzbek restaurant favored by a Swedish friend who lives in the city. While Kafe Grot has a fish tank like FX-017, its brick walls and tiny halogen ceiling lights make it feel more like a basement apartment.
Grot is not for the faint of heart. No one in the restaurant speaks a word of English, there is no menu translation, and the food is pretty basic. I went for a kebab, a heavy but fairly tasty beef concoction stuck on a long stick. You have to order side dishes separately, so I opted for buttery rice with parsley sprinkled throughout. I also asked for fresh orange juice, which oddly enough is available at many St. Petersburg restaurants for about $1.50. Grot is about as cheap as it gets, with my bill coming to less than $6.
For visitors in search of more familiar territory, Cafe Idiot (82 Moika Ulitsa, 011-7-812-315-1675) is a home-away-from-home for expats, founded in 1996 by a St. Petersburg native who spent several years in the United States. It features jazz and swing music, dark wood tables and black leather couches. In addition to offering free vodka shots with every order, the restaurant has cute names for dishes. I went there just for drinks, but many friends rave about its vegetarian fare, used English-language books and art gallery.
By the end of my trip, St. Petersburg's cafes had won me over. While they may not rival Parisian eateries, I'll opt for fish tanks and tattered paperback books on the wall any day.
News source: sfgate.com


Print this news
---
Culture news archive for 21 September' 2005.
Culture news archive for September' 2005.
Culture news archive for 2005 year.