Culture news
A class act
09.23.2005 15:50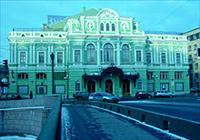 Moscow's Maly Drama Theater, which is performing on tour in St. Petersburg this week, is a rare theatrical company which nurtures Russian theatrical traditions without becoming dull and old-fashioned. Highly talented ensemble casts and a deep respect for the playwright are the troupe's signature style.
"Our Ranevskaya is not a drug-addict, although she does take medicines," Yury Solomin, the company's artistic director, said, summing up his approach by referring to the distressed heroine of Anton Chekov's "The Cherry Orchard." Solomin said he would rather be slagged off for refraining from modern interpretations of classic plays than let that kind of experiment appear on the theater's venerable stage.
The troupe is appearing in St. Petersburg after a five-year absence and is showing four recent productions at the city's Bolshoi Drama Theater.
Sergei Zhenovach's version of Alexander Griboyedov's classic social satire "Woe From Wit" can be seen on Friday, while Vladimir Beilis's take on Alexander Ostrovsky's "Even a Wise Man Stumbles" shows on Sunday and Monday, followed by Yury Solomin's interpretation of Chekhov's "Three Sisters" on Tuesday and Wednesday. The Maly's visit ends with Sergei Zhenovach's production of Moliere's "The Imaginary Invalid," shown on Thursday and Friday, Sept. 30.
"Chekhov was a doctor, and if he wanted Ranevskaya to be addicted to drugs, he would have said so directly," Solomin explains.
"One troupe produced a rendition of Chekhov's 'The Seagull' under the title 'Why Konstantin Shot Himself.' Twisting the subject like that is barbaric."
Similar claims about authentic Russian theater can often be misleading, especially for the uninitiated audience. A theater newcomer can easily end up seeing a boring and stiff traditional show, where the brand "traditional" only serves as a feeble shield to cover director's embarrassing lack of ideas.
But this is not the case with Maly. "After the performance, you leave the theater in a good mood and with a happy heart: it turns out that it is possible to stage [these plays] like that, without major creative breakthroughs but [also] without a single false note," wrote theater reviewer Marina Davydova in a recent article in "Izvestia" newspaper.
Plays by Chekhov and Ostrovsky dominate the company's repertoire, and for that reason the theater is often criticized for ignoring contemporary playwrights. But the troupe maintains its credo in every respect.
"Contemporary language can be heard on the street and on television," Solomin responds, adding ironically that tickets to certain films should be prescribed by a doctor rather than sold to the general public.
"The classical works that we stage can tell you everything about life, and the things that do matter in life. As for excessive fantasizing, this is another medical matter."
As an artistic director, Solomin is convinced that the author's concept and vision of the work shouldn't be too freely played with because of the risk of complete distortion. Directors working with the company, and Zhenovach, in particular, feel the same way.
"The Russian theater emerged from great literature, and emotionally demanding texts by Chekhov, Tolstoy and Ostrovsky aren't very easy to perform," Solomin said.
"Fedya Protasov [in Leo Tolstoy's "The Live Corpse"] can't simply be shown as a bomzh [hobo]. You have to show where this man came from. But, naturally, it is much easier to perform a banal faceless bomzh."
Maly Theater actors, age and gender notwithstanding, don't undress on stage and avoid obscene forms of speaking, even when working in shows for other companies. This is said to be the free and deliberate choice of the actors.
The troupe's artistic director feels that these self-imposed taboos don't hamper creativity.
"I am convinced you can easily express yourself without talking dirty and doing the Full Monty," Solomin said.
Unlike many companies choosing the "traditional" approach and classical repertoire, the Maly boasts a enviably balanced troupe, with actors of various ages equally present. Most of the new blood comes from the Moscow's renowned Shchepkin Theater School. The youngsters perform alongside the company's most venerable stars. The veterans retire when they feel like it, and aren't automatically disposed of, when they reach a certain age.
"Instead of inviting a number of guest stars for single-role arrangements, we make every effort to raise and train younger artists," Solomin said. "It is a more difficult and painstaking way to do it but in the long run, it is much more rewarding."
The Maly Theater performs at the Bolshoi Drama Theater this week.
News source: times.spb.ru


Print this news
---
Culture news archive for 23 September' 2005.
Culture news archive for September' 2005.
Culture news archive for 2005 year.