Culture news
A New Nameless Period in Russian History
09.23.2005 15:56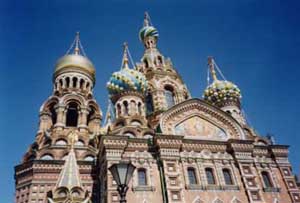 Back in New York after a whirlwind eight days in Moscow and St. Petersburg, I tried to sort out my impressions. I had gone to Russia with a simple question — how bad were things getting?
But simple questions never have easy answers. And this time there were some additional complications. Unless some slick magazine is picking up the tab for fancy hotels, I usually rent the same one-room apartment on Malaya Gruzinskaya Ulitsa and within a few days am swimming freely in Russian life. But on this most recent trip I was leading a small group of family members, which meant that my attention was constantly minced by questions and requests. So, back in Manhattan, I couldn't be sure if my impressions seemed so fragmentary because of my state of mind when in Russia or because that was in fact the state of Russia at the moment, a society still in bits and pieces that have yet to cohere into a new pattern.
The Bolsheviks felt they had the right and obligation to create a new society, with a new flag, national anthem, wedding ceremonies, calendar and currency, not to mention social relations — and went at it with a will. But contemporary Russians have to create a new society only because the old one collapsed around their ears. It was not a task they sought.
It's easier to go back to the past than invent new rituals, which always seem gawky, too obviously manufactured, like the Day of Russia, the public holiday commemorating parliament's declaration of sovereignty from the Soviet Union. So, people get married in churches rather than concoct capitalist equivalents of Soviet-era wedding palaces. A ceremonial changing of the guard has been reinstated at the Kremlin that synthesizes several elements from the past. St. Petersburg's fancy Palkin restaurant makes a point of trying to pick up from its pre-revolutionary past; in fine print in the upper right-hand corner of its front page, Kommersant notes that the paper "has been publishing since 1909. Due to reasons beyond the editorial board's control, no issues appeared between 1917 and 1990."
Economically and culturally, Russia seems to be emerging from a long, deep coma. Perhaps the current period should be referred to as post-comaism.
The new period of Russian history has no name. Its true nature has yet either to be formed or revealed. Even the decade and a half since the fall of the Soviet Union has yet to find a tag that sticks, like thaw or perestroika, used to describe Khrushchev's and Gorbachev's periods of rule respectively. The intelligentsia hasn't been doing its job. Perhaps the reason is that the intelligentsia no longer has a clear and obvious role to play. The relationship between the powers that be and the intelligentsia is something like a tug of war — a certain level of tension must be maintained for the match to have any meaning. Societies will be quite manageable if the masses are kept pleasantly busy with entertainment and the intelligentsia is allowed its thin newspapers and fat journals. Fines and fees can enforce policy better than prisons. What would have been the point of making an international cause celebre by jailing Yury Samodurov, the director of the Sakharov Museum, who was convicted in March of inciting religious and ethnic hatred by mounting the controversial art show "Caution! Religion"? Clearly it was better just to order him to pay a fine rather than sentence him to a jail term. International public opinion was not outraged over a $3,600 fine. And the chill was felt where it was meant to be — locally.
Money as oppressor and liberator is changing the face of Moscow. Friends who live on Malaya Bronnaya Ulitsa recently bought the apartment across the hall and transformed their space into something that would incite envy in Paris or New York, but the street itself has gone from being one of the city center's charmingly tranquil lanes to being gridlocked with cars standing nose to tail. I didn't even bother trying to explain to my traveling companions that not that long ago Moscow's streets were not impacted with limousines and BMWs, the main vehicles being khaki military trucks with stenciled numbers and muddy tires.
Under the Soviet system, goods were scarce but time was abundant. Now it's just the other way around. Russia may be starting capitalism at an early, primitive phase, but it is entering consumerism at its most developed. On the one hand, the main sources of income driving the economy are raw materials; on the other, what is purchased is absolutely the latest.
In Soviet times, the men in the Kremlin were bad Marxists who believed more in political power than in economic forces. That hasn't changed today. The Mikhail Khodorkovsky affair is a reminder that the power of money has its limits. But the economic forces now at work, accelerated and magnified by the latest in technology, are powerful, irresistible and probably uncontrollable.
Spin and hype are replacing propaganda and the big lie. In the early 1970s, a Soviet journalist took me out on his balcony and whispered a confession: After years of writing lies, he decided to treat himself to an hour of truth. He would lock himself in his room, write whatever he felt, then immediately burn the pages in a metal wastebasket. "But the fear ran so deep in me that when I lifted up my pen, I could not bring myself to write a single word." It's impossible to imagine any such confessions from those now putting their skills in the service of the new masters. Big money is being poured into Russia Today, an English-language, state-funded satellite television station that is intended to hype the positive side of Russian life so that foreign investors will believe what they are told and that their money will be safer than that of Russia's richest men. The city of St. Petersburg has recently hired the Boston Consulting Group to work on a brand strategy for the city. St. Petersburg needs an image and slogan if it is to compete with other world cultural capitals for its share of tourist revenue. The world is finally being unified — by logos, not ideology.
Is that Russia's future — gradually losing its essential flavor in an increasingly homogenous world, preserving just enough of its local color to make it worth visiting? My traveling companions caught a whiff of that on Red Square and in Cafe Pushkin. Russia's future, a guessing game for two centuries, is still murky. Any number of scenarios can be imagined, few of them particularly uplifting: a middle-class Bulgaria with 11 time zones and nuclear weapons; a disintegrating Yugoslavia with a French touchiness about lost grandeur. Though Russia's future is being created now, its real shape will not be apparent at least until the presidential elections in 2008, though nothing may be clear enough until 2022, when the first generation born after the fall of communism turns 30. By then, Soviet General Secretary Mikhail Gorbachev, former President Boris Yeltsin and President Vladimir Putin will no doubt be seen as transitional figures, creatures of the Soviet Union which Gorbachev wanted to reform, Yeltsin to destroy and Putin to mourn.
After a week in New York, I was still searching my memories for the one moment, incident or remark that illuminates everything. One image comes close: We're dining at a fashionable, pricey restaurant that everyone agrees could be anywhere, except that my friend, a Russian businessman, is paying, quite literally under the table, an associate of his with a small stack of hundred dollar bills. I liked the image — Russia adopting the international style, complete with attitudinal waiters, while surreptitiously maintaining its time-hallowed, corrupt ways. But it seemed too perfect and obvious. I keep shuffling the images: from the celestial a capella singing and golden icons flickering in candlelight in the Holy Trinity-St. Sergius Monastery in Sergiyev Posad to dark-skinned young men from the Caucasus region being stopped on the street by police, the mutual hatred palpable.
But then it came to me. What mattered most was what wasn't there. For all people's anxiety and indignation, never once did I catch the old smell of fear in the air.
Richard Lourie is the author of the novel "The Autobiography of Joseph Stalin" and "Sakharov: A Biography." He contributed this comment to The St. Petersburg Times.
News source: sptimes.ru


Print this news
---
Culture news archive for 23 September' 2005.
Culture news archive for September' 2005.
Culture news archive for 2005 year.