Culture news
The Kirov's new stars
10.05.2005 13:52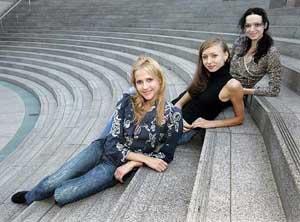 For more than a century, the ballet "The Sleeping Beauty" has been a celebration of youth and possibility, not only in storybook terms but for the dancers who have brought it to life.
The spellbound Princess Aurora, who pricks her finger and falls asleep for 100 years, made the career of the great English ballerina Margot Fonteyn. It has also been danced memorably by the Russians Irina Kolpakova and Altynai Asylmuratova and the British Darcey Bussell.
Beginning tonight, Russia's Kirov Ballet — whose St. Petersburg home is where choreographer Marius Petipa created the ballet in 1890 — is scheduled to give five performances of "The Sleeping Beauty" at the Dorothy Chandler Pavilion. The first and fourth (Saturday) will showcase Diana Vishneva, perhaps the company's finest dancer and an international star. But three ballerinas little-known outside their homeland are also set to portray Aurora, which remains the touchstone of Russian classicism. Two are members of the corps de ballet. And any one might be the Next Big Thing.
"Of course, I'm a little bit nervous," 19-year-old Alina Somova, a petite St. Petersburg blond set to make her debut in the role here, said Monday. "When it's your first performance, you have to think about so many things. Maybe in the future, I'll be able to have some kind of personal story line in my mind, but today I have to just do it. It's so difficult."
Corps member Somova and her fellow debutantes, Ekaterina Osmolkina and Olesia Novikova, had just flown into Los Angeles from St. Petersburg via Paris, but before having a rest, they took time to be interviewed through a translator at their downtown hotel.
Somova said she always wanted to be a dancer. She went straight into the Kirov after graduating from the Vaganova Ballet Academy, the company's school, in 2003.
But she was still a student when the Kirov made ballet history in 1999 by mounting a reconstruction of the original "Sleeping Beauty" to replace its familiar 1952 staging by Konstantin Sergeyev. The latter will be presented at the Dorothy Chandler Pavilion because of the expense of touring the reconstruction.
"I liked the costumes more" in the 1999 version, said Somova, who was one of the many younger dancers in that production. "They're all very bright and beautiful." But although the 1952 version is more difficult, she said, "I like it more."
She's been coached as Aurora by Olga Chenchikova, 49, one of the oldest members of the Kirov, who has worked with her since she joined the troupe. Keeping one dancer and one coach together is a Kirov tradition that can be seen in a new documentary about St. Petersburg's Maryinsky Theater, "Sacred Stage," opening Friday at the Laemmle Music Hall in Beverly Hills.
"She's taught me that the role is not only steps, of course, it's stage presence and the feelings you should have onstage," Somova said.
The young dancer is so focused on her debut that she said she didn't foresee doing any sightseeing or shopping here, much as she'd like to. "But it's very difficult," she said, "because we have such a very complicated schedule."
Unlike Somova, Osmolkina, 24, didn't always want to be a dancer.
"That idea came later," the dark-haired company soloist said. "My mother wanted me to dance. It's very hard to study. But when you're finally really dancing, you feel it's been worth the sacrifices."
Osmolkina, a native of Kishinev in the former Soviet republic of Moldova, also joined the Kirov upon graduating from the Vaganova Academy, in her case in 1999. She has since earned prizes in international competitions and recently drew favorable attention from critics in London when the Kirov danced "La Bayadère" there.
Critic Clement Crisp called her "dazzling" as the villainous princess Gamzatti. "Young and tiny, she communicated a streak of the demon child," wrote Judith Mackrell, "and her dancing matched her character in its fearlessness."
For all that, Aurora is still a role to fear, she said, describing herself as "very nervous" about performing Thursday. "From the moment the music starts, you are always very worried, very concerned. People talk about 'Swan Lake' as the brand trademark of our company, but I think 'Sleeping Beauty' is."
Corps member Novikova, 24, another St. Petersburg native, danced Aurora three times in the Petipa reconstruction, but like Somova, she said she prefers the Sergeyev version.
"Honestly, the restoration is more attractive for the audience than for the dancers," she said. "There's too much promenading and acting. You have to wait for the dancing."
She added, though, that her experience playing Aurora hadn't lessened her anxiety about it.
"I have to tell you," she said, "every time I get more and more nervous — because you're getting older and older, and you have different feelings every time you're dancing. And you have to make yourself better and better."
Did she always want to be a dancer?
"Probably, yes. I don't remember. They sent me to school, and you have to prove yourself, and finally I became a dancer in the Kirov company."
Although it is rare for a corps dancer to be given the opportunity to dance a leading role, much less the hardest role in the classical repertory, Novikova also pointed to the rewards of her assignment.
"When you're dancing in the corps de ballet, you don't have that much responsibility," she said. "You're just having fun. But when you have to dance the title role, of course that's a lot more responsibility. And I like it. I like to be responsible for what I'm doing."
As for Los Angeles, Novikova said she was keen to experience the city.
"I like shopping, yes, of course. But I'm also interested in seeing the city and feeling the atmosphere of the city, of any city that I'm touring, to know the people in that city.
"You know, sometimes we go shopping not to buy something but just to look around, change our mood, our feelings. Sometimes you go just to look. It gives you some different emotions."
Did she expect to be able to break away?
"I will find time," she said.
But, like the other Auroras, Novikova said her priority was to put her own mark on the role.
"If it's just about the steps," she said, "it would not be ballet. Not my ballet."
*
Kirov Ballet
Where: Dorothy Chandler Pavilion, 135 N. Grand Ave., L.A.
When: 8 p.m. today (Diana Vishneva), 7:30 p.m. Thursday (Ekaterina Osmolkina), 7:30 p.m. Friday (Alina Somova), 7:30 p.m. Saturday (Vishneva), 2 p.m. Sunday (Olesia Novikova).
Contact: (213) 365-3500
News source: calendarlive.com


Print this news
---
Culture news archive for 05 October' 2005.
Culture news archive for October' 2005.
Culture news archive for 2005 year.