Culture news
New musical expression
10.07.2005 13:09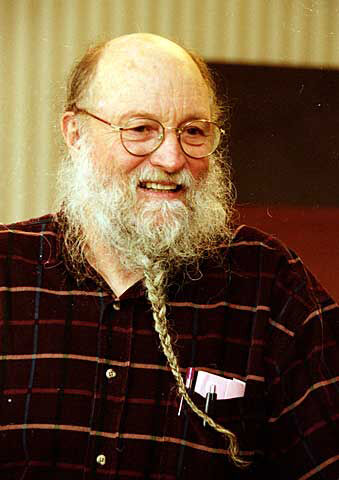 A selection of well-known improvisational and experimental artists from the U.S., France, Uzbekistan and Russia will perform at the APosition Musical Forum that opens Friday in St. Petersburg.
The Petersburg event is an extension of the Dlinniye Ruki, or Long Arms, festival held in Moscow. Dedicated to the memory of the late avant-jazz promoter and producer Nikolai Dmitriyev, the festival was launched last year by Dom, the Moscow arts center he founded. The name stems from the Long Arms record label that Dmitriyev also co-founded, with the late pianist Sergei Kuryokhin in 1996.
"Originally it was going to be called the Long Arms festival in St. Petersburg as well, but for a number of reasons we can't use the name officially here," said artistic director Alexei Plyusnin, a local musician and promoter.
Plyusnin said he was approached by the Long Arms festival to help to form the festival program last year. He went to the U.S. to negotiate to with American artists about taking part in the festival last September with a grant from CEC ArtsLink, an international arts service organization supporting the exchange of artists and cultural managers between the U.S. and Central Europe, Russia and Eurasia.
"I liked the atmosphere in New York," said Plyusnin. "When you open All About Jazz [a newspaper] you see that every day, no matter if it's Monday, Sunday or Wednesday, there are 15 to 30 jazz and experimental music, creative concerts, taking place in diverse places. You can go to a concert by Muhal Richard Abrahams for $25, huge money by New York standards, with an audience of 15 people, and two hours later, half of his band will play in the street for free. There's a feeling that the whole city is swinging."
To bring some American pizzazz to St. Petersburg, festival highlights include the Kingston, New York-based avant-garde accordionist Pauline Oliveros, Californian minimalist pioneer Terry Riley and the New York-born, Berlin-based vocalist and percussionist David Moss. Performance artist Shelley Hirsch, saxophonist Charles Gayle and guitarist Mark Stewart of Bang on the Can are all based in New York.
Riley and Hirsch performed at SKIF, the largest St. Petersburg festival of experimental music, in 2000.
For Plyusnin, the APosition Musical Forum stems from his work as SKIF's art director. Hence, the similarity in the musical direction and choice of artists.
"It's natural because it was us who did SKIF. Now SKIF has changed and it will not be similar anymore," said Plyusnin who worked on the festival from 1999 to 2004.
"It's my repertoire, I compiled it, it's what I like. As a musician, I am interested in their professional level, which is very high," said Plyusnin about the festival program and performers. "It's neo-academic music, free of performer's limitations, and free jazz, improvised music —the place where school and dilettantism merge."
APosition is a creative partnership formed by Plyusnin in 2000, and its name refers to both innovative U.S. jazz composer and musician Sun Ra's Arkestra and Rock in Opposition (RIO), a movement of "progressive" bands launched by the British band Henry Cow in 1978.
"I want it to be something that should is provocative. With SKIF it didn't work and everything came down to giving pleasure," said Plyusnin.
"I quit mainly because our ideological approaches diverged. Everything else is secondary."
Although there are a few similarities between the two festivals, there is a drastic difference. Unlike SKIF, a chaotic three-day music marathon with a constantly changing schedule, the APosition Musical Forum is a series of concerts at the Cappella, a staid classical-music venue and the experimental-music club GEZ-21. Riley and Hirsch will also hold masterclasses in rooms at the St. Petersburg Conservatory.
"I had the idea of over-democratizing the distinction between the listener and the artist, of erasing it. It was an ultra-hippie approach rooted in the 1960s," said Plyusnin about his ideas for SKIF.
"There was a reason why there's never been an accurate schedule at SKIF, even if everybody asked for it. But the effect of entering the room, seeing somebody playing and deciding whether you stay or go without knowing who is playing, it's simply invaluable.
"Usually perceptions are formed in advance by newspapers and posters, but it's great when you simply come, you like the concert and when it's finished, you ask a person sitting next to you, who was that? It means that your perception is cleaner."
The APosition Musical Forum is the exact antithesis to SKIF in its format, according to Plyusnin.
"It's the total opposite. It's anti-egalitarian, anti-hippie. It's a bare idea and a weapon of a different kind," said Plyusnin.
"You come to a concert that starts exactly to schedule, you listen to the music silently then you stand up and go. Let's see how it works.
"I had hoped [with SKIF] that we would strike a spark that would bring an avalanche of new music into the city and into the country. It didn't happen. There emerged some new names, but not enough. Now we are trying a different method."
News source: times.spb.ru


Print this news
---
Culture news archive for 07 October' 2005.
Culture news archive for October' 2005.
Culture news archive for 2005 year.