Culture news
The German connection
10.14.2005 13:16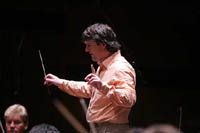 German opera theaters are including more Russian operas in their playbills, with daring contemporary Russian directors in mind, and more German conductors are considering ground-breaking programs juxtaposing Russian and German symphonic music.
The prestigious Beethoven Festival featured the music of the Czech regions Bohemia and Moravia in 2004, and France in 2005, putting the German composer in the context of a particular European region.
The idea for the festival's regional focus was that of its current director Ilona Schmiel. The festival, which was first held on the occasion of the composer's 75th birthday in 1845, has grown into an internationally established month-long affair running from mid-September to mid-October involving some of the world's most acclaimed performers.
"The festival strives to show Beethoven as a modern composer in terms of his bold innovative ideas, the challenging spirit of his music, and his cosmopolitan nature," Schmiel said. "With the new concept, we explore international relations established by Ludwig van Beethoven during his lifetime as well as trace mutual influences between the composer and world's greatest cultures he was connected to."
Inspired and energetic, Schmiel is enthusiastic about positioning Beethoven as a "brand" that can compete with, for example, Salzburg's Mozart.
"I am convinced Beethoven is a better brand," Schmiel said. "Operas are naturally a big advantage of Mozart's repertoire — Beethoven only wrote one opera, 'Fidelio,' — but Beethoven's symphonic works are much bigger, more powerful and more emotional, and easier to understand than Mozart's works."
Schmiel estimated that as much as 40 percent of the music performed during next year's festival will be Russian.
The program will feature a concert performance of Rimsky-Korsakov's opera "Mozart and Salieri," set to Pushkin's verse. The festival will also include a new work from prominent modern Moscow composer Vladimir Tarnopolsky.
Schmeil said Russian pianist Mikhail Pletnyov with the Russian National Orchestra, and Vladimir Fedoseyev with the Tchaikovsky Symphony Orchestra, will be among participants of the forthcoming event.
Beethoven, then
The connection between Beethoven and Russia is strong.
The composer's "Missa Solemnis" premiered in St. Petersburg at the Philharmonic in 1824 to triumphant acclaim. In Europe, the "Missa" was performed more than a month after its world premiere in Russia.
One of Beethoven's aristocratic admirers, Prince Nicholas Galitzine wrote an enthusiastic letter to the composer in Vienna describing the high-spirited atmosphere of the Petersburg premiere.
"The effect on the public cannot be described, and I have no fear of exaggerating when I say on my part that have never heard anything so sublime," Galitzine wrote.
Beethoven, who dedicated three of his quartets — the composer's last chamber works created shortly before his death — to Galitzine, responded warmly to the praise.
"It gives me great pleasure to acknowledge your interest in the creations born of my musical spirit," reads Beethoven's letter to the Russian prince. "Aware that you play the cello with great excellence, I shall attempt to satisfy your interest in this sphere."
Beethoven's three "Russian Quartets" commissioned by Count Andrei Razumovsky in 1806 and based on Russian folk tunes, were originally met with a cool critical reception, but eventually gained worldwide fame and recognition, being rated higher than all of the composer's later quartets by French writer and musical critic Romain Rolland.
"They cannot be compared to anything else written by Beethoven," Rolland wrote. The Russian melodies used by Beethoven came from a collection assembled by folklorist Ivan Prach. With Beethoven's Russian quartets performed abroad, Russian folk music received its first serious international exposure.
An array of Russian composers, including Pyotr Tchaikovsky, Modest Mussorgsky, Alexander Glazunov, Mikhail Balakirev and Dmitry Shostakovich produced numerous arrangements and adaptations of Beethoven's music, as well as original works inspired by the great German maestro.
Experiments with Beethoven's oeuvre in Russia continue until present day.
Modern experiments
Yury Krasavin's controversial Beethoven fantasia, originally created as a film score, is a vivid example.
This avant-garde St. Petersburg composer fuses his original music with interpreted excerpts from Beethoven's Fifth symphony, First piano concerto, variations for Waldstein and Appassionata Sonatas and the piano piece "A Letter To Elise" to surreal effect.
Choreographer Yury Possokhov created an innovative and highly imaginative ballet based on Krasavin's piece, "Magrittomania" (also inspired by the paintings of Belgian surrealist Rene Magritte) for the San Francisco Ballet in 2000. The company toured the West extensively with the production, which received mixed reviews and has been recently staged at the Bolshoi Theater in Moscow.
While American critics praised both the composer and ballet master for a work combing tradition with experiment, the British press generally didn't recommend the piece to Beethoven admirers, branding the resulting score discordant and bizarre, while some of the Russian critics compared Krasavin to a pop artist who takes a classic image and renders it in flourescent colors.
Spiritual connection
Fedoseyev, whose orchestra has been invited to perform at the next Beethoven Festival, said in a recent interview with Moskovkiye Novosti that he shares the view of violinist Yehudi Menuhin when it comes to Beethoven: "Mozart's music is in my pocket while Beethoven's music is in heaven."
For Fedoseyev, Beethoven's is the music of fortitude, spirit, faith, and patience.
"The coat of arms used by Barclay de Tolly, a Kutuzov general, said: 'Loyalty and Patience.' So it is with Beethoven: loyalty and patience, aspiration to heaven and spirituality," Fedoseyev said. "Beethoven lived a very difficult and terrible life, but his spirit was amazingly strong. And I would like people, many of whom also are far from living in paradise, to feel his spirit. Spirit is more important than sustenance."
Russian music is blossoming in Germany, with Staatsoper Opera in Berlin unveiling a premiere of Mussorgsky's "Boris Godunov," the Bavarian Opera in Munich planning to put on Mussorgsky's "Khovanshchina" and the Opera Theater in Bonn getting ready for Tchaikovsky's "The Queen of Spades" — all this coming season.
Some of Germany's leading companies are also turning to up-and-coming Russian directors. The productions of "Boris Godunov" and "Khovanshchina" will be helmed by the award-winning director Dmitry Chernyakov, whose spiritual rendition of Rimsky-Korsakov's "The Tale of the Invisible City of Kitezh" at the Mariinsky Theater earned the company several prizes.
Many leading German conductors also nurture plans to put on special projects in Russia.
Musical parallels
Ingo Metzmacher, general music director of the Hamburg State Opera and chief conductor of the Netherlands Opera, is a case in point.
The maestro's idea is to juxtapose music by Shostakovich and Germany's Karl Amadeus Hartmann — in particular Shostakovich's Seventh Symphony (also known as the Leningrad Symphony) and Hartmann's First Symphony, which were both inspired by World War II.
As Metzmacher points out, the two composers were contemporaries — Hartmann was born in 1905 and died in 1963, Shostakovich lived from 1906 to 1975 — and they both lived through times of political turmoil in their countries, surviving World War II and totalitarian regimes, and facing the same artistic challenges as independent-thinking musicians. They also thrived creating grand-scale symphonic works, where the theme of mourning goes hand in hand with ideas of resistance.
"Of course, Shostakovich belongs to the Russian musical tradition and Hartmann emerged from the German musical tradition but the parallels are numerous," Metzmacher said. "These have to be explored and exposed to audiences."
Metzmacher's dream is to play the program in St. Petersburg, Shostakovich's home town, where Hartmann's name remains obscure and largely unheard of.
The maestro likens the structure of Hartmann's symphonies to a Roman statue missing its arms and legs: the composer used only the two contrasting parts of the traditional four symphonic parts, Adagio and Scherzo, omitting the other two.
"The composer witnessed his native country lose its national identity and put the entire world on the edge of a global catastrophe," he said. "This destructive spirit reveals itself in his approach to symphonic works. Traditional structure is destroyed and the mournful Adagio confronts the rebellious Scherzo."
Metzmacher feels there is much in common between the two composers on the human level.
"Each of them was a strong yet lonely person," he said. "Their alienation, frustration and sorrow — and their will to carry on — are reflected in their music."
The Beethoven Festival runs in Bonn from mid-September to mid-October, 2006. www.beethovenfest.de
News source: times.spb.ru


Print this news
---
Culture news archive for 14 October' 2005.
Culture news archive for October' 2005.
Culture news archive for 2005 year.