Culture news
Finnish cure
10.28.2005 14:09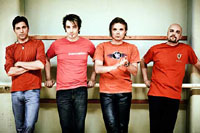 For Finnish television viewers Niko Nurminen might be a familiar face. But the long-time foreign correspondent with Channel Four News in Finland is this week coming to St. Petersburg as the vocalist and guitarist of Rohto, a Helsinki-based rock band.
"I keep that role as far apart from the music as I can," wrote Nurminen about his television work in an email interview with The St. Petersburg Times this week.
"I travel a lot as kind of a fireman covering news events. Every now and then I'm on the screen and penetrate people's homes through satellites. But it's the events that count, not the face or the person. Some people recognize me, especially some news junkies, but I guess they know that I'm just another guy from the factory — which produces news instead of sausages. The news work has been going on fine with the music: it is such another world. The flipside of course is the lack of time: it can be that we just can't get together for months because I'm constantly on duty somewhere."
In 1997 Nurminen spent a stint at Moscow University attending lectures on journalism and studying Russian. He later returned to Moscow as a television news reporter and has even put a few questions to President Vladimir Putin in Russian several times.
However, music represents a different world to him, he wrote.
"Making music is something I can't put in words: when you feel that the right groove is there it seems like the singing is electricity that glues you to microphone and you get so high that you forget about your surroundings."
The Finnish music scene has recently attained an international profile with such goth-tinged heavy rock bands as HIM, Nightwish and 69 Eyes having become arguably the country's hottest musical exports in years. These bands also tend to sing in English.
But you will not find a word of English on Rohto's website: the group performs exslusively in Finnish.
"It's been a natural choice this far," wrote Nurminen, who writes the band's lyrics and most of the music.
"I speak some other languages but Finnish is my mother tongue and some poets like [Pentti] Saarikoski, [Eino] Leino, [Aleksis] Kivi or [Uuno] Kailas use this strange language that has been blowing my socks off since I was a boy. I am not a purist though and I've done some songs in English recently. Let's see how they come out."
Discussing his approach to songwriting, Nurminen wrote that "to me it's true that personal is political and small subjects can be huge."
"I've done a song about a man who woke up bearded in St. Petersburg, had lost everything and did not remember anything. I've written a song about a creole sugarcane cutter from Mauritius who works his ass off for a white plantation owner and surviving just on the thought that he can play percussion in a sega band after the working day is done."
For Nurminen, the band's name, Rohto (an old Finnish word for natural cure or natural medicine) means a "thing that keeps me alive" and originated from a conversation with drummer Tommi Ouvinen, who became ill just a few days before the band's first concert.
"So I asked him if he had tried any rohto to cure himself. So we took the name."
Rohto started in 1997 in Helsinki. As well as Nurminen and Ouvinen, the band includes Mats Takila on guitar and programming and Anssi Ahvenniemi on bass, with the latter having joined in 2003. Nurminen and Ouvinen have been playing together in different bands since 1993.
Nurminen wrote he became involved with music despite the reluctance of his father who used to be a bass player in a pop band in the 1960s.
"My father didn't let me touch his guitar when I was a kid — he knew better and didn't want his only child to wreck his young life," he wrote.
"I didn't take the advice and made the mistake of buying my first guitar when I was 14 — I got the money selling newspapers on the streets. After a week I had a 'band.' The first song consisted four rock-barre chords and it was called 'Marshmallow' like the band itself. I wanted play Led Zeppelin's 'Immigrant Song' constantly, but the drummer thought that Bonzo Bonham is too holy to touch. I didn't learn to play other people's songs even if I wanted to, so I had to start making my own."
While admitting his liking to bands from The Beatles to the Ramones, the Pixies, the Posies, Jane's Addiction and Radiohead, Nurminen wrote his singing style has been influenced by "dark male voices."
"My own influences have arisen from a handicap that I have: I am some kind of second-hand baritone, so dark, male voices ranging from Nick Cave, Tom Waits and Lou Reed to Mark Lanegan or the magnificent [Moscow band] Moralny Kodeks have been easy to identify with," he wrote.
"After a good session I sometimes feel I could be worthy of licking boots of [late Russian singer-songer Vladimir] Vysotsky."
Rohto performs at Griboyedov on Saturday and at Platforma on Sunday. www.rohto.biz
News source: times.spb.ru


Print this news
---
Culture news archive for 28 October' 2005.
Culture news archive for October' 2005.
Culture news archive for 2005 year.