Culture news
Treasures from the collection of Edmund Safra are being sold this week at Sotheby's auction
11.07.2005 15:08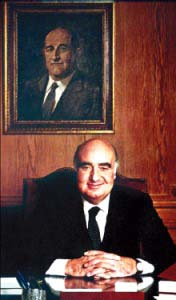 Treasures from the collection of the late banker Edmund Safra, who died in 1999 in mysterious circumstances with a rumored Russian connection, are being sold this week at Sotheby's auction house in New York.
The sale of works from one of the greatest private collections of the 20th century features the most important selection of works by Russian court jeweler Carl FabergÎ to be offered at auction in the past 25 years, according to Sotheby's experts.
The items, including clocks, picture frames, cigarette and fan cases, cane and parasol handles, candle sticks and other decorative objects from the collection of Safra and his wife Lily, are expected to fetch more than $6 million.
The death of 67-year-old Safra, whose fortune exceeded $2.5 billion and who was rated 199th on Forbe's list of billionaires, is still surrounded by a thick cloud of speculation. The banker was found asphyxiated in a locked bathroom at his luxurious penthouse in Monaco on Dec. 3, 1999.
The results of an official investigation suggested the banker died as a result of the failed attempt of one of his male nurses to stage a fire in order to perform his boss's rescue. But this explanation didn't satisfy many and rumors persist as to the true nature of Safra's death.
Some say the Jewish banker could have been murdered by Palestinian terrorists, who may have used the nurse, while others blame the Russian mafia.
The Italian newspaper La Stampa published a report claiming that shortly before his death the banker had been spotted at Cap d'Antibes with London-based Russian tycoon Boris Berezovsky, who is facing huge embezzlement and tax evasion charges in Moscow.
But an article in Vanity Fair Magazine contradicted this account. Sources close to Safra, who had Parkinson's disease, denounced the allegations, suggesting the banker was too feeble and dependent on medication to possibly travel that far.
But the Russian connection has been mentioned in many publications.
An article in the French magazine Le Nouvel Observateur contains an interview with a Monaco attorney, who refused to be named, saying that "Safra denounced the Russian Mafia, and some of his clients who were concerned by that could have become afraid and used [the nurse]. It wouldn't be the first time a poor soul was used in the service of a grand criminal scheme."
None of these claims has been officially confirmed.
"One thing is certain: Edmund Safra, whose specialty was private banking for wealthy clients and who was said to know 'all the secrets of the financial planet,' had his enemies," Dominick Dunne wrote in an article in Vanity Fair Magazine in December 2000.
In life, the banker cultivated a polished image among the world's rich, but Safra was haunted by rumours, suspicion and speculation.
"He was accused of having laundered money for the Panamanian dictator Manuel Noriega, as well as for the Colombian drug cartels," Dunne wrote. "And both his bank and his private jet were alleged to have been pressed into service to move money and personnel during the Iran-contra scandal. The rumors of Safra's involvement were found to have been part of a smear campaign by American Express, and Safra ultimately won a public apology and an $8 million settlement, which he donated to charity."
Sotheby's expert Gerard Hill said he doesn't expect the sale of Safra's Russian treasures to be influenced by the mystery of his death, although interest is sure to be great.
"I haven't heard the connection mentioned yet," Hill said.
The auction features, among others, a rare FabergÎ Gold, Silver and Translucent Enamel Combination Desk Clock and Calendar made in Moscow in 1899-1908, a FabergÎ Gold, Enamel and Diamond-Set Parasol Handle (1899-1903), a FabergÎ Gilded Silver and Translucent Enamel Combination Clock and Miniature Frame (1899) and seven portrait miniatures of the children of Tsar Alexander II and Tsarina Maria Alexandrovna on sculptural stands from the late 19th century.
"Stunning works of art in polished and cut steel made by the Tula Arms Manufactory will also be offered, as will choice examples of Russian furniture, mirrors, miniatures and tableware," Sotheby's said. "The spectacular Russian treasures will be sold alongside magnificent French, Continental and English furniture, Decorative works of art, clocks, porcelain, paintings and carpets."
It is not known why Safra's widow Lily chose to sell the items at this time.
The two-day auction on Thursday and Friday was preceded by a five-day showing. Hill, director of Russian works of art for Sotheby's, mentioned the FabergÎ Gold Gilded Silver and Translucent Enamel Table Cigarette Box, 1908-17, designed in the racing colors of Leopold de Rothschild, as an object of particular artistic significance.
"Enameled in deep blue and yellow stripes, which were the racing colors of Leopold Rothschild, the box has a simple yet elegant design and extremely sophisticated technique," Hill said. "The ability to enamel such a large surface with these vibrant colours over an engraved ground is a technique requiring tremendous talent."
Rothschild competed with the king of England in horse races. And there is another piece in the collection enam
eled in the racing colors of King Edward VII, Hill added.
Many of the items offered for sale have been off the market for decades.
"The Rothschild tale box was purchased by Mr. Safra in 1973, and hasn't been seen since that time," Hill said. "And there are many other things in the collection in the similar category that were bought many years ago."
News source: times.spb.ru


Print this news
---
Culture news archive for 07 November' 2005.
Culture news archive for November' 2005.
Culture news archive for 2005 year.