Culture news
The complete Pasternak
11.18.2005 13:28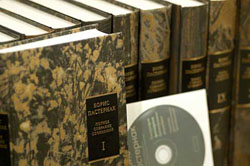 The collected works of the poet and author Boris Pasternak, published for the first time by his son Yevgeny, gathers together a wealth of known and new material, and offers the most complete picture yet of a 20th century literary giant.
The complete works of 20th century Russian author Boris Pasternak, comprising 11 volumes and a CD-ROM, was published in Russia for the first time last Friday.
The author's son Yevgeny teamed up with publisher Slovo and computer studio Mart to produce a limited edition of 5,000 copies of Pasternak's complete works, some of which were suppressed during the author's lifetime by the Soviet state — including his classic novel "Dr. Zhivago."
Two volumes of poems written from 1912 to 1959, many of which had never been published before, stories, articles, essays, verse translations, Pasternak's contemporaries' memoirs, four volumes of letters as well as a detailed index with recently found shorthand reports of Pasternak's speeches have also been included in the collection.
Known in Russia mainly for his poetry, Pasternak's worldwide fame was cemented by "Dr. Zhivago" which was banned in the U.S.S.R. and smuggled to Italy where it was published in 1957. The official literary journal Novy Mir rejected the novel because of its "non-acceptance of the socialist revolution" and its harsh, epic sweep through the Russian Civil War.
Two years before his death in 1960, Pasternak was awarded the Nobel Prize for literature but was forced to reject it by Soviet ideologues. In 1965 the novel was made into a Hollywood film directed by David Lean.
Pasternak was "rehabilitated" in 1988 during perestroika and "Dr. Zhivago" was published in Russia for the first time.
Yevgeny Pasternak belatedly collected his father's Nobel Prize medal at a ceremony in Stockholm in 1989. He and his wife Yelena have worked on the complete works for many years, carefully gathering material from the author's archive. Although no collection of Pasternak's works was published during his lifetime, this is the second set of collected works that has been produced in the past 15 years.
"The formation of the collection presented now was begun in the 1960s, just after my father's death, when we took charge of his literary heritage," Pasternak said at a St. Petersburg news conference held to mark the publication of the volumes on Nov. 11.
"As a result of our activity, first, a detailed biography of Pasternak was published in 1990, then a 5-volume collection of his works followed. But with so many materials uncovered in the first collection, we realized the need for a complete edition of Pasternak's collected works to be published."
Pasternak said that while working on the present collection, he understood that it would be "practically impossible" to include every piece of verse, prose, unfinished dramas, letters (about a half of the material), and translations into a reasonable amount of volumes.
In order, to set it into some limits, he and Yelena decided to include in the collection only the author's works created for publication along with notes to Pasternak's speeches.
Although four of the 11 volumes consist only of Pasternak's letters, his son says that this represents only a small part of the huge correspondence of his father, who received between 20 to 50 letters every day and replied to most of them.
"As well as in Russian, Pasternak corresponded in English, French and German. In every language he developed his own unique style that is hard to preserve during the translation," said his son. Consequently, only his letters in Russian and his own translations of his letters written in other languages were included in the present collection.
Compared to the previous 5-volume collection, the present edition includes a fourfold page reference with archival materials gathered over forty years which gives readers a full impression of the Pasternak's verse formation.
"In the Soviet Era references to the poems were considered as something 'indecent' and were not allowed to be published, but, now, in the full collection we have indicated biographic coincidences in order to help the readers to understand Pasternak's verse," Yelena Pasternak said.
Many hitherto unknown versions and excised parts of poems, such as five quatrains from the epic poem "Spektorsky," deleted parts of "Lieutenant Schmidt," a different version of the famous poem "Hamlet," and draft versions of "Dr. Zhivago," are included. A detailed reference to the history of the novel's creation is included.
The CD-ROM multimedia supplement includes translations by Pasternak, his musical compositions, a few recordings of his voice (his son said that Pasternak was scared of "mechanical devices" such as tape-recorders), and a biographical collection of photographs.
"The multimedia supplement is done neither in contrast with the published volumes nor as a digital version of it," Dmitry Rubashkin, creative manager at Mart studio, said. "While the published volumes are good for long-term home use, the multimedia supplement facilitates the information search process and helps the reader to study the text."
Despite a huge amount of work that has gone into the project, and the trove of archive materials collected, Pasternak said that "new" letters and other documents that belonged to his father are being found all the time.
"I think the present collection is a good base for the next thing that is needed to be done — a full academic collection of Pasternak's works issued with full philological reference provided," he said.
The complete works of Boris Pasternak in 11 volumes with CD ROM is published by Slovo Publishing House at a list price of 4,400 rubles ($155).
www.slovo-online.ru
News source: sptimes.ru


Print this news
---
Culture news archive for 18 November' 2005.
Culture news archive for November' 2005.
Culture news archive for 2005 year.