Culture news
A new exhibition recounts a competition held to give the Russian ruble a sense of identity.
12.02.2005 15:46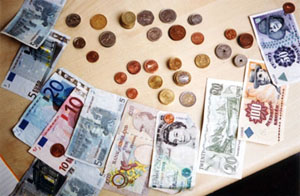 A new exhibition recounts a competition held to give the Russian ruble a sense of identity.
If you leave aside economics and address only its design, Russia's national currency — the ruble — hasn't got an international visual identity like its U.S. or European counterparts, the dollar and the euro.
Both tradable currencies have an easily recognizable symbol — $ and Ÿ — and Russia, feeling insecure as usual, has often gone through the anxiety of thinking its currency needs one too.
The "Sign of the Ruble" exhibition at Zero Gallery explains one serious (although failed) attempt to obtain such a symbol. The show retells quite an old story. It can be traced to the end of 1999, when a club of Moscow designers, "Portfelio," and the prominent publishing house Kommersant, announced a national competition to develop the ruble symbol.
As a result, nearly 1,000 designs from 65 Russian cities and abroad were submitted, and these form the new show.
Among contributors are schoolboys, students, artists, blue-collar workers and white-collar employees. Interestingly, according to the information made available to publicize the "Sign of the Ruble" exhibition, not one remembered the ruble symbol in use in Tsarist Russia — which is also on display.
In the end, a trustworthy jury selected 12 finalists, from which six were the most repeated forms and six were approved by experts.
"The ruble symbol should be absolutely neutral in religious, ideological and sexual senses. It shouldn't call to mind negative associations. It should be easy to remember, simple and clear in composition; easily reproducible (including by hand)," Leonid Feygin, a jury member, said, explaining the competition's selection criteria.
Unfortunately, this very rigorous analytical enterprise, as well as the experts' opinions and comments, remained nothing more than an engaging sociological curiosity.
In the end, the Russian Central Bank didn't even consider the idea of replacing the present Cyrillic "RR" (meaning Russian ruble) which is used by number crunchers like accountants. However, "it is not a sign. It is just double 'p' in the international [Latin alphabet] context," designer Dmitry Perishkov argued. The sign shouldn't be based on language, he said. It is at first a visual abstract figure.
One of the reasons given for holding the current show, six years since the original competition, is that according to Perishkov, one of the organizers, a new attempt was made to revive the idea, and a proposal was forwarded to the President Vladimir Putin's Cabinet three weeks ago.
The "Sign of the Ruble" runs though Nov. 30 at Zero Gallery, Corpus Ye (E) Business Center ZeitWerkHaus, 44 Dostoevskogo Ulitsa.
Tel: 334 1004. www.zonazero.ru
News source: times.spb.ru


Print this news
---
Culture news archive for 02 December' 2005.
Culture news archive for December' 2005.
Culture news archive for 2005 year.