Culture news
Rescue mission
12.02.2005 15:51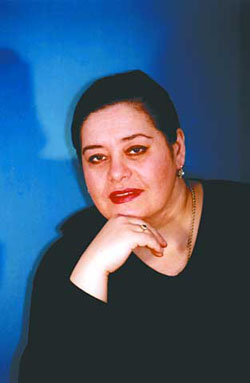 Not far from Beslan, the city of Vladikavkaz is struggling to maintain its opera and ballet company — with the help of friends from St. Petersburg.
Shows start at 5 p.m. at the Vladikavkaz Opera and Ballet Theater in southern Russia. They take place only on the weekend. These arrangements ensure that both musicians and theatergoers can get home safely before darkness falls.
Artistic and social life has nearly come to a standstill in the capital of North Ossetia, which borders war-torn Chechnya, after years of social unrest and violence. The Vladikavkaz Opera found itself on the verge of being completely shut down last summer. But then, Larisa Gergieva, head of the Mariinsky Theater's Academy For Young Singers in St. Petersburg, took up an offer to become the opera's artistic director. Her decision rescued the company.
Gergieva, sister of the Mariinsky Theater's artistic director Valery Gergiev, feels close to Vladikavkaz not just because of her Ossetian roots. The company is almost her alma mater: the Vladikavkaz Opera gave Larisa Gergieva her first job as piano accompanist.
"North Ossetia probably has been through more blasts, hostage crises and terrorist attacks than any other place in Russia," Gergieva said. "It is painful for us to go there and see this gorgeous place becoming deserted and gloomy. In the evening these cordial people put up shutters, lock themselves in their homes and go to sleep early because depression and despair have taken root in that land."
The Mariinsky nurtures revival plans for the Vladikavkaz Theater, which currently gives three shows a week and seats 800 people.
During the New Year holidays, the Mariinsky's soloists and directors will take the stage in Vladikavkaz to perform a fairy tale opera, which they will put on specially for Ossetian children.
"The Snow Queen" written by local composer Sergei Banevich and based on a story by Hans Christian Andersen, had been running at the Mariinsky under the title "The Story of Kay and Gerda" from 1996 until 2003, when part of the sets for the show perished in a massive fire at the Mariinsky's warehouse.
The opera tells the story of a girl, Gerda, who rescues her brother, Kay, whose heart is turned to ice after being kidnapped by the evil Snow Queen.
The surviving sets and costumes have already been sent to Vladikavkaz, and the soloists are looking forward to the performance. Many soloists of the Mariinsky's Academy For Young Singers have already sung in Vladikavkaz.
Over the past decade, artistic connections between St. Petersburg and the troubled region have been largely maintained through the Mariinsky Theater. Gergiev ran a classical music festival called "For Peace in The Caucasus" in Vladikavkaz for several years and the Mariinsky Theater company has performed there on tour for more than seven years. Gergiev also organized an impressive series of concerts in London, Paris, Rome and Russian cities to raise funds for the victims of Beslan, which is in North Ossetia. The Academy's most recent trip to Vladikavkaz was to perform Tchaikovsky's "Yevgeny Onegin" early last month.
Many critics acknowledge that the Gergiev siblings have ably aided the revival of the Vladikavkas Opera without forcing the Mariinsky's musicians and singers into their endeavor.
"The Mariinsky's help is much needed in Vladikavkaz, and considering the Gergievs' Ossetian origin, these efforts are more than appropriate," said Gulyara Sadykh-zade, a classical music critic for the Russian daily Gazeta. "The troupe's soloists have a chance to demonstrate their personal qualities as well as their professional skills."
Indeed, it appears that Vladikavkaz is becoming a favorite destination for many of the Academy's soloists, who compete for a trip to Ossetia, refuse to get paid for their performances and would happily prefer the trip to a lucrative engagement in Western Europe.
"I absolutely love performing in Vladikavkaz because I have never experienced such an overwhelmingly emotional and warm reception anywhere else," Mariinsky Academy tenor Daniil Shtoda said. "All of your senses are constantly aware of how much these people need you. The audience can't hold their tears, and everything you do on stage takes on a new, deeper meaning."
Academy soloist Natalya Shatimchenko said the performances she has given in Vladikavkaz have been among the most rewarding for her.
"They are rewarding not simply because of the very warm and emotional reception," she said. "You really feel you are making a difference. You brighten up a day in the life of people who have long been living in despair." Gergieva doesn't have to campaign among the young singers to awake their compassion.
"You look into the audience and see faces awaiting and anticipating a miracle," Mariinsky Academy soprano Yekaterina Solovyova said. "We go there to experience that precious feeling."
To raise funds to mount "The Snow Queen," the Mariinsky is organizing a charity concert in the Astoria hotel on Thursday, with some of its brightest soloists.
Yekaterina Zemtsova, the Astoria's head of public relations, said sales of the $210 tickets have been going very well.
After "The Snow Queen," the Vladikavkaz Opera is looking forward to performing a new version of Bizet's "Carmen," staged by mezzo-soprano Yelena Obraztsova, the premiere of Paul Abraham's operetta "Ball Im Savoy" staged by Gergieva, a spring festival named "Be A Guest Of Larisa Gergieva" and premieres of Verdi's "Aida" and "La Traviata."
Gergieva said the Vladikavkaz Opera also badly needs new musical instruments. "Even the most trained ear would shrink from the squeaking of their clapped-out, horrendously-out-of-tune, instruments," Shtoda said, referring to rehearsals for "Yevgeny Onegin" this year.
Mariinsky Theater guest conductor Tugan Sokhiyev spent several hours with each musician tuning their instruments.
"In less than a week, the conductor performed a miracle: the musicians in the orchestra achieved a great rapport between them," Shtoda said. "It is no rival to the Berlin Philharmonic but the musicians fully deserved the ovation they received."
Shtoda compares the Mariinsky's activities in Vladikavkaz to a rescue mission.
"Yes, the troupe is almost in ruins, and new productions are only being mounted and performed by guest artists," he said. "But as long as it helps to bring back hope, artistic skill and the taste and desire for art, it doesn't matter that it comes from outsiders."
The reputations of the Mariinsky Theater and Gergievs are helping the Vladikavkaz Opera get back on its feet.
"I approach colleagues and friends, asking for contributions and nobody has refused me yet: some companies donate costumes, some give sets for free temporary use, and some soloists perform for free," Gergieva said. "Every little bit helps."
News source: times.spb.ru


Print this news
---
Culture news archive for 02 December' 2005.
Culture news archive for December' 2005.
Culture news archive for 2005 year.