Culture news
Warhol the classicist
12.09.2005 15:56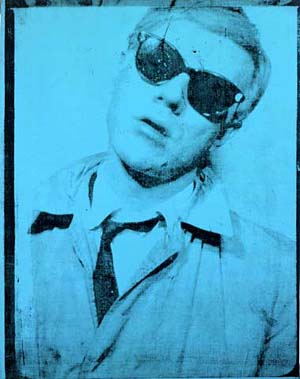 The Andy Warhol exhibition that opens at the Russian Museum's Marble Palace this week aims at putting the Prince of Pop's work in a classical context. Entitled "Andy Warhol: Artist of Modern Life," it refers to Charles Baudelaire's 1863 critical essay "The Painter of Modern Life," in which the French poet urged artists to turn to modernity from tired academic subjects.
"The premise that we took was trying to make the point, especially in a place like St. Petersburg, that you have great collections of the past and we want to show how [Warhol's] wealth fits into the history of art," said Thomas Sokolowski, the director of the Andy Warhol Museum in Pittsburgh, who spoke to The St. Petersburg Times by telephone this week.
"So we took the premise of the very famous essay by Charles Baudelaire, 'The Painter of Modern Life.' We want to see exactly how he viewed artists as being the most appropriate [observers], making art about subjects of modern life, dealing with activities of modern life, things in society, criticizing modern life, when he talked about Constantin Guys, [Edouard] Manet and people like that — though those can all be applicable to Andy Warhol.
"And then, in fact, the main subject matter of Warhol's art was things like portraiture, which is very traditional after all, as well as still-life and object painting which Warhol did in his Campbell soup paintings and others. So, in a certain way we ask the audience to consider Warhol as a traditionalist as well as a modernist."
The exhibition, which was shown in Moscow in the fall and will conclude its tour in Samara in the spring, was put together by the Andy Warhol Museum exclusively for Russia, but there are less of the hammers and sickles, Soviet maps or crowds with red flags that were featured at an earlier Warhol exhibition at the State Hermitage in 2000.
"There's actually one painting that we included, a painting of a hammer and sickle, but we are just presenting as much as possible, in a retrospective way, all of the major subject matter that Warhol dealt with," said Sokolowski.
Sokolowski, who was in Moscow for the opening at the Tretyakov Gallery in September and in both Moscow and St. Petersburg for the first Warhol exhibition in 2000, said the Russian audiences demonstrated a good understanding of the painter's work.
"People understood the art quite well, even though before that exhibition five years ago people really had not seen much Warhol work on actual display," he said.
"There was a symposium at the Pushkin Museum in Moscow five years ago, and the questions were terribly sophisticated; people, I thought, were obviously very aware of Warhol's films, partly because films are much easier to see and bring over to places far away, like Russia."
However, even then the Russian media response appeared misinformed, according to the Moscow-based art critic Yekaterina Dyogot.
In her analysis, Dyogot wrote that many Russian critics misunderstood Warhol's work, seeing it as a celebration of capitalism and of consumer society. Sokolowski said Warhol's work was much more complex.
"On the one hand he was not praising consumerism in itself, but he was saying that the subject matter of art is daily life — if, in the 19th century, it was about going to the Folies-Bergere or something like that, those were the things that many middle-class people did. If you compare Warhol to [Edgar] Degas or someone like that in the 19th century, an artist who was painting still lifes of fish, cheese, or bottles of wine that comprised a person's lunch, that was not necessarily a celebration of food or a celebration of opulence, it was something that was quite everyday and commonplace.
"On the other hand, when Warhol was doing an image of a tuna fish can, a few years after he did the Campbell soup, it was called 'Tuna Fish Disaster.' He showed the other side of the American Dream, if you will. Many people took jobs because of mass production, many people were able to eat foods that were nutritious and good value, but at the time poisons could get into the food and be passed on — four women were killed eating tinned food, and that was the first time that had happened in America. Since then there have been many other instances."
"He was looking at both sides. There was a complicated response of good and bad, but it was certainly not just a viscious, negative view of consumerism. I think that wasn't true at all."
In Moscow, the Tretyakov Gallery accompanied the Warhol exhibition with a show of Russian pop art.
"It was very interesting. I saw there were a number of young artists imitating Warhol, one person had done Campbell soup art, for example," Sokolowski said.
"I said someone had missed the point, because if one has to do that in Moscow, one would perhaps want to show a bottle of kvass, or maybe a bottle of vodka, because it would be an object that everyday Russians would use. Campbell soup was perhaps more exotic. So you really need something that was a staple.
"One image that I heard of subsequently was very interesting. There was a large amount of criticism from the Orthodox Church — it was an image of an icon that was sort of reproduced with caviar on it, or something like that. But it was still obviously something religious, and it had a great significance to these religious people and that is the kind of thing Warhol would have done. He would have taken something that was very obvious and very well integrated into our culture and questioned it — and perhaps in that questioning, some problems are created."
According to Sokolowski, Warhol's work always had an interesting social position, and Russia's Sots Art (the 1970s dissident version of pop art that mocked the Soviet mythology and socialist realism), with artists such as Komar and Melamid, and Ilya Kabakov, is close in its approach to Warhol.
Though Warhol used communist images from China and the Soviet Union in his work, his interest in them came from the fact that they were present in everyday American life, rather than from what was actually happening behind the Iron Curtain, according to Sokolowski.
"He did, for example, the hammer and sickle, because it was a great symbol of Soviet times. He also did a famous image of Lenin, although I don't think that is in the exhibition. He did a big series of images of Mao Tse-Tung, and he was following that because at that time the Great Cultural Revolution was happening, so you didn't have to be in China to see what was happening with Mao. That image of him, and the posters and the Little Red Book, as it was called, were just so omnipresent.
"And I think that was partly the thing with Warhol. In all of his work, all of the images that he chose were already potent images in culture, particularly the picture of Mao Tse-Tung. The fact that Mao's image is so omnipresent — to a greater extent than any other political figure's, certainly to a greater extent than any American I can think of, and to an even greater extent than Stalin —you could not not deal with it.
"And Andy Warhol was sort of saying, 'Here's this image that's almost become like a religious icon and is mass produced over and over again, well that's something I want to think about.' Or images of Campbell soup, or images of cars that were so present in American culture in the 1960s or 1970s. Or images of pop musicians —they were just things that were in society that were taken for granted. He was saying 'Let's look at these images again and what do they tell us about the good and the not-so-good in our society.'
"For example, if you look at one of the beautiful movie stars, Marilyn Monroe or Elizabeth Taylor, we can say, "They are beautiful, aren't they popular, doesn't everyone admire them," and at the same point Marilyn Monroe ended up dying of a drug overdose, Elizabeth Taylor had problems with drugs and many many husbands. A number of stars he depicted finished in a very tragic way. So, being a movie star may look good on the outside to those of us who aren't movie stars, but their lives had pressures and difficulties and maybe they cannot live up to the expectations that we have of them."
Featuring around 125 works, the local show, due to limited space, is a scaled-down version of the Moscow exhibition that had over 300 items , the Russian Museum's press office said. The exhibition will be on show until February when it will head for its final destination in Samara.
Thomas Sokolowski will read a public lecture called "Andy Warhol: The Artist of the American Dream" at the lecture hall of the Russian Museum's Mikhailovsky Zamok at 4 p.m. on Friday.
"Andy Warhol: Artist of Modern Life" opens at the Russian Museum's Marble Palace on Friday. www.rusmuseum.ru, www.warhol.org
News source: times.spb.ru


Print this news
---
Culture news archive for 09 December' 2005.
Culture news archive for December' 2005.
Culture news archive for 2005 year.