Culture news
A star is born
12.16.2005 11:43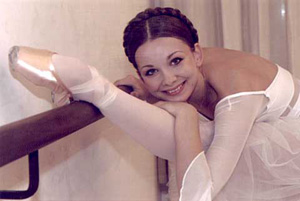 PARIS — A young ballerina from the Mariinsky Theater is becoming an international star on stage and screen.
Yevgenia Obraztsova, 21, has found herself very busy after a recent promotion from coryphee dancer (a rank above corps de ballet) to second soloist.
She is currently making a guest appearance at the Baltimore Ballet in "The Nutcracker," while last week she made a fine impression during the Mariinsky's season in Paris dancing in four different programmes.
She is also striking out in movies with a role in "Russian Dolls," directed by Cedric Klapisch.
Endowed with a well-proportioned body and a beautiful face, her dancing is lucid and has a youthful freshness and radiance.
Obraztsova met with The St. Petersburg Times in a restaurant near the Theatre du Chatelet in Paris last week where the Mariinsky Ballet were performing part of the company's Balanchine programme.
Obraztsova was surprisingly unfatigued by her hectic routine, but was glad to be relaxing in the restaurant for an hour.
"Paris is a wonderful and beautiful city," the dancer said.
Paris was one of the locations for "Russian Dolls," which was released earlier this year and is now available on DVD. The film is a sequel to Klapisch's earlier hit (known variously as "L'Auberge espagnole," "Euro Pudding" or "The Spanish Apartment") about the romantic adventures of an international cast of langauge students.
How did Obraztsova get this acting role?
"One day I was in the Mariinsky Theater, and the director of the film came up to me and asked: 'Can you please do something in front of the camera? Just say something like, Hello, my name is Yevgenia.' I followed his suggestion, and he said to me, 'OK, I hope to see you.' In the film, I spoke in English as well as Russian. It was great, and I really hope to get another acting role in future."
A lot has happened to this young star in the last six months.
Last month Obraztsova danced for the Rome Opera Ballet in a new production of "Cinderella" with another guest artist, Giuseppe Picone. Carla Fracci, the renowned Italian ballerina who is now the company's artistic director, extended the special invitation to Obraztsova.
"Perhaps Carla Fracci heard about me winning the Moscow International Ballet Competition. I think that [Mariinsky principal dancer] Andrian Fadeyev recommended me to the Rome company to dance Cinderella. He guested in Rome earlier this year."
This is a big milestone in Obraztsova's career.
"It was the first time I had been a guest at another company. I had not danced with a partner from outside the Mariinsky Theater before," Obraztsova said. More significantly, it was her first created role, and in a full-length ballet at that.
"This production is based on an earlier La Scala production of 1956, but some of the choroegraphy has been revised by Carla Fracci this time."
Obraztsova added: "The classical choreography wasn't hard for me at all. What was more difficult was to be alone abroad for the first time, and for four weeks. I seem to have lost half my weight! The first two weeks were hard, but after that I felt very much at home in the last two weeks. Giuseppe Picone is a perfect and wonderful partner. I like him so much.
"I was slightly nervous for the premier, but I danced with more and more confidence in the other three performances."
Obraztsova said she had an extremely busy schedule during the engagement.
"I had no time to do any sightseeing in Rome."
Barely a week after her return to St. Petersburg, Obraztsova left for Paris with the Mariinsky Ballet.
On the last day of the Paris tour, right after her performance in Mikhail Chemiakin's production of "The Nutcracker" with Fadeyev on the previous night, she flew to the U.S. for her engagement with the Baltimore Ballet.
"I will only spend five days in Baltimore, dancing the Sugar Plum Fairy in their production of 'Nutcracker'," Obraztsova said in Paris before she left for the States to perform in Baltimore last Saturday and Sunday.
Obraztsova returns as a guest with the Rome Opera Ballet in April.
"I've been invited to dance in a new production of 'Faust' to be created by [artistic director of the English National Ballet] Wayne Eagling." Fadeyev will again be her partner.
Obraztsova's rising profile was boosted in June when she won the gold medal in the senior women's category at the Moscow International Competition. Was she surprised by her triumph?
"Of course I was surprised, and I am so glad that I succeeded. [Mariinsky ballet director] Makhar Vaziyev was very happy that I had won," Obraztsova said. "After the competition, I flew immediately to Washington to join the Mariinsky tour."
Obraztsova's coach is the well-known former Mariinsky ballerina Ninella Kurgapkina, who also coaches Mariinsky prima ballerina Uliana Lopatkina.
"Kurgapkina is a great teacher," Obraztsova said. "She is wonderful. She always tells me what do with my legs, my face, my hands; and she has taught me a lot about acting."
Her regular dancing partners include Andrei Merkuriyev, Vladimir Shklyarov, Igor Kolb, and Fadeyev.
"I dance with Merkuriyev the most often," Obraztsova said. "I like Fadeyev a lot; I've danced Juliet with him twice."
Obraztsova's Juliet (in Lavrovsky's version of "Romeo and Juliet") is distinguished by her naturalistic acting.
"Juliet has more acting than dancing in the role," Obraztsova said. "Technically it's not too difficult, although I wouldn't describe the first act as easy. I can really imagine myself living in Verona as Juliet."
Despite her labor-intensive vocation and busy professional schedule, Obraztsova has wide interests outside ballet.
"I try to draw, and I like art very much," she said.
"I also like classical music and jazz, but not so much pop music. I watch old classic films too."
Obraztsova looks eagerly towards future work.
"I really hope to dance 'The Sleeping Beauty.' I've learnt Aurora throughout the past year, rehearsing with Vladimir Shklyarov. He's helped me a lot. I am ready now and am waiting for my debut."
News source: times.spb.ru


Print this news
---
Culture news archive for 16 December' 2005.
Culture news archive for December' 2005.
Culture news archive for 2005 year.