Culture news
Devilish passion
12.16.2005 11:23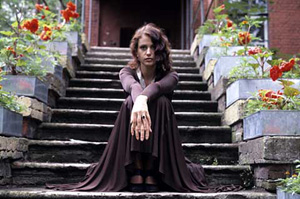 Director Vladimir Bortko has succeeded where other Russian directors have failed and brought a famously unfilmable classic to the screen.
The script was written nine years ago, shooting finished in March and posters appeared nationwide last month, promising that a televised version of "The Master and Margarita" would air in December.
Finally, the director and producers announced that the first episode airs Monday on the Rossia television channel. It's been a long wait, but Russians are about to see Mikhail Bulgakov's cult novel filmed in their own language.
St. Petersburg director Vladimir Bortko denied that he felt any butterflies before snippets of the big-budget miniseries were presented to journalists in Moscow last week, pointing out that he has been in the film industry for almost 30 years and that he had "gotten bored of being nervous."
Although the novel is set in Moscow in the 1930s, the series was largely shot in St. Petersburg, with the crew traveling to the capital for only a few signature episodes. Bortko has said that St. Petersburg provided the perfect backdrop for the film.
"Naturally, there are scenes that can only be filmed in Moscow such as, for instance, those set in Patriarchs Ponds, Pashkov House, or the Alexandrovsky Garden — but that's about it," Bortko told reporters in St. Petersburg at the beginning of the film shoot in 2004.
"But Moscow has gone through massive reconstruction since the novel was written, and the landscape has generally very much changed. Much to the regret to our crew, the Bulgakovian Moscow of 1930s is easier to find in central St. Petersburg because it has been much better preserved."
When the film was planned, it seemed unlikely that genuine locations around Patriarchs Ponds could be used. In 2003, Moscow Mayor Yury Luzhkov lobbied for an ambitious plan to construct a giant shopping center with underground parking at the site. He also wanted to place monuments to Bulgakov and his characters there. But the plan failed after Muscovites took the streets in protest and blocked construction work to preserve the site.
If anyone can successfully film a novel that many Russians name as their favorite, it would seem to be Bortko, who shot an acclaimed television version of Bulgakov's story "Heart of A Dog" in 1988, and scored both critical success and high ratings with his adaptation of Fyodor Dostoevsky's "The Idiot" in 2003.
A presentation last week at Moscow's Central House of Writers gave a taste of what the 10-episode series will look like. Video screens showed the famous first scene, where the devilish Woland, played by veteran actor Oleg Basilashvili, lectures the poet Bezdomny and the literary journal editor Berlioz about Jesus Christ. The director chose to film the fateful encounter at Patriarch's Ponds in sepia tones, as he did for all the 1930s scenes, while the scenes set in Biblical Jerusalem and the magic episodes were filmed in color.
Other extracts showcased the special-effects scenes that fill 164 minutes of the series' total running time and consumed much of its $5 million budget.
There was a chance to see Margarita flying to the ball on a broomstick, a performance of "black magic and its exposure" led by Woland and, most crucially of all, the giant talking cat Behemoth.
The director said that the difficulty of recreating this character was one of the factors that made him refuse an offer to film "The Master and Margarita" in the 1980s.
In the series, Behemoth is played alternately by a real trained cat, by the diminutive actor Vano Miranyan in a furry cat suit and — for his human incarnation — by actor Alexander Bashirov.
Russian special-effects studios also created an animated cat figure, whose gestures and voice were created by actor Semyon Furman.
"Compared with Hollywood, this is probably the Stone Age," Bortko said of the special effects in an interview before the presentation. "I don't know, but I hope it looks modern. It's hard for me to say now what a viewer will think of it if he expects something like 'Titanic' or 'The Matrix.'"
When talking about the completed work, the director cringed at the mention of the word serial, or drama series, a term that has been tarnished by countless look-alike gangster or police shows.
"The Master and Margarita" is a "just a very big film," he insisted. The multistranded plot, with each strand gaining new depth from the juxtaposition of its two settings, Moscow and Jerusalem, makes the book impossible to abbreviate without turning it into nonsense, he believes. "As for calling it a serial, it's as much a serial as I am a Japanese man."
Bortko said that he wrote the screenplay using only Bulgakov's words and that almost all of the novel made it into the film, although there is no voiceover. The film also follows the author's narrative technique in alternating between Jerusalem and Moscow. Although this faithfulness will please connoisseurs, the series will be understandable for someone who hasn't read the book, the director said.
The 71-year-old Basilashvili, who plays Woland, is a household name for his performances in such classic Soviet comedies as "Autumn Marathon" and "Office Romance." But he is far from the only star in a production that enlisted the cream of Russian actors for even relatively small roles.
Viewers will be familiar with Alexander Abdulov, who plays the ex-choirmaster Korovyev, and Valentin Gaft, who plays the Jewish high priest Kaifa, to name just two.
Bortko said that the performance of Sergei Bezrukov as Yeshua would convince any unimpressed by the ubiquitous thespian's recent work that "in front of you now is, to put it mildly, a super-good actor."
"There are two different ways to make a film," Bortko said. "One of them is pure cinema, when with the help of pictures you tell everyone your view of the world, and the second way is to tell a story — what they usually do in Hollywood. I do it the second way, and for that you always need very good actors, and very good actors are usually stars."
The two title roles, though, are taken by an actor and actress with lower profiles than some of the other performers.
Margarita is played by Anna Kovalchuk, who is best known for playing the lead role in the NTV detective series "Secrets of the Investigation," while Alexander Galibin, who plays the Master, starred in numerous films in the 1980s before dropping out of screen acting for almost a decade. Some have commented on the couple's resemblance to Bulgakov and his third wife, Yelena Shilovskaya, although at the presentation the lead actor denied that he was playing the author.
To publicize the miniseries, Rossia is organizing a parallel arts festival in Moscow called "Manuscripts Don't Burn," which started last week and runs through late December.
Events will range from poetry readings to performances of Soviet-era avant-garde music. An exhibition of Stalin-era memorabilia called "We Will Hang a Star on the Fir Tree" will open at the Shchusev Architecture Museum on Thursday, displaying photographs, archival film, household objects and a reconstruction of a New Year's tree circa 1936.
Rossia general director and series co-producer Anton Zlatopolsky called the production "the most difficult one in terms of time taken and nervous energy" that the channel has ever undertaken in the genre. The director was working "at the limit of human capabilities," he said.
Although Bortko's series took less than a year to shoot, his plans to film "The Master and Margarita" date back nearly a decade.
He wrote the script back in 1996, then in 2000, the Kino-Most film studio, associated with NTV, chose him to direct the series but at the last moment the company failed to reach an agreement with Sergei Shilovsky, grandson of Bulgakov's wife and the owner of the book's copyright.
Zlatopolsky said that when Rossia commissioners decided to revive the project, they found that the Russian rights had been sold only six weeks before to the film production and distribution company Central Partnership. Luckily, the two organizations managed to come to an agreement, and filming for Bortko's series began last June.
Mysteriously, other attempts to screen the novel or even stage it in the theater have failed for various reasons.
The legendary St. Petersburg theater director Georgy Tovstonogov had in mind a production which would combine Bolshoi Drama Theater actors with performers from the Mariinsky Theater, but he died before the idea had a chance to take shape.
In the Soviet era, Eldar Ryazanov's movie idea was refused on ideological grounds. Directors Igor Talankin and Elem Klimov were also unsuccessful. Their proposals were rejected by the Soviet culture bosses because of censorship restrictions and because Bulgakov was regarded as an "unreliable element" by the ideologists overseeing country's culture. Completed just before his death in 1940, "The Master and Margarita," was banned until the mid-1960s.
In the 1990s, Yury Kara made a filmed version, giving the role of Woland to Gaft, who plays Kaifa in Bortko's miniseries, but this has never seen the light of day. The only screen versions to date have been a joint Italian-Yugoslav production and a film and a television series from Poland.
Living up to its mystical reputation, the novel's screen version has survived notable cast reshuffles.
Oleg Yankovsky refused to play Woland, who is an incarnation of Satan, on the grounds that he did not know how to approach his character, and, perhaps more importantly because a human being can't possibly portray either God or the Devil.
"How on earth is one supposed to play the Devil: go round goggling their eyes and trying to look important? That doesn't suit me," Yankovsky told reporters.
Over the years of attempts by various directors to make a film version happen, a number of actors turned down the projects on the grounds of similar superstitions. On several occasions, actors who had originally agreed to be in a film version suffered heart problems or were victims of theft and withdrew from the projects because they felt their misfortunes were somehow connected with Bulgakov's characters.
"It hasn't been that simple with this story: many people just can't take it as an ordinary fiction," said St. Petersburg composer Andrei Petrov, who had been commissioned to write the soundtrack for Bortko's "Master and Margarita" when it was backed by NTV. "Quite a lot of actors got overly sensitive, probably out of a perception that starring in such a film is equal to playing with magic. Naturally, they started looking for some special signs, which could tell them whether they should get involved."
Alexander Kalyagin, who had first agreed to star in Bortko's film as Berlioz, a character who is decapitated in the novel, eventually refused to take part, reportedly after a heart attack.
"Many people advised the director not to touch the 'diabolic matters,' or 'deal with supernatural forces,' perhaps because they were superstitious," Petrov said. "They were saying that something strange that makes you scared and send shivers down your spine surrounds the novel. Several actors have refused to star in the film for that very prejudice."
Petrov's score has not been used in the new film and Bortko turned to composer Igor Kornelyuk, who provided a new soundtrack .
The failure of any Russian director to complete and release a filmed version of "The Master and Margarita" to date has led some to prophesy disaster for Bortko, too.
While some believe that Russian film versions are jinxed, Bortko has no time for mystical explanations. Instead, the director said that filming went smoothly.
"People often ask me whether there were any mystical happenings. I say, yes, you should write that there was one: We started on time and finished on time. That was very mysterious."
"The Master and Margarita" (Master i Margarita) airs Monday on Rossia at a 8.55 p.m. For a full program of the "Manuscripts Don't Burn" festival, see www.masterimargarita.ru/news
News source: times.spb.ru


Print this news
---
Culture news archive for 16 December' 2005.
Culture news archive for December' 2005.
Culture news archive for 2005 year.