Culture news
Mix and match
01.13.2006 14:48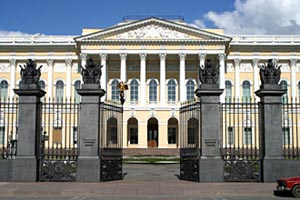 Although the musical part of the International Arts Square Winter Festival has now drawn to a close, the State Russian Museum will continue to attact visitors with its contribution to the event — an enormous and quite involved exhibition called "Collage in Russia: The 20th Century."
The show took two years to prepare and comprises 400 paintings, drawings, sculptures and applied art objects from the collections of St. Petersburg and Moscow museums and private collections, as well as works by living artists.
"This is the first ever large-scale experimental project realized in the Russian Museum," its organizers said in a press release. The core of the experiment is that the curators intended to show collage as more than a narrowly defined artistic genre from a certain era and employing specific techniques. The Russian Museum went further and presented "its own version of the development" of collage on the basis of the whole of Russian 20th century art. Perhaps for this reason the huge exhibition is arranged in two separate spaces.
Collage was introduced by Pablo Picasso when he glued a piece of oilcloth to a cubist still life in 1912. The use of foreign materials in paintings was very inventive and, as art history shows, was hugely influential.
Begining with Dadaists, Surrealists, and Constructivists, collage may include newspaper clippings, ribbons, bits of glass or colored papers, photographs, or just "found objects," that are glued to a solid support or canvas.
Today collage holds a permanent place in the lists of major artistic media, along with drawing, painting, prints and sculpture. And as the show perfectly demonstrates, it is totally applicable in the Russian art tradition.
Since collages' first appearance in Russia in 1913, many more artists would approach the medium, continuing to do so to this day.
The first "classical" part of the exhibition deals with traditional two-dimensional objects. It features collages, decoupages and photomontages as well as mixed media objects (sketches for posters, home-made pieces or amateur caricatures).
Perhaps to stress thematic continuity, the curators have mixed the works of Alexei Kruchyonikh, Alexander Rodchenko, Gustav Klucis, Mikhail Larionov, and Natalya Goncharova with works of contemporary artists such as Aleksandr Florensky, Aleksey Khvostenko (Khvost) and Valery Koshlyakov.
The second part appeals more to "collage thinking" rather than to its technique, a style that, according to the curators, could even be three-dimensional thanks to its principle of joining heterogeneous materials within one work of art. It features assemblages, sculptures and sculptural objects, installations and "digital collages."
Again, there are a lot of notable names and remarkable works: the fascinating sculptural objects of Konstantin Simun; Timur Novikov's "carpets"; Oleg Khvostov's self portrait; Dmitri Kaminker's sculpture of Soviet commissar Felix Dzerzhinsky; the exciting "Islam Project" by Moscow's AES-group; and so on.
A drawback of the show is that under one title the curators equate "collage technique" with "collage thinking." The two are conceptually quite different and there is difference between collages and assemblages, installations, sculptures on all many levels. There is also the etymological problem of the use of the term collage in some cases. "Collage" is originally a French term for pasted paper, that is, with the help of glue — and doesn't make much sense in the term "digital collage," for example.
These junctions and disjunctions would be an interesting subject for an exhibition, but, unfortunately, this isn't it.
"Collage in Russia: The 20th Century" runs through May 15 at the Benois Wing of the Russian Museum.
News source: times.spb.ru


Print this news
---
Culture news archive for 13 January' 2006.
Culture news archive for January' 2006.
Culture news archive for 2006 year.