Culture news
The Finer Points of Playing the Fool
01.20.2006 16:27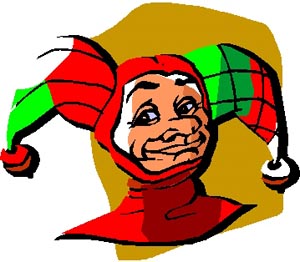 The Jester was not a feature of the 1877 Moscow premiere of "Swan Lake" or the 1895 revival in St. Petersburg; he made his first appearances during the final years of Russia's Imperial era. He has since become woven into the fabric of the court life that "Swan Lake" is meant to evoke in Russian productions, but to Western audiences he probably will always seem like an accretion. Thus it is odd that in Peter Martins's "Swan Lake," which wrapped up a two-week run Wednesday night at New York City Ballet, the Jester occupies a more prominent position than in Russian productions.
The Jester does spectacular technical stunts but is meant to look different than a prince would doing similar steps. Traditionally, but not always, the Jester is danced by a short, stocky dancer who may lack prized attributes of balletic beauty such as long feet with curved arches that point easily. There is meant to be a grotesque edge to him that manifests in a slightly hunched, deformed, cramped articulation, although that is probably a little less evident in today's more academic approach to ballet.
These days the Jester's interpreter will usually want to show he can do these technical steps as neatly as any other technician. These stunts are punctuated by unique gestures of insouciance and ironic comment that survive from commedia dell'arte and date back to Greek comedy.
At NYCB, Mr. Martins allows the Jester to overturn etiquette to a degree exceeding Russian productions. When Prince Siegfried is busy dancing, the Jester steals into the prince's chair and curls up there. He is privy to the palace secrets and fully intends to be, executing an ostentatious gesture of comic eavesdropping.
This isn't to say he doesn't take his fair share of liberties on the Russian stage. At the Kirov, he forgets himself to the point where he amorously pursues one of the young women who dance the pas de trois.
In Mr. Martins's version, the Jester continues to comment on the action after the catastrophic flameout of the prince's pursuit of the Black Swan in the palace ballroom. After the stage empties, the Jester sneaks back in, striking dejected poses that could be a witty quotation from Balanchine's "Prodigal Son."Then he hops onto the throne once again and takes a snooze as the entire ballroom set melts into the wings.
Mr. Martins attempts a humanization of the Jester that reminds me of Balanchine's 1946 "La Sonnambula," in which one of the entertainers at the Baron's ball is a Harlequin who suffers an attack of lumbago in the midst of his acrobatic exertions. Mr. Martins's Jester suffers back pains and a nettlesome cough, but there's also the implication that he may be feigning these ailments as part of his appeal for sympathy from his noble employers.
At NYCB, a further humanization of the Jester occurs in the ballroom scene when he performs a divertissement with an entourage of three children dressed as he is. Given that the Jester is meant to be the shortest and therefore most childlike figure in the monarchial strata, it is startling to see him juxtaposed to actual children. In the balletic universe, it is a debatable whether jesters actually age and ma ture. Or do they exist outside of time, perpetually locked in the irreverence of youth?
Over NYCB's 12-performance run of "Swan Lake" this season, I saw four jesters. All of them jumped and turned with skill and enthusiasm. Each contributed something different to the part.
Tom Gold is varsity for these kinds of roles at NYCB. He was able-bodied on the opening night, but bouncier and freer at last Wednesday's performance. Adam Hendrickson danced this season with more care than he had shown recently, while at the same time adding some technical flourishes that are fashionable at the moment. Daniel Ulbricht was stylistically refined in a way that pleases even in the roughand-ready Jester lexicon.
The most pleasant surprise was Austin Laurent. His stripling physique was a refreshing anomaly in the role; he was technically hale, while less brusque in the role than his more compact colleagues. Mr. Laurent joined NYCB in 2003 and is beginning to dance solos. Immediately manifest when he appears onstage is a vital and original imagination. Time will tell how far he and the company develop it.
News source: nysun.com


Print this news
---
Culture news archive for 20 January' 2006.
Culture news archive for January' 2006.
Culture news archive for 2006 year.