Culture news
Russian Winter Festival Staged in Nelson's Shadow
01.20.2006 16:04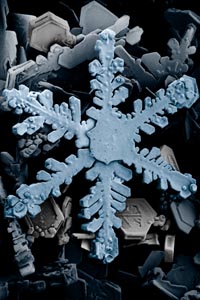 Snow started falling just as the loudspeakers boomed the countdown for the Russian New Year. Lasers projected "S Novim Godom", and as the Russian national anthem blasted forth the thousands gathered raised their plastic glasses and embraced one another. It was about as close as you could get, culturally speaking, to being in Russia.
The snow was produced by machines, and Nelson would no doubt have raised an enquiring eyebrow at the Cyrillic greetings laser-projected onto his column at the site of the second Russian Winter Festival on London's Trafalgar Square on Jan. 14. The event is now a major symbol of cordial and productive English-Russian relations, as well as the considerable and rising cultural, economic and political Russian influence in the British capital.
Throughout the morning and early afternoon, an eclectic mix of Russian folk acts and bands took to the stage between the famous resting Lions to entertain the sea of dark leather and winter hats which flooded the square. They cheered "Rah!" en masse and applauded whenever the acts drew breath, while the Brits in attendance sampled the delights of Baltika beer imported from St. Petersburg and entered into the festive spirit. Those tired of the crowds tried borsch, bliny and pirozhki at stalls set up to encircle the crowd.
The Ergyron ensemble showcased their traditional indigenous song, and dance inspired by Chukchi and Yup'ik folk tales from the extreme north-east of Russia. Malenky Jigit, from Ossetia, performed their energetic folk dances, before Natisk changed the pace to hard rock. The tempo shifted once more with musical ensemble Yamarka's classical dance and more contemporary numbers.
Baltika, Russia's most popular beer and the second largest brewer in Europe after Heinken, participated as one of the key sponsors of the event. It ran two bars, where queues were at least ten people deep and over 15,000 bottles of its amber nectar were sampled.
The St Petersburg-based company has been exporting to the UK for two years and their brand is now sold at five hundred outlets across the U.K. Having sold 6.8 million liters of its beer in the U.K. in 2005, the brewery is planning to double that figure in 2006.
Given that some put the number of Russians now living in Britain as high as 300,000, Baltika could probably make profits just selling to the Russian faithful. However, the brewer's focus is on making Baltika an international brand and catching the wave of increasing Western interest in their country of origin, leading them to participate in numerous high profile events around the world.
Anne Morrow from Edinburgh, Baltika's brand–manager in the U.K., feels that the cultural appreciation shared between Britain and Russia is mutual.
"Russia is becoming more appealing to British consumers. Russian and British cultures are becoming better linked — the place is fascinating to the British."
Baltika's Export Director, St Petersburg native Dmitry Kistev, feels there is a confluence between his home city and London. "I spend several months in London. I love the architecture. In St Petersburg we celebrate the old, historic buildings; it is the same here", he said.
The afternoon acts were drawn to a close by legendary Russian Folk artist Nadezhda Kadysheva and her flamboyant folk ensemble Zolotoe Koltso. Their vivacious renditions of classics, such as "Kalinka", whipped up a frenzy — and an optimistic few who had spent the entire afternoon by the Baltika bar bravely tried to mimic the gymnastic dancing.
The festival was well received by the predominantly Russian crowds, who are well known for their cultural and national pride. Andrei Platonov, 25, from St Petersburg, came to London to study five years ago, and now works here as a commercial lawyer.
"We should mix together like this as much as possible. We were apart for 70 years. I love London because it is the most tolerant city in the world," Platonov said.
His friend, Anton, 18, also from St. Petersburg, feels there are cultural ties which go beyond the attraction of a strong economy, jobs, and the Sherlock Holmes museum: "Our countries share a love of the arts — music and literature especially. The British here today, even though they do not understand the words to the songs, are still enjoying it. It's great that we are celebrating Russian culture together."
The evening kicked off with a set by legendary St. Petersburg rock veterans DDT. Yuri Schevchuk, the band's front man gave a characteristically emotive and energetic performance. They were followed by Brothers Grim and Ivan Kupala. Some guests were screaming the lyrics; others were just drinking beer at the "Baltika–St.Petersburg" and "Baltika-Moscow" bars.
During a break in performances, the Mayor of London, Ken Livingstone, appeared with his Moscow counterpart Yuri Luzhkov. Livingstone heaped praise upon Luzhkov, "Moscow has been transformed by his leadership and I hope I can achieve half as much as he has in London", and invited him and his wife to be his guests at the London 2012 Olympics. Livingstone also said he had presented Luzhkov with a recently retired London Routemaster bus, though it is unknown where the Moscow mayor intends to keep it.
Russian influence is increasingly visible throughout London. There are at least forty shops, restaurants and cafes serving Russian food and vodka to be found all over the city. Venues such as Borsch n' Tears in Knightsbridge, famed for its beautiful waitresses and energetic folk music, are doing much to develop the fashion for all things Russian in the city. In Farringdon, at Potemkin, a mix of traditional Russian and modern European dishes are served amid a stylish interior comprising embossed Russian emblems and alcoves with pottery reminiscent of rooms in the Hermitage.
In West London, Queensway market, a cavernous layout of shop units, now includes several stores selling Russian goods. In one, Seda Garrelyan, 45, from Armenia, has thousands of Russian films for rent and sale. Rarely is a word of English heard in her shop. Opposite, another sells Russian books. There is also a cafÎ, Samovar, which offers borsch, solyanka, beetroot salads and sausages.
Around the corner, Boris Gofman, 47, runs Kalinka, a shop selling imported products ranging from condensed milk, sour cream and black bread to salted meats, dried fish, and "Borzhomi", Georgian mineral water. "Our customers are generally Russian-speaking. The products come from Russia, Ukraine, and the Baltic States. Our shop is a place where people can escape back to that food, language and people."
Besides shops and cafÎs, determined, hard-working and thirsty young Russians are making their mark in Universities like LSE and the London Business School. In Vine Street, Tower Hill, bars are often flooded in the early evening with the new generation of successful Russian lawyers, bankers and accountants who now work in London.
Then, of course, there are the oligarchs.
The most flamboyant and certainly richest of them all, with a fortune estimated at $28 billion, Roman Abramovich, 38, epitomizes the new breed of ludicrously rich Russians making the most of an alternative base in London. He has bought a $49 million Belgravia mansion and an estate in Sussex, as well as Chelsea Football Club, on which he has spent $614 million since 2003. He divides his time between London and Moscow, and still serves as the governor of Chukotka — home, incidentally, to the Ergyron ensemble.
In 2004, he was outbid on a mansion in Kensington Park Gardens by another oligarch, Leonard Blavatnik, 47, who paid $72 million. Blavatnik emigrated to America in 1978 but returned to Russia in the post-Soviet era, making his fortune in oil, gas and metals. In 2003 he formed the third largest oil company in Russia, TNK-BP. Then there is Britain's richest refugee, Boris Berezovsky, 57, once adored in Moscow, where he was involved in the oil and car sectors and owned broadcast and print media. He fell out of favour with President Vladimir Putin in 2000 and was granted asylum in Britain. He is thought to be worth at least $2.6 billion, and owns properties in Belgravia, Chelsea and Kensington — as well as a $17.5 million estate in Surrey. Others, such as former Yukos chief, Mikhail Khodorkovsky, who was sent to a Siberian penal colony for tax evasion and fraud after openly opposing the President, were less fortunate.
Executives at the London Stock Exchange (LSE) continue to encourage the super-rich to leave the risks of what some spectators see as efforts by Putin to re-nationalise industries by buying back stakes in private oil and metal companies, and consolidate their fortunes by selling shares in London. In the first six months of 2005, Russian companies brought £1.4 billion to London. The Guardian estimates as many as 50 Russian companies could float in London in 2006, which could be worth up to £15 billion. The LSE remains more attractive for companies of dubious ownership rights, as the post-Enron and Worldcom scandals New York Stock Exchange is considered more stringent. Perhaps more importantly, the British tax laws are less punitive to the super-rich.
More recently, a new geo-political Russian influence on Britain has appeared. Abramovich, who took control of oil company Sibneft from former business partner Berezovsky when he fled for the UK, put power back into the state's hands by selling the company to Kremlin-controlled Gazprom just before Christmas last year, netting about $13 billion from the transaction, the largest in the history of post-Soviet Russia. While Abramovich now has a yet larger personal fortune to play with, President Putin gained a stronger hold over Russia's increasingly important natural resources.
Gazprom, one of the festival's sponsors, showed just how much power Russia could come to hold over Europe at the beginning of January when it cut gas supplies to the Ukraine, and thus most of Europe. As a result, the nuclear power debate was re-kindled in Britain and elsewhere in Europe. Gas in the North Sea is set to run out in the next five years, and some fear dependency on a new Russian energy superpower.
Back in London, however, the oligarchs are just examples from the top of a very loaded pile. Russian men in Versace leather jackets accompanied by insanely attractive women in Dolce & Gabanna jeans carrying Louis Vuitton purses are now a common feature in Bond Street's luxury boutiques. Last year, the Harvey Nichols department store recruited Russian-speaking sales staff to help serve the elite shopping teams of glamorous Slavic bombshells who devour Gucci and Prada wares at the store. Spokesman Richard Gray said "The Russians are to this decade what the Japanese were to the Nineties and the Arabs were to the Eighties."
Whether as a haven for the rich or a world of opportunity for the ambitious, London is becoming ever more magnetic for Russians. Russian influence on London, from those here, as well as those back in the resource-rich Motherland, looks certain to grow. Perhaps S Novim Godom projected onto Nelson's Column is not such an unusual idea after all.
For Russian businesses, performers and artists taking part in the Russian Winter Festival in London, however, participation in cultural events in foreign countries isn't limited to the British capital. "We're already exporting to 38 countries," said Dmitry Kistev from Baltika. "And now we have the chance to present Russia in events throughout the world."
By Robin Stringer
Special to St. Petersburg Times
News source: times.spb.ru


Print this news
---
Culture news archive for 20 January' 2006.
Culture news archive for January' 2006.
Culture news archive for 2006 year.