Culture news
From Russia with gloves
02.26.2006 13:46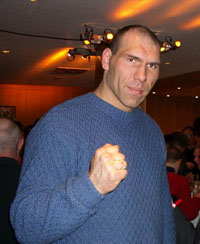 Russia's first world heavyweight boxing champion Nikolay Valuev is a gentle giant who courted his wife with poetry, Brian Doogan discovers.
IT was silent in the car. Nikolay Valuev sat in the front passenger seat with his three-year-old son Grisha asleep in his arms. From time to time, he kissed the top of Grisha's head as his petite wife Galya negotiated her way through St Petersburg's dark and congested streets until they arrived at their destination.
"Grisha, wake up," Valuev said softly. "We're here. The train is waiting."
The boy's excitement about their overnight journey to Moscow had exhausted him, so his father hoisted him on to one of his huge shoulders, took hold of the large suitcase that Galya had packed and together they walked past the statue of Peter the Great into the station. All along the platform people stopped to gaze at the giant and his family.
"I have business in Moscow tomorrow," Valuev said. "We could have flown, of course, but Grisha wanted to go by train. For him, this is an adventure."
Their tiny compartment, one of nine in the cramped carriage, had space for two small bunks on each side and standing room only, though the 218cm Valuev wisely sat on the edge of one of the bunks.
"If I were to stand, my head might go through the roof," he said and laughed, the way a good-natured bear might laugh.
Passengers came to the open door to shake his hand and to tell him how proud they were when he became Russia's first world heavyweight boxing champion in December.
His victory on points over John Ruiz in Berlin made the 32-year-old a national symbol of strength. Yet there he was on a week night, not on some luxury train but on the packed 11 o'clock overnight sleeper out of Moskovsky station, squeezed into a carriage you feel he could probably have placed on his back and carried, at least part of the way.
"I don't know, perhaps people don't expect me to be like this but this is who I am," he said while leaning across to the opposite bunk to pull a blanket around Grisha.
"I come from a working-class family. My father was strict and taught me to be responsible for what I do and always to finish the job. My mother, who is still alive - she likes to cook for me, maybe caviar-stuffed blini (pancakes) with borsch (a beetroot soup) - she is a very warm-hearted woman. Anyone will tell you. So this is how I was brought up. Yes, I am a boxer and also a giant man, but a person needs to be interested not only in how to smash someone in the face or how to be a winner or where to look for the flash of a camera. Every person is more, much more, than what people see.
"To me, a person should be interested in surroundings and in surrounding people because the human is not an animal. God made him for things other than fighting. I want Grisha to know and understand this and one day he will."
With that, the man some have taken to calling Shrek, the Beast from the East, Lurch (from The Addams Family), the Tower of Force, the Rock Man and the Russian Giant kissed his son goodnight and their eight-hour train ride in small surroundings began.
* * *
THE phone rang unusually early for a Sunday morning.
"It was a friend of mine, who had been to the Moscow Circus on Tsvetnoi Avenue the night before to watch the boxing," Russian sports reporter Alex Belenkii recalled.
"He was very excited. 'It was so great, really great,' he said. I thought he was talking about Oleg Maskaev and Alex Stewart, for they had boxed in the main event. 'No,' he said. 'A real King Kong arrived here from St Petersburg. He must be 3m tall and 200kg! He stepped right over the top rope when he came into the ring!' I could not believe it. 'Over the top rope?' I asked. It was the first time anyone in Moscow had seen this man, Nikolay Valuev, but he made an instant impression."
His colossal size was the first impression also in our interview. Holding a cue that looked like a toothpick in his huge hands, the pool table in the St Petersburg hotel where we met seemed barely the size of a chessboard as he broke off. "Today nobody beat me," he said in broken English, smiling ambiguously as he handed over the cue.
The frame - consequently - was over faster than most of his 44 fights. But an unforeseen sense of humour and a mild manner quickly surfaced. "Sullivan (Ronnie O'Sullivan)," he said with enthusiasm. "(So much) talent. Great player. I like. You no Sullivan."
The giant laughed. The truth - you're not much of an O'Sullivan yourself, you big, intimidating so-and-so - went unspoken and Valuev motioned towards a nearby table: "Please. Sit down." For the remainder of the day we communicated through an interpreter. "This way easier," he decided.
* * *
VALUEV was born into a working-class St Petersburg family in 1973 in the depths of the Cold War. Sergei, his father, worked in a factory repairing radios, while his mother Nadezhda helped to make ends meet.
"Nothing came easily for us," he explained. "It was like growing up in the ghetto in a large American city, though the old Soviet system was different. Everyone worked. Everyone was equal. I had the same childhood as every other child. We all shared the same life experiences, the same toys.
"Overall, it was good but the opportunities for my son are much greater. I could not have dreamt of travelling to Moscow or to Germany, places Grisha has already been.
"Life was very basic, yet we made the most of it. I liked history, geography, natural science and Russian literature at school and I was no different to any other child. I never felt I was different."
But Valuev stood out in one respect: he was bigger than anyone around him, taller than his teachers before reaching his teens. At 16, he was 201cm, almost as tall as Vitali Klitschko was when he succeeded Lennox Lewis to become the tallest world heavyweight champion.
Doctors suggested to Valuev's parents that their son could be suffering from a disease of the pituitary gland. But his grandmother spoke instead of an Asiatic tribe called the Tartars, who had once conquered Russia and spread terror throughout most of Europe. Her grandfather, she said, "a giant of a man called Vasily", was a direct descendant of this warrior race. Nikolai had come from the same gene pool.
But something did not fit. Young Niko never had the lust for hurting people. Despite his appearance, his nature was just not threatening. If his body was a destiny that had to be fulfilled, it would be in athletics, he believed.
"I went to boarding school in Leningrad (now St Petersburg) at the age of 13 and realised my childhood was finished. People had paid more attention to me than to other children. I knew this. It was obvious. But I had always lived with my size. Then I realised I could actually do something with it.
"In Leningrad I saw this and set my focus on achieving something in sport. I considered no other profession. The school specialised in sport and had a good basketball team, which I joined. At junior boys' level we won a national championship.
"But I soon showed an aptitude for hammer and discus throwing and, at 19, won the national junior title in discus. I might even have gone to the Olympics. But fate intervened, God's will. I moved to the Institute for Sport in St Petersburg and one day met a woman, the wife of Oleg Shalaev, who would become my first boxing trainer. This meeting changed my life."
He was 20 years old, strong and determined but as a fighter he was a physical freak.
"It was difficult for me to develop in this kind of sport at that late age," he admitted. "Almost every boxer in the world first learns boxing as a boy. For me, everything was new, running, skipping, punching the big bag, working the speed bag, sparring, even shadow boxing. I had never thrown a punch in my life. This was a new world for me and I became addicted to it immediately.
"My training began in the spring of 1993 and I had my first fight about six months later, on October 15, in Berlin against an American called John Morton. I won by KO in the second round but never dreamt that I could become a champion or be rich and famous through this sport, with the chance to travel all over the world. All I'd had was about 13 or 14 amateur bouts, not many. Because of my size and strength I'd won a Russian national championship silver medal, but I wanted to make money so I became a professional."
The potential that Shalaev saw in him was lost on most observers. After beating Morton he fought three times in St Petersburg, then took his act on the road, boxing in England, Australia, the US and Japan.
"The Japanese were in complete awe of him," remembered Belenkii. "He was like Gulliver in the land of Lilliput. Of course, he won wherever he fought but his popularity was not as a brilliant boxer. People regarded him something like a walking freak show. A friend of mine said simply, 'Boxers like Valuev do not exist'. I heard this about him a million times from people who saw him."
But he believed in himself and also in the power of destiny. In 1999 he walked into a restaurant in St Petersburg for a friend's birthday party and set eyes on the prettiest girl he had ever seen. They were introduced by his friend and exchanged telephone numbers and before long they were dating regularly.
In some of his spare time away from training Valuev, who has always loved to read, - Agatha Christie, Arthur Conan Doyle, Tom Clancy, Jack London, Tolstoy and other great Russian writers - took to composing poems, which he dedicated to Galya. She was smitten. The Beast had melted the heart of his beauty.
"The poetry is not a big thing," he protested, shifting awkwardly in his chair. "Please don't write about it."
Might the giant Rock Man be a softie at his core and, if his opponents were to be made aware of this, could this diminish his strength?
"It is not the image I want to give," he insisted. "The poems were written for Galya, they are personal and I don't like to talk about them. I'm a boxer. I'm not a poet. Besides, these are poems that were written a long time ago."
Russian machismo forbade any further discussion. "All I will tell you is that Galya didn't throw them back at me. She has all of these poems still," he said with a smile.
"We were married in 2000 and at the moment of our union I knew that I loved her. It was a blessing from God. Galya and Grisha mean everything to me. Whatever a man does in his life, he needs his family around him to feel complete."
* * *
WILFRIED SAUERLAND, a German boxing promoter, forged the other great union in Valuev's life. With little money to show for his 10 years in the ring and still living in a small flat in a nondescript apartment block on the outskirts of St Petersburg, Valuev met Sauerland in 2003 and signed a promotional deal.
"I told Niko that I thought he had been promoted as a circus act but he could be much more than this," Sauerland said. "He had spent his spent his entire career never improving or progressing in the rankings because the people he was with did not believe he was a real fighter with ability. I always thought that with the right dedication on his part and the necessary knowhow behind him he could be a genuine contender.
"I was not thinking world titles at first but the ease with which he destroyed Paolo Vidoz for the European title made me think again and realise that he could go all the way."
Vidoz was knocked out in the ninth round by a Valuev right hand which truly left its mark.
Insisting that he should put in an appearance at the after-fight party, the Italian found it uncomfortable to talk or eat and left quickly, booking an appointment with his doctor for the next day. When the doctor returned with the results of an x-ray Vidoz discovered that he had a double fracture of the jaw.
Against an American journeyman named Gerald Nobles, it merely required the threat of what damage Valuev might inflict to persuade Nobles to hit him low and get out fast, disqualified but still in one piece.
Then came Clifford Etienne, a one-round victim of Mike Tyson whose susceptibility to intimidation plumbed new depths when confronted at the weigh-in by his man-mountain opponent. In the week leading up to the fight Etienne avoided contact but at the scales he was made to realise what he would be up against in a little more than 24 hours. A 50kg disadvantage and 30cm in height was not Etienne's idea of a fair fight. That evening he arrived in the hotel bar and began drinking, adamant that the bout was off.
"Nobody told me I was taking on Bigfoot," Etienne cried. Returning to his room, he packed his bags, rang up his manager and told him he was on the first plane home. Only Henry Akinwande's ability to block the door prevented him from doing so. "It won't be so bad," the British heavyweight assured him and indeed it might have been worse, for Valuev took him out in three rounds.
Another American, Larry Donald, probably summed up best the scale of the challenge. "He was able to make it look, just by his sheer size, that he was hitting me when he wasn't," Donald said after being controversially beaten by a majority points decision.
"I never faced a man like him and I never seen a man like him either. He's like Neanderthal man, something from the Dark Ages."
With heavyweight boxing in the most impoverished state perhaps of its 114-year history, Valuev's capture of the WBA title was no epiphany. Darkness still pervades. The Russian giant brings only a novelty value to the ring.
"I hope to put some interest back into heavyweight boxing again and the way to do this, I feel, is to make unification fights against the other champions," Valuev said, referring to fellow beltholders Hasim Rahman (WBC), Chris Byrd (IBF) and Lamon Brewster (WBO). "It's up to someone to take on this responsibility because this will create intrigue. Right now in heavyweight boxing the intrigue is missing."
For his own country, struggling economically and starved of medal successes at the last Olympics and of participation in this year's soccer World Cup, Valuev has become a symbol for hope and perseverance.
Russia's president, Vladimir Putin, commended him for his heroic example after he beat Ruiz, convincing Valuev that he can use the title to build a dream for the future.
"Russia is a beautiful country for tourists to come and visit," Valuev said. "All we have to do is build and everything will happen. My hope is to build a number of resorts in some of the most beautiful locations and invite tourists and Russian people to come and experience the thrill of hunting and fishing and of playing other sports here.
"It is hard to make any changes in Russia, to bring in new ideas, so if you want to achieve something you must attempt something that is realistic and you're better sticking to a field you know well. That's why I want to start building these facilities.
"My father always impressed upon me the importance of finishing any job you begin and this is an idea I intend to see through to the end. I have always wanted to do the best I can for my wife and my family and I have plans to build a house on the edge of St Petersburg, which will hopefully begin soon. If I can become a symbol of hope for other Russian people as well, this will mean more to me than being heavyweight champion of the world."
* * *
"I CAN'T say that I communicate with Nikolay all the time," admitted Belenkii. "But over a period of years I've built up an impression of him as a kind, friendly man and very calm. He also has a sense of humour. A couple of years ago he acted in a TV program here, like Candid Camera, playing the part of a decorator. The businesses he turned up at had been told he would be coming but when he started painting windows white people came running out of the offices to attack him. Of course, then they saw how big he was and the reaction was great.
"Five security men came out of the first office, Nikolay turned and glared at them and they froze. They didn't know what to do. At another office a woman attacked him and he acted so polite. This exasperated her even more. He'd be good at acting and he'd be happy doing it when his boxing career is over."
But Valuev is often at his happiest when he and his friends get together and go hunting in the forests around St Petersburg. They hunt for ducks and wild boar and twice since winning the title from Ruiz he has been on these expeditions, which sometimes remind him of the days when his father would take him fishing on Lake Ladoga and Finland Bay and it seemed like they did not have a care in the world.
"We meet outside the city, a group of us and it's a big deal for all these people to be able to finish their jobs and meet friends who share a common interest, a passion," Valuev said. "Some of us are sportsmen, some are in the military but the hunt brings us together. I think it's important to meet up with your friends, do things together and share some kind of adventure.
"I remember one trip in the winter time, we took two guests from Moscow and had to leave them in the car because they were drunk on vodka [Valuev is teetotal]. When we returned they were lying asleep on the snow. Another time the shooting line was too long and we didn't manage to kill any wild boar. Only our dogs were able to. We got back to the cars and one of the guys got on the phone to his wife. 'The dogs are better hunters than any of these other men I'm with,' he said. We all overheard him and he didn't realise. These are some of the memories you take with you.
"I have always visited my father's grave before each of my fights and sometimes I think about the adventures we shared together. This is what life is about. For new year, I bought Grisha a fishing rod and we will go out in the summer on our first fishing trip. Grisha's so excited about this. He can't wait. Nor can I."
In the mean time, Valuev will return to the ring to fight American Owen Beck in Hamburg on April 1. What will ultimately become of the Russian giant, who is to know?
But it is reassuring that he has developed a life away from boxing. Primo Carnera, the Valuev of his day, was "a helpless man among wolves", the American writer Paul Gallico noted, "who used him until there was nothing more left to use, until the last possible penny had been squeezed from his big carcass". When he returned home late in life to the village of Sequals, near Udine, where he died alone, Gallico noted how "none of the carrion birds who had picked him clean ever came back to see him or to help him".
Whatever he does, Valuev will have to choose his friends well.
News source: theaustralian.news.com.au


Print this news
---
Culture news archive for 26 February' 2006.
Culture news archive for February' 2006.
Culture news archive for 2006 year.