Culture news
A Night in St. Petersburg
02.26.2006 13:33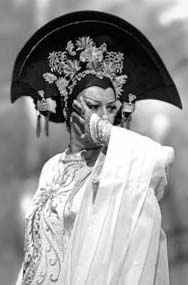 Members of the Kirov Opera and its Orchestra, normally in residence at the historic Mariinsky Theater in St. Petersburg, Russia, come to the Kennedy Center periodically to present touring productions of operas and other great pieces of music. Last night, we were in the Opera House to see the first performance of their staging of Giacomo Puccini's last and perhaps greatest opera, Turandot. It was an excellent show, with well-performed music and a splashy, colorful staging that is extraordinarily effective. If you are not a die-hard opera fan but are interested in finding out what opera is all about, this would be a great introduction.
Tickets are fairly expensive, but we are always on the lookout for discounts for DCist readers. We have just learned -- not in time for this week's Classical Music Agenda but hopefully before they are all gone -- that there are some $10 student tickets for at least two of this week's Kirov Opera productions: Tuesday's Parsifal (February 21, 6 p.m.) and Thursday's Turandot (February 21, 7:30 p.m.). You need to go to the Kennedy Center box office with your valid student ID and ask for the "ATTEND DISCOUNT" (mention promotion code 12488). You can buy up to two tickets, but you will need your guest's student ID to buy him or her a ticket. At that price, we order you to go and hear some opera. You will not be disappointed. If you are past your student days, we understand that the only regular tickets remaining are pretty expensive. If you really want to go, we advise you to try TICKETplace, in the Old Post Office Pavilion, where you can often buy tickets to Kennedy Center events for reduced prices. They have half-price tickets to tomorrow's Parsifal and may have half-price tickets for Turandot. Check on the day of the performance.
First, for the eyes, although this is a traveling production, meaning that the troupe brought everything from Russia, it is a handsome spectacle. One basic set (designed by Isabelle Partiot-Pieri) serves for all three acts: a steeply raked stage flanked by square columns, with a walkway stretched across the middle part of the scene. In the center is a sloping platform that turns and can open up a walkway under the stage. The scenery colors and costumes (designed by Katia Duflot) are all opulent, recognizably Chinese but with an interesting Russian flavor in some cases. The crowd scenes, involving large numbers of choristers and supernumeraries, are beautifully choreographed. In Act II, when Ping, Pang, and Pong -- the three ministers who are the comic foil to the tense main drama -- wistfully dream about their faraway estates ("Ho una casa nell'Honan"), abandoned for the insanity of the court in Beijing, the supernumeraries form colorful scenes around them, making flower shapes with their colorful silk costumes. Turandot's enormous headdresses alone are worth seeing.
As for the ears, we could imagine stronger individual performances in the leads, but as a whole, this is a good ensemble cast, well directed by Charles Roubaud. Irina Gordei was a forbidding and poisonous Turandot, spiteful enough that we suspected she would somehow defy Puccini and ultimately betray Calaf at the opera's conclusion. Vocally, she has a dark timbre, usually with enough power, in spite of a few cracks, to cut through the orchestra. Vladimir Galuzin was a fine Calaf, although he did seem to be avoiding lengthy soundings of the part's highest notes, as in the climax of the work's most famous tune, "Nessun dorma," where the orchestra lingered as if to encourage him, even though he sometimes rushed ahead of it. Irma Gigolashvili had a mostly strong outing as Liù and was believable as the opera's most sympathetic character, who in the morally ambiguous world of Turandot gets totally screwed. Alexander Timchenko, Andrei Spekhov, and Andrei Byushnikov were a comic delight as Ping, Pang, and Pong, wielding an arsenal of hilarious facial expressions and gestures as well as capable voices. Members of the Maryland Boy Choir assisted sweetly, off stage, on the parts for children's chorus.
It is sometimes hard to believe that an opera based on such a strange story -- adapted from Friedrich Schiller's Turandot, Prinzessin von China, itself an 1802 German adaptation of Carlo Gozzi's fairy tale Re Turandot of 1762 -- could be a pleasant dramatic experience. It is only because Puccini's score, left incomplete at the time of the composer's death in 1924, contains some of the most seductive, exotic, and challenging music ever written by this eternally popular musician. Somehow, the sounds compensate for the fact that the putative hero, Prince Calaf, and heroine, the ice princess Turandot, who are united in love at the opera's troubling conclusion, are two of the least sympathetic characters, bordering on loathsome, in the history of opera. Knowing that the setting was Beijing's Forbidden City -- where the opera was memorably staged in a huge spectacle in 1998 -- Puccini studied the sounds of Chinese music as best he could, actually borrowing a tune called Mu-Li-Hua ("Jasmine flower"), notated in a book he read, for the Act I children's chorus "Là sui monti dell'Est la cicogna cantò."
In a strange juxtaposition, Turandot was premiered in Milan only about five months after the Berlin premiere of Berg's Wozzeck. Although Puccini's final opera is not nearly as challenging as Berg's expressionistic, 12-tone work, there is more dissonance in Turandot than in the composer's earlier operas. Aside from occasional minor ensemble problems from the brass, the Kirov orchestra played very well. Conductor Valery Gergiev seemed to have mined the score for all of its clashing harmonies, which sparkled lushly from the pit.
News source: www.dcist.com


Print this news
---
Culture news archive for 26 February' 2006.
Culture news archive for February' 2006.
Culture news archive for 2006 year.