Culture news
Criminal elements
03.03.2006 13:05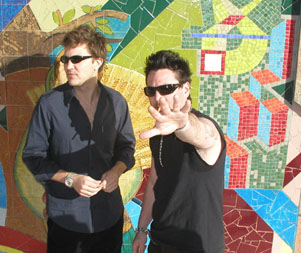 New York's Fun Lovin' Criminals are probably better known in Europe than in the U.S., but the quirky trio, which is to play a concert in St. Petersburg on March 11, draws its inspiration from its native city.
"I think the thing about New York City that is universal is that it's the place where everybody from around the world comes to," singer and songwriter Huey said recently speaking to The St. Petersburg Times from Bilbao, Spain where he was on a DJ assignment.
"So we're lucky enough to have a world view and we're lucky enough to have exposure to a lot of cultures that a lot of places in the U.S. don't. That's why I think New York is a very special place in the world."
Huey's full name is Huey Morgan but he prefers to be known by his first name, and the other two members also go by nicknames — founding member "Fast" (Brian Leiser) on bass and the Leicester, U.K.-born "Frank the Rhythm Master" (Mark Reid) on drums.
The Fun Lovin' Criminals' most recent album, which the band is promoting on its current tour, is called "Livin' in the City," and is full of references to New York, with such songs as the "City Boy" and "I Love Living in the City."
The group's previous album, 2003's "Welcome To Poppy's," dealt with the September 11, 2001, terrorist attacks in New York and their aftermath, and was partly written near Ground Zero.
With its over-the-top mix of many musical styles, from rock to blues to Latin to hip-hop, the Fun Lovin' Criminals unabashed eclecticism and upbeat vibe has found an audience in Russia.
When the band performed in the city in March 2004, the venue was the pub/brewery Tinkoff, but this time the band is scheduled to perform at the much bigger Manezh Kadetskogo Korpusa, a former riding school that can hold up to 3,000 fans — a fact that took Huey by surprise.
"Oh! That's a lot of people, I hope they'll all show up," he said, with a laugh.
Promoters Svetlaya Muzyka, or Light Music, explained the choice of the venue was due to increased demand for the Fun Lovin' Criminals in St. Petersburg, although whether the venue will be sold out remains an open question.
Formed in 1993, the band is infamous for its posing as Italian suit-wearing mafia types — an image possibly influenced by popular gangster movies, and Huey admits he has had problems with the law earlier in life.
Contrary to some fans' misconception, the Fun Lovin' Criminals were not on the soundtrack to Quentin Tarantino's 1994 film "Pulp Fiction."
But the band did use samples from both "Pulp Fiction" and Tarantino's previous, 1992 film "Reservoir Dogs" in its best-known song "Scooby Snacks" in 1996. Tarantino reacted by demanding around 40 per cent of the royalties for that song. Although the band's heyday was in the late 1990s, with such albums as its 1995 debut "Come Find Yourself" and the second album "100% Colombian" in 1998, the Fun Lovin' Criminals seem to have a continuing and devoted following in Russia.
"We didn't even know we had fans over there, and it was fantastic," Huey said about the Fun Lovin' Criminals' concert at Tinkoff in 2004. "St. Petersburg was a great show."
"Afterwards they put all the lights on when we were loading our equipment, there was condensation all over the walls of the place — people were sweating and having good time."
The Fun Lovin' Criminals perform at Manezh Kadetskogo Korpusa on March 11. www.flcnyc.com
By Sergey Chernov
Staff Writer
News source: times.spb.ru


Print this news
---
Culture news archive for 03 March' 2006.
Culture news archive for March' 2006.
Culture news archive for 2006 year.