Culture news
Lords of the dance
03.17.2006 13:44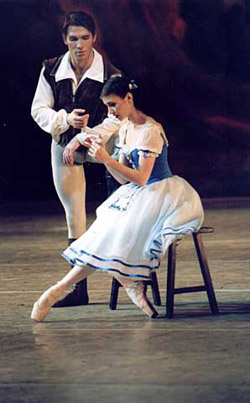 A reconstruction of a 19th-century French classic, a new cutting-edge piece set to music of Dmitry Shostakovich with the plot inspired by Nikolai Gogols's "The Overcoat" and a delicious cocktail of the choreography of Marius Petipa, George Balanchine and William Forsythe are at the heart of the Sixth International Mariinsky Ballet Festival which opened Thursday with Pierre Lacotte's revival of Jules Perrot 1843 "Ondine."
The event, launched by the Mariinsky's artistic director Valery Gergiev in 2001 as a counterweight to Gergiev's other brainchild, the "Stars of the White Nights" festival which runs each June, assembles a pantheon of ballet stars from London's Covent Garden, the Opera de Paris, the New York City Ballet, the Bavarian State Ballet and Moscow's Bolshoi Theater. The summer event, "Stars of the White Nights" emphasises opera and symphonic concerts, and balletomanes sometimes feel hard done by. But with this week's sumptuous ballet fiesta nobody has cause for complaint.
During last year's event, the Mariinsky restored the lost tradition of tribute evenings to its brightest ballet stars.
Before the Bolshevik Revolution in 1917, the Imperial Ballet organized annual tribute performances to the company's brightest dancers and its corps de ballet. In 2005, the company's three principal ballerinas — Diana Vishnyova, Daria Pavlenko and Ulyana Lopatkina — took center stage to be honored in this way.
At this year's festival, all eyes will be on male principal dancers: Igor Zelensky and Farukh Ruzimatov will be celebrated on Thursday and Friday (March 24) respectively. Perhaps due to the lack of a third obvious Mariinsky star, keeping them a company will be Bolshoi Theater principal Nikolai Tsiskaridze who occasionally comes from Moscow to guest at the Mariinsky. Tsiskaridze will be honoured on Wednesday.
Tsiskaridze will appear in Balanchine's "Rubies," Petit's "Le Jeune Homme et La Mort" and Forsythe's "In the Middle, Somewhat Elevated."
Zelensky opted for Balanchine's "Apollo" and "Diamonds" as well as a modern work to be announced later. The New York City Ballet ballerina Maria Kowroski will partner Zelensky in "Apollo."
Svetlana Zakharova, who after parting ways with the Mariinsky was the company's biggest recent loss, returns to take part in the festival by partnering Zelensky in Balanchine's "Diamonds" on Thursday.
After the long-limbed Mariinsky principal dancer left to join the troupe of the Bolshoi Theater in Moscow, her schedule has been too tight to allow for more than two appearances in St. Petersburg each season.
Meanwhile, Covent Garden's Alina Cojocaru and Johan Kobborg, who made their debut at the Mariinsky during the ballet festival in 2003 in Giselle, are making a third visit to the St. Petersburg festival.
Cojocaru dances in Petipa's "Sleeping Beauty" with Mariinsky's Andrian Fadeyev on Sunday and then again with Kobborg in the closing gala performance the following Sunday (March 26).
Cojocaru, a 24-year-old principal dancer with a Thumbelina-like appearance, who often says she feels her life has much in common with the story of Cinderella, is one of the festival's most eye-catching names.
Born in Bucharest, Romania, into a family of market-stall holders, Cojocaru expressed an early interest in gymnastics, but quickly switched to dance. At the age of nine, she was invited to the Kiev Ballet School, where she studied for seven years. In 1997, Cojocaru's career had its first rapid twist, when the dancer, then 16, won the prestigious Prix de Lausanne, and subsequently took a six-month scholarship at the Royal Ballet (Covent Garden) which came with the prize. When the course finished, she had two drastically different options open to her: stay with the Royal Ballet — in the corps de ballet — or return to the Kiev Opera and Ballet Theater as a principal dancer. It was a difficult choice and the relative standards of living between the U.K. and Ukraine notwithstanding, Cojocaru returned to Kiev, where she danced an array of top roles — including Cinderella — in a single season.
By the end of the 1998-1999 season, she felt it was time for a change, and moved to London to join Covent Garden's corps de ballet. The speed of Cojocaru's rise to the top in London — she made a dazzling transition from corps-de-ballet member to first soloist in just one season — shocked even her.
She is now famous for her lead roles in Kenneth MacMillan's "Manon" and "Romeo and Juliet" as well as Marius Petipa classics such as "Giselle" and "Don Quixote."
On Tuesday, the Mariinsky unveils an evening of cutting-edge contemporary choreography.
The event features three one-act ballets created by two Russian choreographers Alexei Miroshnichenko and Nikita Dmitriyevsky, and by Noa Gelbert, a counterpart from the U.S.
Miroshnichenko's work, titled "Du cote chez Swan" and set to a score by St. Petersburg composer Leonid Desyatnikov, makes literary as well as a choreographic, references. The balletmaster alludes to Marcel Proust's "Swann's Way" and Michel Fokine's and Camille Saint-Saens's "The Dying Swan." Miroshnichenko said he was inspired by Desyatnikov's unorthodox score.
"His music deliciously bridged these two worlds, and the challenge facing me as a choreographer was to visually connect the dying Swan experience with Proust's twisted reality where the time category doesn't exist, through Desyatnikov's talented, razor-sharp, witty music," the balletmaster said. "So in my piece, just like in Proust's prose, dreams blend with reality, real events mix with the imagined, the beginnings are confused with the endings."
In line with this philosophy, Miroshnichenko's ballet starts with the finale and goes backward.
Dmitriyevsky, whose ballet to Richard Strauss' music is loosely based on Moliere's "Le Bourgeois Gentil Homme," opted for a more traditional approach.
"For me, Jourdain is a stranger among his own," Dmitriyevsky said about the ballet's leading character. "Every comedy has a tragic offshoot, and Jourdain's character has a tragic element as well."
Describing the mood of his ballet as ironic, Dmitriyevsky said stylistically the work presents a hybrid of classical and modern choreography.
Noa Gelber defines his own choreography as "intuitive," "complex," "multi-layered," and "painstakingly attentive to detail." The U.S. choreographer has turned his attention to Gogol's classic short story "The Overcoat."
"My ballet is metaphoric although I seek to avoid metaphors which are easily guessed," Gelber said, adding he aims to avoid obvious interpretations.
"I analyzed Gogol's key sentences on an emotional as well as on a physical level and sought to embody the writer's thoughts in my choreography," he said. "Because I am myself an author, I have invented a female character. But the woman doesn't serve as an object for sexual desire but rather as a personification of all things absent in the life of the main character. For Akaky [Gogol's anti-hero], the new overcoat becomes a passport to the world of stability and prosperity, where he always strived to be, but once he gets there he begins to wonder deep inside whether he really belongs to the club."
The festival concludes on March 26 with a traditional gala performance, which this year pays tribute to great Russian emigre ballerina Natalya Makarova and assembles an array of top-flight international talents including Cojocaru and Kobborg, Paris's Opera Agnes Letestu and Jose Martinez and Munich's Bayerisches Staatsballett's Lucia Lacarra. Joining them will be Mariinsky's own stars Ulyana Lopatkina, Darya Pavlenko, Leonid Sarafanov and Farukh Ruzimatov.
By Galina Stolyarova
Staff Writer
News source: times.spb.ru


Print this news
---
Culture news archive for 17 March' 2006.
Culture news archive for March' 2006.
Culture news archive for 2006 year.