Culture news
Fashion Show Sparks Debate
03.31.2006 12:09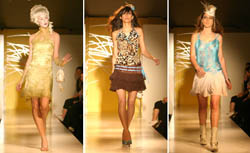 By Evgenia Ivanova
Staff Writer
As the most significant regional fashion event Defile ne Neve prepares to open it's 13th season in April, industry experts are surprised by the absence of debuts by graduates of local fashion colleges at the event.
"We expected interest from the graduates of Russia's colleges with their degree collections, but this season we won't be having any of them at all," said Irina Ashkinadze, head of the Defile Na Neve fashion week, speaking at a press conference last week.
Alexander Shumsky, general producer of the Moscow-based Russian Fashion Week, the largest fashion event in Eastern Europe, regards the reluctance of young designers to participate in the city's fashion week as "very surprising."
"For a designer, any fashion show is an opportunity to promote himself," he said.
The fashion specialists said the standard of the city's fashion shouldn't be blamed for the absence.
"If there are any traditions in Russian fashion, then they come from St. Petersburg," Shumsky said.
"The modern fashion industry sees a lot of repetition, but over the generations the city's designers have been producing very original collections that can be rightfully considered to amount to a Russian style," Shumsky said.
"Designers specifically from St. Petersburg create collections that can be attributed to a so-called Russian style, inspired by Russian culture and arts, but at the same time having nothing in common with lubok, [cheap common prints based on folk art], which foreigners expect from Russian fashion," Shumsky said.
Accordind to Shumsky, although the notion of Russian fashion is only at the beginning of its development, if it is is to be formed, it will be "formed here, on the banks of Neva river."
Vladimir Sanzharov, head of the design faculty at the State University of Technology and Design, one of the most prominent design university in the city, said his graduates do not participate in the shows for financial reasons.
"In our opinion, this festival is designed for professionals, not for students, and therefore the participation cost is quite high," Sanzhrov said in a telephone interview on Thursday.
According to Ashkinadze, the participation fee, which currently amounts to $850, is "not unrealistic" for young designers. "With every show in which a young designer participates, the designers makes it easier for themselves to find investors," Ashkinadze said.
Ashkinadze noted, howeve, that the fee doesn't cover all the expenses. Along with other costs such as the printing of tickets and payments to models, the cost of entry can rise to $1,200.
"For students, $1,200 is pretty high — it would even be high for us at the University if we decided to sponsor some of them," Sanzharov said.
"Of course, Defile na Neve is a well-known brand in industry circles, and therefore it has the potential to boost a young designer's career, but unfortunately the ambitions of young designers just don't match their spending power," Sanzharov said.
Anastasia Ivanova, a designer who entered her graduate collection in the event in 2005, said she spent over $2,000 on her Defile na Neve participation.
Ivanova said that designers also have to significantly enlarge their university collections if they are to participate in any serious industry event, and this can cost as much as $5,000, making it very difficult for graduates to afford.
Nevertheless, despite the high costs, young designers should make every effort to take part in professional events such as the Defile, Ivanova said. "It's one thing to sit at home and dream about a successful professional future, and another thing to get a chance to be thrown into that professional life."
News source: sptimes.ru


Print this news
---
Culture news archive for 31 March' 2006.
Culture news archive for March' 2006.
Culture news archive for 2006 year.