Culture news
Rebel in the desert
03.31.2006 12:22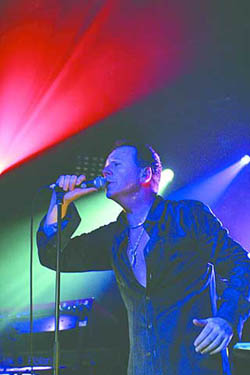 By Sergey Chernov
Staff Writer
The Scottish band Simple Minds, which rose to prominence in the 1980s and influenced such bands as The Killers and The Bravery, is to perform in St. Petersburg on the strength of what singer and songwriter Jim Kerr describes as a "landmark" new album.
Having grown out of a Glasgow punk group called Johnny and the Self-Abusers, Simple Minds was a cool art band boasting such fans as David Bowie and Brian Eno before they went on to rival U2 in stadiums in the late 1980s.
In the 1990s and 2000s the band stepped out of the spotlight but never really went away, producing a new album every two or three years.
Simple Minds' concert in St. Petersburg on Monday, is part of the tour in support of its album "Black & White 050505" (the digits refer to the last day spent in the recording studio) and will be the band's only gig in Russia.
Kerr spoke to The St. Petersburg Times by telephone from a Berlin hotel between concert appearances in Germany.
Judging by the press, the British part of the tour was a big success.
It's continuing, really. I mean, we're very happy. We got off to a good start and that positivity has continued on a nightly basis, so there's a good feeling.
Can you say a few words about the new album, "Black & White 050505"?
First of all, I have to say we're incredibly satisfied with the album. Believe me, that's not often the case in our career. Like everyone, if you have a long career, you make many albums. But sometimes you come up with an album, that [can be called] a landmark album, it stands apart because of its quality or its completeness.
First of all, we felt that we needed a landmark album, we really needed to stretch ourselves and come up with a quality of songs that we haven't had for a long time... And I think with the new album you really find Simple Minds back to their strengths.
The band has gone through different periods and its style has changed a few times. At one point it was more pop, at one point more experimental… Where are you now?
Well, alright, if I was to describe the new album, I would say it's big emotional pop songs, I think it's intelligent pop music.
I think it's music of beautiful atmospheres and ambiance, with drama, with poetry, but above all with very good melodies.
You wrote songs for the album while living in Italy. Has the location affected the way you write?
Yeah, it's true. I'm obviously a Scotsman, but for the last six or seven years Italy has given me rejuvenation. You know, not just go and have sunshine or go to the beach, but more importantly, to a new challenge, a new language, to integrate, to develop a part of me that wasn't there before. I think part of that rejuvenation has also come in to my approach to work, to music.
For instance, five or six years ago, I have to be honest, I wasn't sure I had any more music in me. Now currently I feel I can write a new song almost every day and I think Italy has been a big part of that energizing, and so therefore to that extent it played a big part in the album.
[But] I still gravitate around Scotland, and it's a kind of co-existence.
What is the meaning of the image of hands forming a heart that appears on the cover of your new album?
Well, you know, it means a lot and it means nothing. There's many interpretations, of course. ... Simple Minds used this heart element for many decades so it's a kind of a new slant on that, but, more importantly, we think it's a striking image.
Simple Minds released a political album, "Street Fighting Years," in 1989. Have you written any political songs recently?
Well, it's strange. When you say "political,"... I think politics is everywhere, especially now… You know, the clothes we wear are politics, the food we eat is politics, and, of course, when I think of the album, there are some issues that you could say are political in a sense. For example, there's a song like "A Life Shot in Black & White." It's not obvious, perhaps, but [it is about] people who want to deny, for instance, the Holocaust, or people who don't want to face up to events.
A song like "Stay Visible" is a dialogue between two illegal immigrants.
[And] a song like "Kiss the Ground" is... not an anti-God song, but it's kind of an anti-religion song. So these big issues, political, social, I think they still permeate the music.
Do you feel there is new interest in music from the 1980s and is there some sort of 1980s revival?
Well, when you say "revival"... we have a 30-year career that has continued. Sometimes it's been much more fluent, sometimes much stronger than other periods. But it's no revival for us, it's just continuity. But yes, I would have to agree with you that in the sense that I think until fairly recently no-one seemed to have very many good things to say about the 1980s, but the last one or two years there seems to have been, I don't know, a reevaluation. You know there's a lot of new bands who mention the 1980s as their influence, so in that sense I think your question has some credibility, yes.
When you were starting out, there were not many well-known bands in Scotland. What was the scene like from the inside at that time? Was it a desert or was there something going on?
I think you put it right, exactly, it was a desert. Unfortunately for us, because we were, you know, 17 or 18, it was a desert. We had loud mouths, we were complaining [about bands that were] playing covers of The Eagles [and] all the bands were cover bands.
We would go and tell them they were shit and that they should write their own songs and finally someone said to us: "Well, you know, you talk, all you do is talk, when will you do it?" And in a sense that kind of desert gave us energy… I suppose it was kind of punk to rebel… to rebel against the desert, to create something. It's easy to criticize but then [we did] something alternative for ourselves... But you are right, there was nothing.
And now in Scotland, Glasgow, every year seems to throw up an interesting or a great band.
What do you think about the Scottish scene now, with such bands as Franz Ferdinand?
Yeah, well, part of me being a Scotsman [means that] I always want Scottish bands to do well and it feels good when you see them coming through.
I think [Franz Ferdinand] have a wonderful imagination. I think for a band to arrive like that [is great], but ask my opinion in about five or six years' time. I think these days it's not easy but there's many glorious debuts and two years later you say: "Now, what happened?" So I think for a band like that it'll be really interesting to see how they develop in five years.
Have you heard any interesting new artists recently?
Well, like most people, I think, in the last few years [there has been] a lot of young energy going on. Arcade Fire is a good band and Kaiser Chiefs made a good, really good album. I love [American-English artist] Anthony and the Johnsons. [He made] a wonderful record. Yeah, it seems to be quite a productive period again.
It's interesting how the Arctic Monkeys became so popular without the involvement of a major record label, and just by using the internet. Do you think it's important for the development of music?
It's interesting in a marketing sense, yeah.
What do you feel about artists' use of new technologies to promote themselves?
I have opinions, but I am not excited about it either way. All I care about is fucking melody and the lyrics. The rest is… I am not saying bullshit, it's obviously important, but I just don't think about it very much. I'm so obsessed with the melodies and the lyrics, I prefer to focus on fundamentals and let other people think about those things. But you're right, again there's no way to get away from it, it's part of what is going on. But I don't really have that strong opinions either way... You know, after these interviews today, we have a day free, I want to go and work on a new song.
What songs will you perform in concert in St. Petersburg?
Well, I think the tour has been getting very good reviews, great reviews, in fact. I think part of the reason is because of the different mixture of songs. I think we have a good balance in the sense that we really give a strong view of the journey that Simple Minds have taken through the years, so we manage to play, of course, a lot of the big songs, but we play also some of the obscure songs. Obviously we play songs from the new album that we think are really good... We play for nearly two hours, and by the end people seem to feel they have been on a journey.
You will be playing for the first time in Russia. Have you ever been to this country?
No, I have not. Sometimes in the past we looked at going, but it didn't happen. But of course, it will be a very special occasion for us, in fact.
I can tell you my father is coming with me and he grew up fascinated by Russia. I took some of his enthusiasm for Russian literature, and, of course, St. Petersburg has a special appeal. My all-time favorite book is by a Russian: [Mikhail] Bulgakov ["Master and Margarita"]. So all in all it won't be just another concert for us. It's a big thing in my life.
Simple Minds performs at Oktyabrsky Concert Hall on Monday.
www.simpleminds.com
News source: sptimes.ru


Print this news
---
Culture news archive for 31 March' 2006.
Culture news archive for March' 2006.
Culture news archive for 2006 year.