Culture news
Electric pioneer
04.07.2006 12:35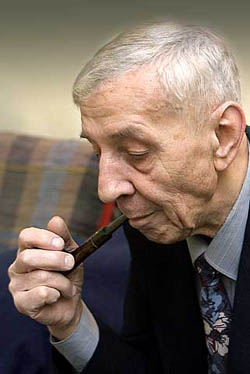 Yury Mukhin, the first electric guitar player in the Soviet Union, once rubbed shoulders with the nation's elite. Then he fell into obscurity — until a sudden change of fortune last year.
He was more into melodies and musicianship than the rock 'n' roll lifestyle, which is probably why Yury Mukhin is still around to talk about being the Soviet Union's first electric guitarist, charming his KGB minders and sleeping on the balcony of cosmonaut Yury Gagarin.
Now retired, the 72-year-old musician earns a meager income by teaching children to play the guitar. Last year, however, he was contacted out of the blue by the venerable record company Melodiya. They had found his archived recordings and wanted to release an album — his first ever on compact disc.
Rather than going for the granny market, Melodiya put out the album together with the cutting-edge Lyogkiye label. Unexpectedly, the guitarist found his gentle, virtuoso instrumentals reviewed in Rolling Stone. Now, Melodiya wants to release a second album, this time with new recordings by Mukhin.
The guitarist braved a snowstorm to turn up for an interview at Lyogkiye's Moscow office, where he got out his pipe to pose for photographs, grumbling about fire regulations. He held it in his hands as he recounted anecdotes from his eventful life in a resonant baritone voice.
It all began with a phone booth. As a teenager in the 1940s, Mukhin bought an acoustic guitar, and some of his friends, who were engineers, offered to make it into an electric one. The only problem was that they needed a special kind of magnet, only to be found in public telephones. "Well, I took apart a telephone, and they made the guitar," he recalled. "Then they perfected it and perfected it."
Nevertheless, that first instrument, pictured in the liner notes of his new album, had a "disgusting" sound, Mukhin said. He used to travel 60 kilometers outside Moscow to play it and sing at an outdoor dance floor called Voronok, located beside the railroad tracks. Since public dance floors were banned in the capital, the joint was jumping. "All of Moscow was there," he remembered.
Strictly speaking, Mukhin is an engineer, specializing in hydraulics. That's what he studied at a Moscow institute, graduating with top marks. He was immediately assigned to work in Kazakhstan, but managed to wriggle his way out of it.
"Having a head on my shoulders, I didn't take the money issued by the state for my tickets," he said. "I didn't sign anything, but I did go there, and when I came back, they had no claims on me."
The guitarist got his first professional job with a Moscow jazz orchestra, and he took part in the 1957 International Festival of Youth and Students in Moscow, backing the singer Maya Kristalinskaya. As for many Muscovites, the festival was a life-changing experience for Mukhin, giving him the chance to hear jazz played by American bands and, most importantly, to acquire his first real electric guitar, a Framus.
The members of an American guitar and saxophone band, whose name Mukhin has forgotten, started talking to the Soviet musician, and eventually offered to let him have a guitar and amplifier at the end of the festival — for $1,000. That was approximately 5,000 rubles, he recollected. By comparison, a Volga car cost about 4,500 rubles.
Luckily, Mukhin said, he had saved the money from his Voronok gigs and by "not eating." The remaining problem was how to exchange rubles into dollars — an illegal operation — and get in and out of the Metropol hotel to collect the guitar. "God spared me, because they could have put me in prison, and that would have been it."
Soon afterward, Mukhin quit his orchestra job and began accompanying top singers such as Mark Bernes and Kapitalina Lazarenko. He also made his first recording, of a piece he had composed called "First Steps." It was accompanied by an early music video, which showed him playing the piece's four different guitar tracks at the same time, a bit like the video for Queen's "Bohemian Rhapsody," but with only one person. It was shown on television only once or twice, Mukhin said with regret. He doubts that the film has survived.
After Yury Gagarin returned from his successful space flight in 1961, Mukhin took part in a closed concert at the Kremlin with an audience of just Gagarin, Nikita Khrushchev and the Soviet leader's daughter and son-in-law. The musician became friendly with Gagarin and met the other early cosmonauts, even attending the wedding of Valentina Tereshkova, the first woman in space.
One night, after a concert at the Star City cosmonaut training center, Mukhin and an accordion player ended up at Gagarin's apartment. "We sat and drank and so on, and then it was 3 a.m. He said, 'Where could you go? Stay and sleep at my place.' But where? He had a one-room flat and a wife, and it was winter."
Gagarin came up with an unusual solution. "He said, 'I'll make you beds on the balcony.' There was lots of snow. He gave us two sleeping bags and covered us up." Both musicians were "alive and well" in the morning, Mukhin said.
In order to tour abroad with singers such as Iosif Kobzon, now a State Duma deputy, Mukhin had to take a course in Marxism-Leninism, but he never became a member of the Communist Party. Like all musicians, he was accompanied on tour by KGB officials whose job was to check on his movements.
While on tour in Paris with a group of musicians and dancers, Mukhin found that he could placate the delegation's 10 KGB chaperones and get permission to walk freely around the city by singing the blatniye pesni, or criminal underworld songs, that they loved. "They started saying to me, 'Come here, here's a bottle of vodka, sing 'Murka,'" he said, referring to a popular song about a female thief. "So I didn't have any problems."
Mukhin was never a stilyaga, one of the Soviet hipsters who regularly got beaten up by police and Komsomol brigades, he said. "Everything was rational, everything came second to the music." And his music wasn't the raucous kind, he said. "It was mainstream, real music. I only did that kind."
While Mukhin praises Jimi Hendrix — "he is still the best of them all" — he doesn't have much time for the Beatles. "I will speak honestly," he said. "I am a guitarist, and they do not know how to play the guitar." His greatest heroes are American jazz guitarists such as Les Paul, Wes Montgomery and George Benson.
If Mukhin had a vice, it was women, he admitted. When he was on tour with Kobzon, he would be away from his home and his wife for eight months of the year. "When you come home, everything is fine with you together, but when you go away..." he said, trailing off. "Life was like that for approximately 20 years."
While the new album is the guitarist's first CD release, he made some recordings for Melodiya in the 1960s, including an album of gypsy songs. This never saw the light of day, however, due to an ideological purge linked to the 1970 centenary of Vladimir Lenin's birth.
Some of those tracks are on the new album, which was released last October with the broken English title of "Yuri Muhin: The First Electroguitar in USSR." Melodiya, the successor to the Soviet-era recording monopoly, hopes to find more of Mukhin's recordings for another album, the company's chief editor, Andrei Troshin, said Monday. "We want to do a second album with Yury Nikolayevich, to gather more of his surviving recordings from the 1950s and '60s, and to ask him to write new ones." The guitarist is "in good form," Troshin said, adding that he hopes the next album will come out this year.
But Troshin was pessimistic about the appeal of old-style music. "There isn't wide demand for that kind of culture, due to its rather high quality," he said drily.
For Mukhin, who earns 2,000 rubles ($70) per month teaching children to play the guitar at a music club, the new wave of interest gives him hope that he might achieve one dream: gaining the official state title of Honored Artist. "They wanted to do it in their time, then somehow it didn't work out," he said. "I have thought that maybe this album will play some kind of role."
"Yuri Muhin: The First Electroguitar in USSR" is released by Melodiya/Lyogkiye.
By Anna Malpas
Special to St. Petersburg Times
News source: times.spb.ru


Print this news
---
Culture news archive for 07 April' 2006.
Culture news archive for April' 2006.
Culture news archive for 2006 year.