Culture news
Sotheby's Russian Art Sale Sets Record, Raises $46.7 Million
04.28.2006 11:58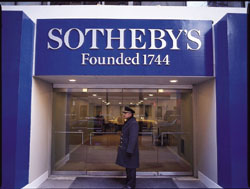 April 27 (Bloomberg) -- Intense bidding on the phones and in the room helped Sotheby's Holdings Inc. wrap up the most profitable Russian art sale ever, raising $46.7 million in New York and almost hitting its top presale estimate of $48 million.
Sotheby's broke its own record, set in London in December when it sold $38.4 million in Russian art. A year ago, Sotheby's sold $35.1 million at a sale in New York, a record at that time.
About 82 percent of yesterday's 429 lots were sold. The 180 paintings on sale earned $32 million. Russian-themed works were previously among the most popular, yet in this sale the pack was led by 1920s, Asian-themed works.
``When something fresh and unusual appears, people are willing to pay,'' said Mark Schaffer, director of A La Vieille Russie, a dealer on Fifth Avenue in New York. ``The outcome can sometimes be unpredictable. The market remains very selective.''
The top lot, a tempera-on-canvas work by Nikolai Roerich (1874-1947), went to a phone bidder for $2.2 million, more than seven times its top estimate and an auction record for the artist. ``Lao-tze'' depicts the founder of Chinese Taoism riding on a bull.
The next lot, Roerich's ``Confucius,'' which depicts the Chinese philosopher riding in a cart in the mountains, sold to a phone bidder for $1.25 million, more than four times its top estimate. Both paintings are the last to be sold from the Bolling Family collection in Michigan, some of whose works went to the Roerich Museum in New York.
`Kabuki Dancer'
Alexander Yakovlev's ``Kabuki Dancer'' was the second-most- expensive painting of the day, selling for $1.81 million, more than nine times its top estimate, to a phone bidder in a bidding contest with a Russian dealer in the room.
Yakovlev's ``General Ma-Soo'' sold for $1.25 million, more than six times its top estimate. This time, the Russian dealer who lost the battle for ``Kabuki Dancer'' prevailed over a persistent challenge from a phone bidder.
``Yakovlev is finally taking his place among the most prominent Russian painters,'' said Natalia Kournikova, a Moscow dealer who bought five early-20th-century works, none by Yakovlev. ``Two years ago, it was a major event when the first paintings reached $1 million, but now it's normal for excellent works.''
Other top sellers included Konstantin Korovin's ``Korovin's Studio,'' which sold for $1.7 million, more than twice its top estimate; ``Nevsky Prospect, St. Petersburg,'' a mid-19th- century work by Petr Vereschagin (1836-1886), which sold for $1.47 million, more than eight times its top estimate; and Nikolai Bogdanov-Belsky's 1915 oil-on-canvas ``Reading in the Garden,'' which sold for $1.36 million, almost four times its top estimate.
Losers
The top presale lot, Petr Konchalovsky's 1910 fauvist ``The Olive Grove'' failed to sell. The low estimate was $2.5 million.
``This Konchalovsky is an excellent piece,'' said Alexander Lachmann, a dealer in Cologne. ``I don't understand the logic that is driving the market, especially when there are works of poor quality that easily sold for over $1 million.''
Konstantin Somov's ``Les Amoureux'' also failed to find a Buyer, with a low estimate of $800,000; as did Vladimir Baranov- Rossine's ``Cubist Self-Portrait,'' with an $800,000 estimate.
Among decorative works, bidding was furious for Faberge pieces, Imperial porcelain and enamels. A Russian gilded-silver and champleve-enamel complete tea and coffee set was bought by a phone bidder for $1.8 million on a top estimate of $800,000.
A pair of Faberge gold-mounted glass beakers that belonged to Czar Nicholas II and his wife, Alexandra, sold for $464,000, just over the low estimate of $400,000.
Military Plates
The pace of the sale was intense, even as the end neared. In an aggressive duel, a phone bidder paid a total of $2.57 million for 16 Imperial military porcelain plates, more than double their combined top estimate of $1.1 million.
The plates, which were sold one by one and went to the same buyer, were made at the Imperial Porcelain Factory in St. Petersburg during the reign of Nicholas I (1825-1855). The plates were consigned by the descendants of a U.S. diplomat who served in St. Petersburg.
``It's getting more difficult and too expensive to buy Russian art and porcelain,'' said Lachmann, whose bids for several of the plates failed. ``Too many rich Russians want beautiful and prestigious things to decorate their homes.''
News source: bloomberg.com


Print this news
---
Culture news archive for 28 April' 2006.
Culture news archive for April' 2006.
Culture news archive for 2006 year.