Culture news
A new prince at the Mariinsky
04.28.2006 13:04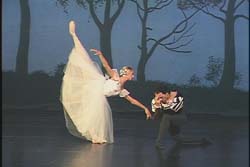 By Kevin Ng
Special to St. Petersburg Times
Last Sunday, the performance of "Giselle" at the Mariinsky Theater starred two of the most promising up-and-coming Mariinsky Ballet dancers both in their early twenties, in the lead roles. Olesia Novikova, who was prominently cast in the Mariinsky International Ballet Festival last month, danced the title ballerina role. Her lover Albrecht was danced by the talented 21-year-old dancer Vladimir Shklyarov, who was actually making his debut in this role.
Now in his third season with the Mariinsky Ballet, which he joined in 2003 from the Vaganova Academy, Shklyarov has made swift progress. Shklyarov, who celebrated his 21st birthday in February, has danced leading roles in several 19th century classics — the Prince in "The Sleeping Beauty", the Prince in "The Nutcracker" and James in Bournonville's masterpiece "La Sylphide."
The dancer has a large repertoire, including works by the 20th century masters Balanchine and Forsythe. This reviewer first saw him in the Mariinsky Theater in August of 2004 when he gave an exciting performance as one of the two male soloists in the William Forsythe ballet "Vertiginous Thrill of Exactitude." He demonstrated a pure classical line and strong technique.
At present, Shklyarov is rehearsing for Pierre Lacotte's ballet "Ondine" which will receive further performances this coming week, after its premiere last month which opened the Mariinsky International Ballet Festival. He is due to dance the Sicilian sailor Matteo in the performance on May 5 with Olesia Novikova. Besides "Ondine," Shklyarov is also rehearsing Balanchine's technical showpiece "Tchaikovsky Pas De Deux" with Alina Somova.
Though Shklyarov didn't dance during the Festival, he was very busy rehearsing "The Sleeping Beauty" with Evgenia Obraztsova when we met for an interview. Obraztsova is another 21-year-old rising star of the Mariinsky Theater, interviewed on these pages in December of last year. They were rehearsing for a guest engagement in Florida at the end of March with the American company Space Coast Ballet.
Significantly, this was Shklyarov's first ever guest engagement outside the Mariinsky Ballet, although in January he went to Washington DC to represent the Mariinsky in the International Ballet Academy Festival at the Kennedy Center featuring the world's greatest ballet academies. So how did this invitation come out? "Actually," he explained, "the Florida company invited Evgenia Obraztsova as a guest, and Evgenia suggested that I dance as her partner."
Not surprising, perhaps, as both have danced together a number of times, forming a wonderful partnership, memorably in "La Sylphide" last season.
"This is going to be Evgenia's debut in "The Sleeping Beauty"," Shklyarov added, "as she hasn't yet danced the ballerina role at the Mariinsky Theater."
Shklyarov himself has already danced the Prince, Desire, in "The Sleeping Beauty." Most recently, on March 1, he made his debut in the Mariinsky's reconstructed version of the Imperial 1890 version of "The Sleeping Beauty".
"Since then, unfortunately, I've been suffering from back pain for a while, but I am feeling better now."
"Evgenia and I will spend a week in Florida and give two performances. If I have any free time after performances and rehearsals, I am looking forward to doing some swimming and sunbathing. It's actually 30 degrees Celsius out there. Evgenia has kindly reminded me to bring my swimming trunks."
During the week that we met, Shklyarov and Obraztsova were rehearsing for their "Sleeping Beauty" performance with Sergei Berezhnoi, a ballet master of the Mariinsky Theatre. "Berezhnoi has been my teacher since I joined the Theater 3 years ago. He is a wonderful teacher," Shklyarov said.
The Florida production is based on Konstantin Sergeyev's 1952 version for the Mariinsky Ballet (then called the Kirov Ballet). Shklyarov has danced this version too, most recently on the Mariinsky Ballet's tour to the U.S. last autumn. Does he prefer this version or the reconstructed Imperial version of 1890? "I personally prefer Sergeyev's version. I think it's more logical, and the choreography is more sensible. However, I prefer the lavish costumes in Vikharev's reconstruction of the Imperial version."
Discussing ballet in general, Shlyarov commented, "Acting is actually as important if not more so than the technique. I cannot say that I am a good actor myself. But my attitude is that dancers should also be good actors. Sometimes it's easy to forget about the theatrical side if we concentrate too much on the technique."
News source: times.spb.ru


Print this news
---
Culture news archive for 28 April' 2006.
Culture news archive for April' 2006.
Culture news archive for 2006 year.