Culture news
The hands of an artist
05.05.2006 11:58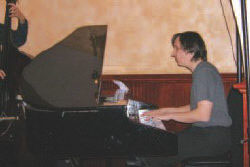 His newest album, "Where the Light Comes from ..." features pianist Eugene Maslov performing with other such jazz greats as Hubert Laws, Bob Sheppard, Alex Berenson, Boris Kozlov, Luis Conte and Vinnie Colaiuta.
"His music is amazing," said David Faucher, owner of MusicMax, friend and former manager to Maslov.
"He's taking jazz and moving it into the future. He doesn't compromise and it's not for everyone, but that's what art is."
A piano prodigy from St. Petersburg, Russia, Maslov moved to the United States, arriving in Leominster in 1989. In the years he has been in the U.S. he has traveled all over the country, from California to New York to Philadelphia. But now with his wife and three children, his home, and his music, reside in Leominster.
"He has said that he came back to the area because of all the places he has been. Leominster was the first place people were nice to him," recounts Faucher.
Maslov studied classical piano with Lina Bershadskaya at the Moussorgsky College of Music and further broadened his studies at the Rimsky-Korsakov Conservatory. It was at the conservatory that Maslov focused on his jazz. According to longtime personal friend, Carol Cohen, Maslov graduated from the conservatory with the highest score in 30 years.
Eugene Maslov
"His music is absolutely exquisite," says Cohen. "It's intricate and complex, the best musicians in the country love to play with him."
Though he has produced several albums since 1994, including "The Fuse Is Lit," "The Face of Love," "When Need to Smile" and "Autumn In New England," Maslov says it is his newest CD which has finally brought him a sense of completion.
"Music inspires me," he says. "This is the first time I've more or less been satisfied with an album in my life. It's an incredible feeling."
The new album also features other musicians, expressing a wide range of artistic feeling.
"It's not jazz or classical, it is based on jazz, but it was set on a certain concept, covering as many tastes as possible. The tunes are in a certain sequence, in a theatrical way," he says.
Faucher aided Maslov and his family in their move to Leominster, helping them build up their finances and their lives. His music isn't the only thing evolving. Maslov had a rough start he knew no English, had no job, was wildly talented but without direction and was being driven by the sole desire to make and produce great art.
"He's the real deal of an artist. I don't know if you know any struggling artists, but there is never any happiness," Faucher says. "Art is the most important thing not family, not friends, not eating so you suffer. I think now he is ready to be more of a person, a friend, a family man, a neighbor. He's world class."
One of Maslov's first area performances was in Tata Auditorium, playing the works of Rachmaninoff, the Russian classical genius who had once performed in Leominster's town hall in the 1920's.
With an emphasis on jazz, Maslov's music goes to the heart of humanity's struggle failures and achievements, self-destruction and the highest peaks of elation, always reflecting that most human characteristic, perseverance.
"Learning how to be an acceptable human being has become more important than just being a musician," Maslov says.
Maslov most enjoys playing Carnegie Hall in New York and Mechanics Hall in Worcester, where he has performed solo concerts.
"I like the halls because playing in that sort of venue makes you take on a certain amount of responsibility. They are not places where you can hide behind acoustics. It's much more theatrical, it is theater in the first place, performing. I find I'm inspired just by being in a place," he says.
In his youth, Maslov says he tried playing other instruments, every kind he could put his hands on, including acoustic guitar, which was his passion for many years. But when the time came to take his already proficient piano skills even further nothing else mattered.
"I was already a professional, playing the piano was like reading a book by then and I had to decide what was more important in life," he says. "The piano has always been my home."
Maslov is still composing music today and performing in local venues like Classics Pub on Central Street in Leominster, engaging, antagonizing, uplifting and exhilarating the audience with his music and mastery.
"It is a benefit that he has chosen to hang his hat in this community," said Faucher.
To Maslov, his city, his home, and the people who've made it that way are just as important as the music.
"Every place you go affects the music," he said. "Changes in life affect the music, the style of life you live. Music is a reflection of your life, it just comes with a little delay."
News source: leominsterchamp.com


Print this news
---
Culture news archive for 05 May' 2006.
Culture news archive for May' 2006.
Culture news archive for 2006 year.