Culture news
Redrawing Russian History
05.19.2006 11:43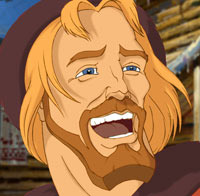 Released this year on the eve of the Defenders of the Fatherland Day, "Prince Vladimir" was not an ordinary blockbuster motion picture. It was a feature-length animated cartoon – a genre that barely existed in Russia only a few years ago. And though its patriotic theme is par for the course in today's Russian cinema, the film's uniqueness was highlighted by a public blessing from Patriarch Alexy II, the head of the Russian Orthodox Church.
Its artistic merits and didactic tone may not have brought "Prince Vladimir" much critical acclaim, but the cartoon was an unqualified commercial success among Russian viewers. In its first weekend, the movie raked in an estimated $2 million at the box office, outperforming Shrek 2 and prompting the Walt Disney Company to make an announcement in March that it would consolidate its ventures in Russia and boost investments in projects involving Russian animation. Overall, animated films brought in more than $15 million in Russia last year.
The commercial viability of Russian cartoons is just one sign of the industry's recovery from the near collapse it endured during the first post-Soviet years. The rising volume of new animated productions and the greater prominence they enjoy on television, in advertising and among the vendors of pirated discs – always an indicator of genuine popular appeal – signal the emergence of a new generation of interested sponsors and creators as well as viewers.
One striking aspect of the latest releases is that they draw increasingly on Russia's own historical tales and characters while adopting a recognizable Disney-esque style based on vivid colors, sharply outlined contours, catchy tunes and a fast-moving plotline. "Prince Vladimir" was preceded last year by "Alyosha Popovich and Tugarin-Zmei," as well as the more recent "Dobrynya Nikitich and Zmei Gorynych." The latter two productions, advertised tongue-in-cheek as "heroic blockbusters," are devoted to epic warriors from Russian fables, and make up part of a trilogy that will conclude next year with the third installment describing the exploits of Ilya Muromets.
For all their appeal, these films are a far cry from the evocative cartoons of the Soviet era, which used elaborate and poetic constructions to conjure up settings that appealed to adults while catering to younger audiences. "Today's children grow up watching different cartoons than before, and these kids can't be convinced that they should like something else instead," said Yulia Yuzbasheva, director of ValidataKIDS, a division of the Moscow-based Validata marketing and sociological research firm.
"The heroes of Soviet cartoons have lost much of their appeal, and the list of favorite characters today is much more likely to include Tom and Jerry or Scooby Doo," she added. "Adults often regret this and insist on watching older cartoons with their kids, but the younger generation favors less intricate images, brighter colors and dialogue filled with lighthearted humor and practical jokes."
Moscow had long been the industry's undisputed production center, but in recent years, activity has shifted to St. Petersburg. Indeed, at the heart of the genre's revival has been the St. Petersburg-based Melnitsa studio, which delivered three feature length movies in three years and plans to release "Ilya Muromets and Solovei Razboinik" next year. This pace of work is exceptional by Western standards, where a typical production takes from 5 to 10 years to develop. Konstantin Bronzit, the studio's artistic director and one of the industry's best known talents, says budgetary constraints have driven this tempo of production.
"The fact that we have to proceed at this rate is not accidental," he said in an interview. "Each one of our feature-length projects is assigned a budget of $1.5 million, which is just enough to cover the studio's expenses for one year. That's exactly why we are pressured to meet such deadlines."
The extensive stylistic borrowing from the Disney school of animation was a conscious choice for Melnitsa's producers; indeed, Disney's influence has long been felt in Russia. When the Soviet Union's first large animation studio, Soyuzmultdetfilm, was founded in 1935, it was modeled on Disney's own setup. From that point until the 1960s, Soviet cartoons emulated the imported style and techniques. Its present-day adoption thus seems less surprising.
"The Disney school of animation is the classic expression of the genre, the equivalent of the academic tradition in painting," Bronzit said. "We intentionally adhere to this practice, but at the same time it serves more as a base from which we can realize our own ideas."
Melnitsa evolved from a minor sound-recording studio to the most prolific and efficient center of animation in the country. After completing their first feature-length production, "Karlik Nos," in March 2003, Melnitsa's directors looked for engaging screenplay ideas for their next work. The unexpected initiative came in a proposal from Maxim Sveshnikov, a student from Dnepropetrovsk, Ukraine. He suggested collaborating on the adaptation of Russian fables and included a sample draft of a story about Alyosha Popovich, a dim-witted but charismatic young warrior.
"We never resolved to concoct a production with a patriotic tilt," Bronzit said. "A sense of patriotism is there, of course, but it's mostly read between the lines. And it seems entirely natural for Russians to inquire into episodes of their own history, even the imaginary kind. Still, our movies are full of good-natured satire and we always look for ways to kindly poke fun at our characters."
Indeed, for all their exploration of Russia's fabled warriors, Melnitsa's productions are hardly a patriotic endorsement of the grandeur of Russian history. They revel in self-deprecating humor, inserting sarcastic cultural allusions while keeping the interests of younger audiences in mind.
"Prince Vladimir," on the other hand, stages a more overbearing reenactment of history. Its creators have lined up the approval of Russia's religious authorities, seeking the counsel of distinguished professional historians and receiving major contributions from state and private sponsors.
"The film's budget and advertising support are more than indicative of the backing provided by those in power," said Dina Goder, an independent theater critic in Moscow, who has written extensively about Russian animation. "Of course, they have also benefited from the prevailing mood in the entertainment industry, which has banked on patriotic-themed action movies. But the general trend is clearly encouraged from above."
Indeed, the scope of production involved in the making of "Prince Vladimir" sets it far apart from other recent releases. A separate studio – Solnechny Dom – was established in 1999 to coordinate work on the picture. Its reported budget of $5 million exceeded the combined total for Melnitsa's three feature-length releases. The production effort has carried on for six years, and the film was eventually split in two separate parts. Only the first half, called "The Choice," was unveiled at the end of February.
Produced by Andrei Dobrunov and directed by Yury Batanin, the picture is a hagiographic portrayal of Prince Vladimir, the ruler who led the conversion of ancient Russia to Christianity in the late 10th century. It shows a spiritually distraught prince consumed by the internecine wars against his brothers, battling heathen enemies and succumbing to the wicked ploys of a pagan high priest. The movie charts the transformation of the callous and vengeful ruler into the person who would baptize Russia. As the film's press release states, these events take place "against the background of the eternal clash of good and evil."
Critics note that such a moralizing and nationalistic pitch was one of the picture's main drawbacks. "Patriotic, Russophilic ideas were expressed to an almost excessive degree," said Yuzbasheva. "But it was received by an audience that was primed for this type of picture. 'Alyosha Popovich' in particular prepared the ground for it, and 'Prince Vladimir' was misleadingly marketed as part of that trilogy. Also, a tremendous advertising campaign preceded the release and accounts partly for its commercial success."
With the second installment of "Prince Vladimir" scheduled for 2008 and the planned release next year of "Ilya Muromets," the industry is set to continue the surge of production. More than a dozen other feature-length pictures are in the works. The rebirth of Russian animated cartoons extends to the production of short films, the staple of Soviet animation. The rush of patriotic-themed projects encompasses that genre as well.
Traditionally, made-for-television series of animated cartoons have been the industry's most profitable products. During the Soviet period, state patronage assured reliable commissions and a steady flow of shorts on television. The demise of this centralized system of state sponsorship deprived animators of financial guarantees, while television programs could not afford the costly production investment. Recent changes in the government's budgeting outlook, combined with private initiative, are now fostering a new generation of animated shorts.
Russia's two main animated serial projects are "Smeshariki," produced by Peterburg studio, and "Gora samotsvetov" (The Mountain of Gems), which is coordinated by Moscow-based Pilot studio with the involvement of numerous animators across Russia and the CIS. The latter is a pioneering project that has resuscitated art house animation while exploring the rich – and patriotic – subject of Russian folk tales.
Although select episodes of "The Mountain of Gems" have appeared on television, a recent festival in Moscow allowed for the unique opportunity of seeing numerous installments from the series on the big screen. The project is overseen by four prominent Russian animators, but individual episodes are carried out by regional studios. United only by the overarching theme of folk tale motifs, the creators employ a great variety of technical and artistic approaches. The use of diverse media in the cycle mirrors the wide-ranging subject matter. The Moscow festival, called "Our Animation," featured episodes that extended from a humorous portrayal of St. Petersburg's early history to the account of misadventures in Carpathian Ukraine.
Despite the patriotic turn of Russian animation for domestic consumption, the industry may need to commit to foreign markets in the pursuit of financial viability. A few European countries have been receptive to Russian cartoons, but Asian audiences may hold a key to the future of Russian production, patriotic or otherwise. "Only the availability of export markets can secure the future of Russian animation," Goder said. "The Asian market, in particular, can become such an outlet. Their interest in animated action movies, magic subplots and superheroes is such that even the exploits of Russian folk heroes might carry considerable appeal there."
News source: russiaprofile.org


Print this news
---
Culture news archive for 19 May' 2006.
Culture news archive for May' 2006.
Culture news archive for 2006 year.