Culture news
Reaching the summit
05.26.2006 12:57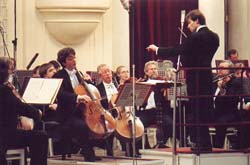 By Galina Stolyarova
Staff Writer
Rising classical music stars who have just broken through but haven't yet filled their concert diaries for years to come are coming to St. Petersburg to perform at the the 11th International Musical Olympus Festival this week.
The event kicks off Friday showcasing 23 bright up-and-coming musicians from 12 countries. This year's participants have been handpicked by the festival's founder, renowned pianist Irina Nikitina and members of its honorary committee which features classical music giants Claudio Abbado, Mariss Jansons, Placido Domingo, Valery Gergiev and Mstislav Rostropovich.
Taking center stage at the Shostakovich and Glinka Philharmonic Halls and the Hermitage Theater will be the winners and finalists of some of the world's most respected musical contests, including the Queen Elisabeth competition in Brussels, the Grand Prix Maria Callas in Athens and the Rostropovich cello competitions in Paris.
The festival, running through June 4, will introduce young singers, conductors, violinists, cellists, pianists, guitarists, brass and wind instrumentalists as well as a tuba player.
Nikitina's efforts on behalf of the festival goes against the grain of Russia's cultural mainstream. Although her festival and its namesake foundation have long made an international name for themselves, the musician finds that the environment for classical music in Russia is not favorable.
"The Culture Ministry and other state organizations involved in supporting and promoting cultures and the arts seem to be turning into show-biz agencies," Nikitina said. "Most people tend to value labels, rather than quality, and allow themelves to fall for intrusive promotions, be it in arts or otherwise. Everybody knows that Coca-Cola is not particularly good for your health but their sales are booming."
In such a context, raising funds for classical music is all the more challenging.
"The long-lost traditions of arts philanthropy (I am talking about on such a scale as when new concert halls were being built entirely with private donations) has not yet been revived in Russia."
A new concert hall is a sensitive subject for the founder of the Musical Olympus. She started the festival — featuring a sumptuous Strauss Ball — with a noble goal in mind: all profits raised by selling tickets to the ball were to be invested in the construction of a modern concert hall in Pavlovsk, where an artistic academy would operate every summer.
Nikitina, who prefers to trust live impressions rather than recordings and others' opinions, visits the world's leading musical festivals herself to select the most talented participants — not necessarily the gold medal winners — for her annual festival. Her choices create the special atmosphere of her festival, in which there are no random guests. "They need genuine talent, and they have to touch my heart," Nikitina said.
One of this year's participants, 19-year-old Georgian pianist Khatia Buniatishvili, is a case in point. The musician, who took second prize at the Third Tbilisi International Piano Competition in 2005, will be performing at the opening of the upcoming Musical Olympus.
"The winners in Tbilisi did an excellent job, all being very precise, but when she touched the instrument I was mesmerized: I could tell at that very moment that Khatia is much more than a professional, she is a gifted artist," Nikitina said.
Her choices have been proving right. A string of young musicians, whose first major engagement was with this festival have since turned into international stars. Examples include violinists Sayaka Shoji, Nikolai Znaider and Sergei Khachatryan. For its participants, the festival is much more than a one-off plum engagement. For many of them the Musical Olympus becomes a kind of patron saint.
"We are watching their careers very closely, and they can count on us, even at the time of a crisis," Nikitina said.
Pianist Eldar Nebolsin, who gained fame after his performance at the first Musical Olympus in 1995, disappeared from the stage for almost two seasons after becoming a Jehovah's Witness and nearly dropping his artistic career.
"After the most trying period in his life, he was looking to return to the music, and last year [in 2005] he called me asking if I would advise him to take part in the prestigious Sviatoslav Richter International Piano Competition," Nikitina said. "He had all my moral support, and I was increadibly happy when he won that contest."
Now, Nebolsin's schedule is busy and features, for instance, a performance at the respected Beethovenfest in Bonn this year. "He had to make a very hard and painful choice, and I am very happy to see him back on stage."
www.musicalolympus.ru
News source: times.spb.ru


Print this news
---
Culture news archive for 26 May' 2006.
Culture news archive for May' 2006.
Culture news archive for 2006 year.