Culture news
Paratrooper Tours To Russia, Israel
06.01.2006 12:52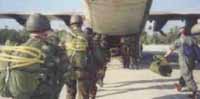 "The World Is Our Drop Zone!" is the boast of the International Airborne Society, a worldwide association of paratroopers that not only thinks it's perfectly normal to jump out of perfectly good airplanes, but travels the world over looking for new places to do it, and people to do it with.
Bernie Hasenbein of the society just notified us of two upcoming jumps, each of which promises to be unique and historic in its own way: Operation Musketeer in Israel, commemorating an important date in Israeli airborne history, and a jump in Russia that is the last chance to jump the Ilyushin Il-76 with the Russian airborne forces.
In the tiny nation of Israel, airborne training is seen more as adventure training or stress inoculation for elite forces, than a practical way of going to combat. Indeed, in all of the history of Israeli arms, while paratroopers were usually at the forefront of things, they only once jumped into combat: in 1956, in Sinai. The 50th anniversary of that jump occasions the Airborne Society's visit to Israel next month (22-30 June). The registration deadline is the 31st of May (we know, we know, it's all the Israelis' fault for taking forever to approve this).
So if you're interested, get thee to the Airborne Society's website forthwith (in the FMI link) and sign up. You'll be jumping the C-130 aircraft with Israeli paratroops, and will be awarded the Israeli Parachute Badge by the commander of the jump school. As always on Airborne Society tours, there'll be interesting meetings, weapons and equipment demonstrations, and a military history tour (everything from Masada to the paratroopers' attack on Jerusalem in '67).
There won't ever be another Operation Musketeer 50th Anniversary.
What the Russians are offering is a lot of excitement, including a mass tactical jump (for you non-military-jumpers, that means LOTS of chutes in the sky at once, below) from the Ilyushin Il-76, a plane which, in Russian military service at least, will soon be following the roughly similar US C-141 into the history books and museums.
In order to make the jump from the Il-76, you have to make a training jump on the interesting Russian parachute system -- from the An-2.
You'll be guests of the officers of 76th Guards Airborne Division of the Russian Army, and their instructors and jumpmasters will conduct your training and ensure your safety. There'll be a badge ceremony and "prop blast" party after the Mass Tactical jump. (Hot tip: the Russians will win the vodka-drinking contest. Let them win early).
As usual, there will be historical sightseeing in St. Petersburg and around the 76th's home station of Pskov.
To participate in these unique tours, you generally must be a graduate of an approved military parachute course (any nation's whatsoever) and should be medically clear for jumping. (This is not a game. On the last tour we promoted in Aero-News, in Chile, a participant was lost when he jumped early and landed in the sea. He drowned before he could be rescued).
But paratroopers will tell you that the risk is part of what makes jumping special. One of the most interesting parts, participants have told Aero-News, is socializing with the airborne veterans from all over the world. Sometimes people make lifetime friendships on these tours -- always they learn and understand more about their international counterparts.
More information, and some photos of past events, can be found at the FMI link.
FMI: www.airbornesociety.com
News source: aero-news.net


Print this news
---
Culture news archive for 01 June' 2006.
Culture news archive for June' 2006.
Culture news archive for 2006 year.