Culture news
Devotion to motion
06.30.2006 14:01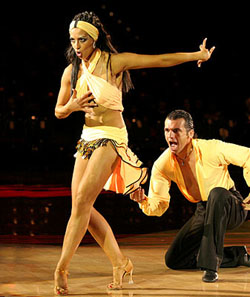 By Galina Stolyarova
Staff Writer
The Open Look Festival of contemporary dance.
The Open Look Festival, which from Saturday provides the city with an eight-day-long contemporary dance fiesta, opens with an outdoor party featuring Swedish-Russian joint project Street EYES, and two U.S. dance troupes, the Illstyle Dance Company and ZviDance.
Over the course of the festival, the local artistic community will get to know contemporary dance troupes and choreographers from the U.S., Europe and Russia.
Demonstrating the latest trends this year will be contemporary dance companies Nora Chipaumire (U.S.-Zimbabwe), Compagnie Linga (Switzerland), Routa Company (Finland) and Iguan Theater, the Sasha Kukin Theater, and Kannon Dance Company from St. Petersburg. Swedish choreographer Joaquin Perez is staging a joint project with the Russian dancers specifically for the festival.
ZviDance, led by choreographer Zvi Gotheiner is one of this year's headliners.
This well-traveled ten-member troupe established in 1989, gained international recognition for their bold original works fusing an array of styles and blending together elements of modern, folk and traditional dance with exuberance and vigor.
"Gotheiner is one of those rare choreographers who is able to convey human dilemma and aspiration through movement and form and make traditional modern steps resonate with individuality," reads a review from "The Village Voice." It continued: "Gotheiner's what people in the field refer to informally as a 'real choreographer'."
The event ends with a gala performance on July 8 with most festival participants presenting joint projects.
The driving force behind the project is Kannon Dance, the oldest studio in town focusing on contemporary and jazz dance, contact improvisation and other forms of dance.
Switzerland's Compagnie Linga is another group to look out for. Founded by Katarzyna Gdaniec and Marco Cantalupo in 1992, Linga established a permanent home in the outskirts of Lausanne one year later. Winner of a number of respected dance awards, the company is renowned for physicality and an unconventional performing style.
The Open Look Festival is one of Kannon Dance's three major annual events, along with Kinodance Festival and a competition of young choreographers. This year's festival is taking place at a new location, the Troitsky Cultural Center.
Kannon Dance's old home, the monumental Soviet-era Palace of Culture Named After The First Five Year Plan — a fine example of Soviet architecture and its naming system — was demolished earlier this year to vacate space for Mariinsky II, a new theater to compliment the Mariinsky Theater nearby.
In contrast to the previous venue, the Troitsky Cultural Center, southeast of the city center, requires quite a trek but with an obvious shortage of available stage venues in town in general, nobody is complaining.
Vadim Kasparov, the festival's director, believes the main task of the Open Look is to promote contemporary culture as a universal language, while integrating various directions of contemporary dance.
Contemporary forms of dance have been somewhat neglected — some would say suppressed — in St. Petersburg, the cradle of Russian classical ballet and home to the Imperial Ballet School, the oldest classical ballet academy in the country.
In 1997, when Kasparov and his wife Natalya, a dancer and choreographer, just started out, they ran around offering classes to local colleges and universities without success.
The first students at Kannon Dance were much more concerned about their physical appearance than the philosophy of jazz or modern dance and attended the school to get fit or train for a job in a strip-club.
"I knocked on the doors of all arts-related universities but kept getting the same reply: that 'it is not part of our course'," Kasparov recalls.
"Musical theater in Russia was nonexistent then, but I swear I already knew there would be a boom. Now I see I was completely right."
www.kannondance.ru,
www.zviDance.com, www.linga.ch. The Troitsky Cultural Center, is located at 223 Prospekt Obukhovskoi Oborony. Metro Lomonosovskaya.
For details, call 362 6271.
News source: times.spb.ru


Print this news
---
Culture news archive for 30 June' 2006.
Culture news archive for June' 2006.
Culture news archive for 2006 year.