Culture news
Leningrad Cowboys go St. Petersburg!
07.07.2006 13:33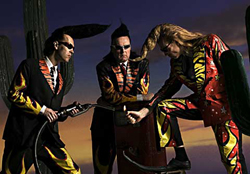 By Sergey Chernov
Staff Writer
The Leningrad Cowboys, the flamboyant band that became known internationally after featuring in films by Finland's leading director Aki Kaurismaki and also for its collaborations with the Alexandrov Red Army Ensemble, owes its moniker to St. Petersburg's Soviet name, but this week's concert will be the Helsinki-based band's first in the city since it has formed in 1986.
Complete with 10 players and two dancers, the self-styled "world's worst band" will arrive on the strength of its most recent album "Zombie's Paradise," which includes covers of very diverse songs such as David Bowie's "Starman," The Bangles' "Manic Monday," and Johnny Cash's "Ring of Fire," all done in a heavy metal style.
"That's the idea of the album that we wanted to make; every song sounds somehow the same, the same formula," said Mauri Sumen, who plays keyboards and accordion, in a recent telephone interview from his home in Helsinki.
"With this album, it was more metal sound, not the old metal sound, but, let's say, more of today's metal sound."
"Every song on the album is a cover song, all of them are big hits and everybody who has lived in the West knows them, that's the point. But then the result, the arrangements are totally new; in most cases the songs have only the same lyrics, but even the melodies, at least the harmonies, are completely new. Many songs, you can say, were recomposed."
With their trademark "unicorn" hairdos (giant quiffs), half-meter long pointed shoes and unlikely covers of Soviet songs and American rock hits, the Leningrad Cowboys first emerged in 1986 as a cultural joke, a spin-off project by Finnish punk pioneers Sleepy Sleepers.
"The Sleepy Sleepers was actually the first punk band in Finland when they started in 1974, actually two or three years before they started to play punk in England," said Sumen.
"So that was the attitude against the police, against the government, against the conservative way of thinking. It was typical young people attitude against conservative way of life. With nasty words. Well, they said things straight, not in a soft way, like very often people do. The lyrics were so straight that it was forbidden to play the records on Finnish radio, because the politicians thought that it was not correct."
According to Sumen, the Sleepy Sleepers, who sang in Finnish, formed the Leningrad Cowboys in 1986 to pursue its musical and film interests.
"The band wanted to do a project in English, to change the language from Finnish to English and record a couple of songs, and also make short movies with cine cameras with Aki Kaurismaki; not with video cameras but with cinema production," said Sumen.
"And so we found the name 'Leningrad Cowboys,' which history has shown to be a very practical name because everybody asks, 'Why this name, Leningrad Cowboys?' It's illogical, it's surrealistic, or something like that. Many people around the world, they don't understand why we are called Leningrad Cowboys. So that's how it's started."
Arguably, the band's name might have something to do with Finnish vodka tourism; Leningrad was the closest Soviet city, and drinks were fabulously cheap compared to Finland.
"I don't know about that story but I know there were hundreds of thousands Finns who went to Leningrad to buy vodka," said Sumen.
"Leningrad was a very famous place for the Finns to go to, since the '60s when the Finnish people started to travel a lot. And the price of alcohol [in Finland] has always been very high, but in the Soviet Union it cost next to nothing to us, it was like water. That's why all the working people who didn't have much money went to Leningrad and bought lots of vodka and also drank lots of vodka there."
For several years the Leningrad Cowboys and the Sleepy Sleepers co-existed, performing as two separate bands at the Rock Summer in Tallinn in 1988, before Estonia regained independence.
Headlined by P.I.L., the band led by John Lydon (formerly the Sex Pistols' Johnny Rotten), it was the Soviet Union's first international rock festival attended by 100,000 to 150,000 fans, and a highlight for the Cowboys which had played live only once before that. The Leningrad Cowboys became a full-time band in the early 1991, since the Sleepy Sleepers were put on hold in 1990, according to Sumen.
The band's members have been collaborating with film-maker Kaurismaki long before the Leningrad Cowboys formed, according to Sumen.
"Aki is actually is an old friend of the band's members from the beginning of the 1980s, probably in 1982, so many of us had been working with Aki's films doing scripts or acting or doing music, even before the Cowboys films," he said.
"And Finland is just a small country, so everybody who's in the business knows each other, so that's how we could make the film and that's how Aki decided to make a film about the band. So we co-operated somehow for at least six years [before the Leningrad Cowboys.]"
Kaurismaki's 1989 rock-and-roll road movie "The Leningrad Cowboys Go America" was an international breakthrough both for the band and the director.
In the spoof film, the Leningrad Cowboys actually act as a Russian band from a Siberian village who come to conquer the U.S. followed by a village idiot called Igor who wants to join the band, but, eventually, make it big in Mexico.
"It's been released maybe in 50 or 60 countries. The band is quite known as a cult band all around the world. Not super popular, but as a cult band. It first became popular among the students, because they were the first audience who went to the cinema and saw the band. But then we got a bigger audience."
"The first film is also half-documentary, because everything happened more or less like in the film, because we went first to the places and asked 'Can we play here?' and make a film also at the same time, and people said 'OK, why not?' And also audiences, when the band plays in the film, they are real audiences. They are acting natural. They are just normal people who don't act anything there."
"The Leningrad Cowboys Go America," described by Kaurismaki as "the worst film in the history of the cinema, unless you count Sylvester Stallone's films," was followed by two more collaborations between the band and the director, "Total Balalaika Show" and "The Leningrad Cowboys Meet Moses," both in 1994.
"Total Balalaika Show" documented an extremely bizarre concert, held on Helsinki's Senate Square in 1993, when the Leningrad Cowboys performed with the full, 160-member Alexandrov Red Army Ensemble to 70,000 fans.
"It started in August '92, when we were planning our new album," said Sumen about the beginnings of the collabotation.
"We were going to the studio, we had one CD from them, just by accident, and we thought, 'This would be a good idea to make one song with them, to ask them to sing with us as the background choir.' That was the first idea. Then we thought, 'Why not to try to make a concert with them,' and at that time we didn't know if they existed anymore because of the collapse of the Soviet Union."
After finding that the ensemble still existed, the Leningrad Cowboys contacted it by phone.
"They said only, 'We are not discussing things like these on the telephone, you must come to Moscow.' And then we went to Moscow in December '92 and they gave us a half-an-hour private concert, highlights of their repertoire. Then we had a one-hour discussion, and everything was clear. From the beginning it was very easy, very flexible and very nice. They are really co-operative and musical people."
Although the military uniform-clad members of the Alexandrov Red Army Ensemble, which frequently performs at Russian state occasions, may look stern, Sumen said it was not the case when the Leningrad Cowboys got to know them better.
"You must remember they are not soldiers, they are musicians. That's maybe the difference," he said.
"They're just working under the Ministry of Defense, but they are not soldiers, they are musicians, so that's why it was so easy for us to work with them. They got the uniforms, so did we, but we're not soldiers. So we're all musicians, so there was absolutely no problem at all to work with them. We had another project with them after that, so we're good friends."
The Leningrad Cowboys performs at PORT on Friday. www.leningradcowboys.f
News source: times.spb.ru


Print this news
---
Culture news archive for 07 July' 2006.
Culture news archive for July' 2006.
Culture news archive for 2006 year.