Culture news
Opera Diva Confesses Passion for Petersburg
07.07.2006 12:48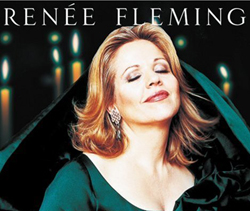 By Galina Stolyarova
Staff Writer
U.S. opera star Renee Fleming is this week recording a CD with conductor Valery Gergiev and the Mariinsky Symphony Orchestra in St. Petersburg, the singer revealed at a meeting with local journalists.
Following a solo recital on June 27 at the theater's "The Stars of the White Nights" festival, the popular soprano remained in the city to collaborate with Gergiev and the orchestra on a recording of late-Romantic composers for Decca Records.
"I will be here until the middle of July and use whatever time Valery and the orchestra have available," Fleming said.
The recording by the two-time Grammy Award-winning singer, who gained international recognition in the bel canto repertoire as well as through the work of Massenet, Mozart and Strauss, will be comprise d of works by Strauss, Conrngold, Janacek, Smetana, Cilea, Puccini, Massenet, Gounoud, Rimsky-Korsakov and Tchaikovsky.
These works are new to Fleming who has taken a year to select them and prepare for the recording.
Fleming said that the Mariinsky Symphony Orchestra, with its vibrant, deep low sound, is one of the few ensembles in the world that represents and has retained a national character.
"This is something that we all desire to hear, and there is so much passion and so much low sound, which by the way makes a wonderful contrast to the soprano voice," she said.
Gergiev has long promoted St. Petersburg as an international destination for the world's greatest classical artists.
During her time in the city, Fleming also performed at a White Nights Ball in the Yekaterininsky Palace in Tsarskoye Selo with pianist Yefim Bronfman and violinist Leonidas Kavakos.
"White Nights is already that; the ball was on a level that I would never find in New York or Paris or anywhere, and the city is really becoming more and more of a great destination," she said, concurring with Gergiev's enthusiasm for St. Petersburg. "Even the fireworks were artistic."
The singer said she feels the same inspiration from performing in St. Petersburg that she experiences at Milan's La Scala or Vienna's Staatsoper.
"It comes from the history, from understanding of who sang on this stage for hundreds of years," the singer explains. "Because I am American and I didn't grow up with that — nothing in the United States is that old — it is very enthralling and inspiring for me to perform at this kind of place."
Fleming, who had an acoustic test at the Mariinsky's brand new Concert Hall on Ulitsa Pisareva, describes the new venue as exciting, thrilling and suited to musicians' needs.
"We might even try and make this new recording at the new hall — if I stand the dust from the construction!" the diva suggested.
Fleming, who sang with baritone Dmitry Khvorostovsky at a concert of popular classics in the Oktyabrsky Concert Hall in February, says she is willing to do a mix of projects.
The singer has found that some commercial success enables her to do more serious projects involving less popular and little known works, such as the current recording with the Mariinsky Symphony Orchestra.
Fleming appreciates Gergiev's idea to incorporate a standing parterre area in the new concert hall, and recalls her years as a student in Germany. In 1984, she traveled to Frankfurt, where she took lessons from two lengendary sopranos, Dame Elisabeth Schwarzkopf and the late Arleen AugÎr, on a Fulbright Scholarship.
"Valery [Gergiev] told me he remembers being a student and standing hearing concerts for nothing, and it was the same for me in Germany," she remembers. "Concerts should be accessible for everyone."
Fleming expressed a keen interest in performing more in Russia but said her schedule is fixed until 2011.
The Mariinsky Theater does not plan its program that far in advance. The Shostakovich Philharmonic remains the only classical music venue in town capable of providing a performance schedule a year in advance.
Fleming said that her daughters, aged 10 and 13, take up a lot of her time but when they have grown up the singer hopes to catch up with St. Petersburg.
Fascination with Russia seems to run in her family. The singer's younger daughter joined Fleming on her tour to St. Petersburg in February, and was enchanted by the city so much she is now asking her mother to arrange Russian lessons for her. Her elder daughter shares Fleming's love for opera and even appeared in the role of a maid in a recent production of Verdi's "La Traviata" at New York's Metropolitan Opera.
"My daughters love music, and I think it is good for them to have this experience and to understand what I do," she said.
"But she wants to be a politician, so I am already nervous."
News source: times.spb.ru


Print this news
---
Culture news archive for 07 July' 2006.
Culture news archive for July' 2006.
Culture news archive for 2006 year.