Culture news
Bright Sparks
07.07.2006 13:37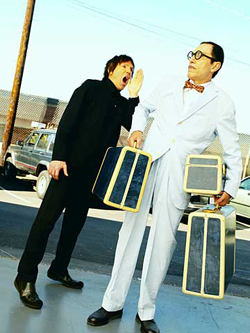 By Sergey Chernov
Staff Writer
Sparks, the seminal art-pop band from Los Angeles that changed the course of pop music with its 1970s albums such as "Kimono My House" and "Propaganda," inspiring generations of listeners and musicians — most famously Morrissey — makes its local live debut, several months after playing a pair of very diverse concerts in Moscow.
In St. Petersburg, Sparks will perform an oudoor "best-of" show and a few songs from its most recent, surprisingly refreshing album "Hello Young Lovers" as part of the Stereleto series of events.
In concert, brothers Ron Mael on keyboards and Russell Mael on vocals will be backed by the band's long-time drummer Tammy Glover, guitarist Josh Klinghoffer (who has played with Beck, PJ Harvey and, most recently, Gnarls Barkley), the former Faith No More guitarist Dean Menta and ex-Red Kross bassist Steve McDonald.
Russell Mael spoke to The St. Petersburg Times by phone from his home in Los Angeles.
"Hello Young Lovers," your new album, sounds very fresh. How did you achieve this?
Well, your comment that it was a fresh sound is pretty much the motivation behind how we approached this album. You know, it's our 20th album, and at this point of our career we just don't want to be recycling things as far as what Sparks has done in the past. It is also just as countermeasure to what we hear going on just in general in pop music at the moment. That seems to be based on the past and based on formulaic ways of working and traditional song structures and traditional instrumentation, and we just wanted to find a way to try to eliminate a lot of those conventions from the past and try to find fresh ideas and fresh ways in approaching doing an album. We think we succeeded with that task.
The title "Hello Young Lovers" with the record's cover art featuring dozens of rabbits could be taken as somewhat sarcastic. To whom does it address?
We didn't know what it was going to be called beforehand, and we just thought afterwards that a lot of the songs within the album deal with relationships in a certain way but hopefully in a kind of fresh sort of way, a fresh angle. Like a song like "Perfume" where it's talking about a guy liking his new mate because she doesn't wear any perfumes that remind him of his past relationships, and things like that.
The title "Hello Young Lovers" is kind of a cliched title, it's been a song title before. We thought just a combination of that with the lots and lots of bunny rabbits seemingly crammed in together in one frame somehow bore some relationship to that title and sensibility.
"(Baby Baby) Can I Invade Your Country" sounds as if it's dealing with both romance and the politics at the same time.
I think it does, it's on two levels again. You can take it as a relationship song, too, because it's saying, "Can I invade your country, baby?," so in a certain way it's speaking in a very primitive way, about a relationship, but then it also combines this kind of overly jolly-sounding chorus which is so happy but with the lyric of "Can I invade your country," which is not such a happy topic. We just like the contradiction of those two elements, plus the confusion speaking about the relationship, so it's speaking about the current affairs in the world.
The line "screw the past" in "Perfume" was picked up by the reviewers who wrote about the album.
I think that maybe what they've picked up from that "Perfume" song maybe summarizes a lot about how we feel. You know, we don't like to look back on the past because it's paralyzing to do that and so in all sorts of ways, musically, to have to look back is dangerous for creativity. I think that that comment sort of does exemplify a lot of how we felt about approaching this album.
You once said that you didn't like "funny songs," Sparks songs are dark and funny at the same time.
It's not funny in the sense of comedy, but it seems sort of… humorous... But then the humor relates to deeper matters.
Morrissey was an early fan writing letters to the NME about how he liked "Kimono My House." Do you feel the influence of Sparks in his songs?
I think he's always said that we've been a big influence on him. We've met with him recently. We even did a remix for him recently on an album called "Future Retro." We did a remix on "Suedehead" in a kind of non-club way.
I don't see not any similarity musically, but there's some similarity in the sensibility of the lyrics and the mindset of how both he and Ron approach lyrics. I think there is some similarity in the sensibility. Musically I don't see much overlapping in what the two of us do, but there's, I think, just the fact both he and Ron care about lyrics in a big way is something, you know, that most artists either don't care that much about it or just incapable of doing lyrics that are really clever and have something really fresh to say and a fresh approach in how they say it.
In its early years Sparks was frequently mistaken for a British band, and you became popular in Britain before in the U.S.
Yeah, that's right. We have always been more akin to British music, just in a general way, and we always were Anglophiles, when we were first starting, so ironically enough people just assumed that we were British. The tone of the music and our sensibility in both, the musical sensibility and our visual sensibility was more akin to what was going on in Britain, especially early on. So I think that there's that sensibility that relates more to the British audience.
So what were these influences when you started out?
We really liked English music when we were first growing up. The early Who and the early Kinks and the Move, bands like that, just a lot of stuff from Britain where it was both musically really strong and lyrically strong, and there was fashion sense to those bands as well, and all those elements were really important to us.
What about classical music and opera?
I think that came a long, long time later, and especially more for Ron, he really does a lot of classical stuff. But a lot later on, not at the beginning, at the time when we were doing those early albums like "Kimono My House." Neither of us was listening to much classical stuff at that time.
Has your film-making background influenced Sparks work?
I think maybe in a certain way because we like to see things in cinematic terms where music can be, you know, as big as a film. You know, you've got limitless ways just to say things and you can make things if you want to be big and have big mood changes like those mood changes in films with editing and all. Especially on our new album, there are lots of changes that are cinematic in the way they are approached, where the shift of the tone of something can go from being really happy, perhaps, to being something all of a sudden really dramatic and more emotional. And I think those sorts of elements are maybe something that's tied to us liking cinema a lot, and thinking that music can also be cinematic in its approach.
What films, what kind of filmmaking do you like?
Well, both of us really like people like Orson Welles a lot, just everything that he's done. Lots of Japanese filmmakers, like [Akira] Kurosawa, and Wong Kar-Wai, the Chinese director. And, you know, also we were watching [Sergei] Eisenstein films as well in a film school, so the Russians as well.
Has there been any influence of literature and poetry?
I don't know if there's anything such specific... You know, specific authors or things, or poems. But just the fact that we're both worldly people and we read all sorts of things, and are just paying attention to life and observing all the time. And we both, especially Ron has read all of Shakespeare plays that there are. There's always that sort of interest.
Sparks' work appears to be very organic, but you and Ron seem to be responsible for different aspects. How does it work?
In a studio it's basically the two of us and for the new album we recorded for two years, and Ron plays all the parts and does all sorts of musical stuff, and my role is more... I do, you know, the engineering of the albums, and then also obviously all the singing parts and that sort of thing. Our roles is pretty divided and don't overlap so much.
After the album has been finished, what are you doing now except for touring and performing?
We really don't know. It took two years to do this album, and before we'll start the next project whatever that might be, we want to make sure it's something that's again fresh and something with an angle that's going to be, you know, not just going through the motions. So now we're taking time even to think before we just start recording... We don't even know if it's specifically an album or it's related to a film or it's related to a theatrical play or performance, we're just trying to figure out exactly what we want to do.
What music do you listen to now? Have you heard any interesting new bands?
Oh, the problem is that we are pretty disenchanted with most new music, and, to be honest, we listen to a lot but we just don't hear a lot that's really compelling in ways that you feel pop music should be compelling, and that's why even from Ron's standpoint and maybe from my standpoint we listen to a lot of classical stuff, just because we have to find some sources of inspiration rather than trying to draw on the other pop music at this point, be inspired by and say, 'Wow, that's really fresh!' We're finding it's harder and harder to find those kinds of things that inspire from pop music, so we turn to other forms of music or the other forms of entertainment to get inspired by something that you can, you know, even equate to pop music.
Sparks performs at Molodyozhny Theater's gardens on Saturday.
www.allsparks.com
News source: times.spb.ru


Print this news
---
Culture news archive for 07 July' 2006.
Culture news archive for July' 2006.
Culture news archive for 2006 year.