Culture news
The French connection
07.14.2006 14:50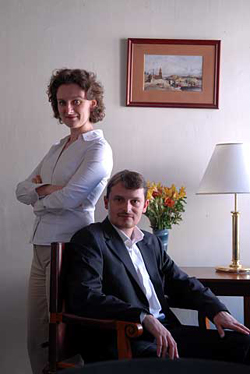 By Galina Stolyarova
Staff Writer
On the occasion of Bastille Day on Friday, the new director of the French Institute talks about French culture in St. Petersburg.
L'Art de vivre, or the art of living, is the essence of French culture for Helena Perroud, who is in her first year in St. Petersburg as the director of the French Institute. Perroud arrived in town almost at the same time as her husband Martin Bonnichon, head of the France's Economic Mission in St. Petersburg, formerly an advisor to the French Finance Minister and financial director for the Centre Pompidou in Paris.
A French home, says Perroud, reflects the philosophy embodied in a line from Charles Baudelaire's poem "L'invitation au voyage": "LÈ, tout n'est qu'ordre et beautÎ, Luxe, calme et voluptÎ."
"First of all I mean the precious little nuances that make a difference, and create the atmosphere," Perroud said. "For instance, it involves anything surrounding the dining experience: fine dishes, flowers, linen... after all, the French believe that cuisine is the eighth art, after the cinema!"
Perroud's own office overlooking the State Academic Cappella is a compelling illustration of this philosophy, with Nobilis curtains and a stunning replica of Napoleon's portable leather camp-chair and table, a gift from French company Grange that makes refined copies of museum relics, standing in the far left corner.
Born in Moscow in 1971, Perroud studied at the Lycee Louis le Grand and subsequently at the Sorbonne Paris IV. Prior to her arrival in St. Petersburg, she worked for France's president, Jacques Chirac, as advisor on education.
Describing St. Petersburg as the Russian city where the Soviet past is perhaps felt the least, Perroud feels that a harmonious architectural landscape affects the mentality of the citizens.
"The city was founded to be a capital, and this place still oozes history and sends out a tangible 'imperial' vibe," she said.
For Perroud, St. Petersburg is a bridge connecting Western Europe and Russia as a whole. She feels the city has a special attraction for Western Europeans.
Martin Bonnichon concurs, calling the city a European Utopia.
"The city was built by the architects, who for various reasons could not fulfill their projects on home soil," he explains.
"A good case in point is Auguste de Montferrand, the architect of St. Isaac's Cathedral."
"Most cities in Europe already existed when St. Petersburg was being created, and it simply wouldn't have been possible to do that amount of creative and planning work in any other place," he added.
In pre-Revolutionary years many Russian aristocrats spoke Russian with a subtle French accent. One hundred years and three political regimes on, French is still taught in St. Petersburg much more widely than in Moscow.
But for a native speaker the standard of French can leave something to be desired.
"A number of local restaurants print their menus in French but with lots of embarrassing mistakes," Perroud noted. "I introduced myself to their managers and offered to edit the texts for free but to my surprise nobody seemed in the slightest bit interested."
"Very few people know that the French Institute in St. Petersburg was originally opened in 1911, then relaunched in 1992," Perroud said. "It is very exciting to continue this historical tradition."
"In this respect, we are even older: The first-ever foreign trade mission in the whole history of French diplomacy was established in St. Petersburg in 1896," Bonnichon adds.
The city's noble history aside, the diplomats tangibly miss French courtesy on the banks of Neva River.
"Nobody says hello in our building, people just pass by with indifferent faces, something that would be unthinkable in France," Perroud said. "One may call it politeness but perhaps it is a reflection of a reserved mentality."
As the new head of the French Institute, which promotes French language and culture in St. Petersburg, Perroud focuses on cultural trends.
"It is important that the Russians get an idea who and what is currently admired in France, without decade-long delays," Perroud said, referring to recent visits to the city by the writer Michel Houellebecq, and the composer and pianist Karol Beffa. "I would like to bring as many bright personalities and especially up-and-coming talent as possible."
When Perroud asks locals what associations with French culture come to mind, she typically gets answers that are alarmingly traditional.
"Most people mention Gerard Depardieu, the theater Comedie Francaise, Joe Dassin and the Eiffel Tower — which is wonderful but this limited range betrays a lack of exposure to France," she said. One of Perroud's upcoming initiatives is a visit by Dominique Paini, director of the Fondation Maeght, the largest private art collection in France.
"The gallery has a wonderful selection of artworks that would be thrilling to exhibit here, and also new Russian collectors have a lot to learn from Mr Paini and institutions like the Fondation Maeght," she said.
For the French, St. Petersburg is a neo-romantic ideal, Perroud observes.
"The city is less known than Venice but has an equally strong romantic charm and flair around it," she explains. "That makes it easy to convince people to come here."
To enhance French-Russian interpenetration, Perroud is working on establishing an association of the Friends of St. Petersburg's French Institute in France. The alliance will count among its members some of France's most prominent people in culture and the arts, for instance, Christine Albanel, the director of Versailles museum, and Jean-Marie and Chantal Fournier, owners of Salle Gaveau, one of the most famous concert halls in Paris and founders of the Monte Carlo Music Masters classical music competition, Perroud said.
Parents of three daughters, aged 6, 4 and 1 1/2, Perroud and Bonnichon are familiar with what French children appreciate the most. Their favorite book, which they hope to promote to St. Petersburg kids, is invariably Herge's Adventures of Tintin. The Tintin comic book series, fusing history and humor, tops the list of the most memorable childhood books for a number of French writers. Tintin, the boy reporter, has adventures all over the world, anywhere from Tibet to Soviet Russia.
The 23 Tintin books have sold more than 200 million copies worldwide, in 50 languages, and continue selling at least 2 million copies annually, according to Britain's newspaper The Guardian.
Tintin was recently voted the greatest French-language graphic novel of all time in a poll of professionals, editors and critics and the French put it among the top fifty most important books of the 20th century in a recent survey published by French newspaper Le Figaro.
The French Institute in St. Petersburg is located at 20, Moika embankment. The French Economic Mission can be found at 11, Moika embankment.
News source: times.spb.ru


Print this news
---
Culture news archive for 14 July' 2006.
Culture news archive for July' 2006.
Culture news archive for 2006 year.