Culture news
The bible of booze
08.04.2006 15:04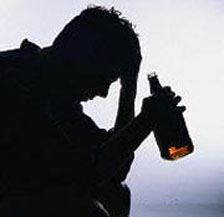 By Anna Malpas
Special to St. Petersburg Times
A local author has published an anthology of alcohol-soaked memoirs touching on the philosophical.
Writers muse on the meaning of hard drinking in their lives in a new anthology, "The Blue Book of the Alcoholic," which includes short stories, biographical sketches of bohemian artists and an account of drying out at a U.S. rehab center.
Put together by the St. Petersburg writer Pavel Krusanov, the book does not exclusively preach the benefits of sobriety, and its name comes from the affectionate term "sinyak," or "blue person," used to describe a lush, rather than the blue-covered "Big Book" published by Alcoholics Anonymous.
The anthology begins with the transcript of a discussion about alcohol that Krusanov held with some other writers in 1994. The often-philosophical debate was first published in a magazine called "Yo" that the participants put together in the mid-1990s. Unfortunately, there was only one issue.
"There are plenty of bastards who drink moderately," writer Sergei Korovin comments. "Of course, I don't consider them to be people. They are not our comrades." He also refers to a rule of thumb: "When someone is asked his opinion of another person, the answer is often, 'I don't know, I haven't drunk with him.'"
Krusanov himself describes drinking as "going on reconnaissance" and talks about a friend who calls his binges "getting into a B-52 and flying on a mission." The stenographer's notes add that two bottles of Rossia vodka were downed during the discussion.
The book continues with several newly published works — including a short story by Korovin — and selected writings that were previously published in samizdat and small editions, such as Maxim Belozor's "Magic Country," which came out in 1999 with a print run of only 500 copies.
"Magic Country" is a collection of reminiscences about Belozor's circle of bohemian friends in Rostov-on-Don in the 1980s. One is the artist Avdei Ter-Oganyan, who gained notoriety in 1998 when he defaced Orthodox icons as part of a performance. Often reading like anekdoty, the stories also have a darker side, as introductory notes by Belozor allude to the premature deaths of many of the participants.
"While I was writing, I started feeling some kind of moral debt toward our group of friends... mainly because, after just a few short years, there have become far fewer of us," Belozor writes. But he continues: "What will we remember when we are old? The same thing that we remember now: how we drank."
In one story, Ter-Oganyan is looking for an apartment. A potential landlady calls and a guest picks up the phone. "Yes, yes," he says. "You know, he is passed out drunk right now. Would you mind calling back?" In another, the artist and a friend drink vodka outdoors on a bitterly cold winter day. A man walking past with two small children hurries them along, saying: "Look, the daddies feel hot, and they're having a drink of water."
One tale features three hung-over friends who need money for the hair of the dog. They contact an acquaintance who says his mother has promised to buy him trousers and shoes. He calls her and explains: "Here in TsUM, they have Salamander shoes, yes, yes, 200 rubles, I'll come and get the money." "But what about the trousers?" one of the friends asks indignantly. "I feel sorry for my mother," he replies. "Everything is so expensive nowadays."
The book ends more seriously, with an account of the musician and writer Vladimir Rekshan undergoing treatment at an addiction center in Maryland. He notes in a postscript that he has been sober for more than a decade.
Two of the book's contributors are now members of Alcoholics Anonymous, the editor Krusanov wrote in an e-mail. "For the social group to which the authors of the anthology belong, it's true that reckless drinking is now in the past. Now, if these people drink at all, they mainly drink as a means of socializing."
News source: sptimes.ru


Print this news
---
Culture news archive for 04 August' 2006.
Culture news archive for August' 2006.
Culture news archive for 2006 year.