Culture news
Music makers
08.04.2006 14:57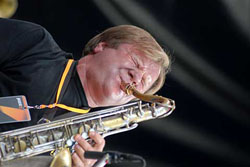 By Yelena Andreyeva
Special to St. Petersburg Times
Photo by Alexander Belenky
Musicians Igor Butman and David Goloshchokin were among the stars headlining the Jazz Q Festival in St. Petersburg two weeks ago, and to take advantage of the shared billing of two of Russia's premier jazz stars, the St. Petersburg Times spoke to them to take the temperature of jazz in the country today.
Butman, who came to St. Petersburg from Moscow to take part in the festival, performed with his big band and St. Petersburg-based jazz maestro Goloshchokin, artistic director of the Jazz Philharmonic Hall. He played at the St. Peter and Paul Fortress for an hour, presenting improvisations of jazz and classical compositions.
St. Petersburg born Butman introduced Goloshchokin as his "first teacher and boss," and they represent two generations of jazz in Russia. Their views on the subject reflect this difference.
"The main advantage of Jazz Q festival is that it is held outdoors," said Butman. "It gathers many high-class performances, many world-famous stars."
Besides foreign jazz celebrities, many prominent young Russian musicians took part in the festival.
"Now, many Russian musicians have improved their professional skills while performing abroad, in the U.S., U.K., Germany and other European countries. Their musical level always gets higher and higher and soon it will be able to develop into something new and open a new stage in the world of music," Butman said.
Butman lived for seven years in the U. S. studying at the Berklee College of Music in Massachusetts. He's highly appreciative of American culture but considers Russia home.
"I do feel Russian and a patriot, I am proud that I was born in this country," he said. "I like Russia, America, Italy, I just think that there are no borders in art, like human feelings have also no borders."
It is the mixture of cultures and nations that produces artistic talents, Butman said.
"In Russia, we have such a mix of people and that's why we have so many good music bands. When there are many cultures combined in one place, they compete and support one another at the same time. It produces an impressive outcome, especially in jazz improvisation."
In Butman's opinion, now jazz is gaining wider appeal.
"Jazz doesn't take just one direction. Like many other musical genres, jazz improvisation is taking roots in other cultural and national musical experiences [in Russia]."
Although his first love has always been only jazz, Butman said that he also likes some modern hip hop, rap and rock music as well as academic classical compositions.
Butman is always involved in several projects at the same time. At the moment, besides performing, Butman is composing the soundtrack for Boris Kazakov's new film "Lovers," gives concerts with his big band and quartet in Russia and all over the world and runs his own jazz club, Le Club, in Moscow.
"When I started a jazz club it was not easy to persuade my business partners that it would be a success. We had to find professional people, get into contact with the musicians, make them come to perform at our place. There was much work to do but it worked out." Now, he has been asked to start a jazz club in Rostov and a new jazz festival in Astana, Kazakhstan. However, Butman doesn't consider himself a businessman. "If it is so, I am more a producer, a creative businessman," he said.
Asked about the secret of his success, Butman said that he just does what he likes to do.
"You just always need to improve your skills, to learn something new, and not to think that there are hidden enemies scheming against you. If you enjoy the taste of what you are doing then you are going the right way and luck will find you for sure."
Unlike Butman, Goloshchokin thinks that among the participants of the festival there were not jazz musicians but the representatives of absolutely different genres.
"In my opinion, the name of the festival Jazz Q is irrelevant," Goloshchokin said. "I think, besides, Butman's Big Band and Eddie Palmeri's band that performs Latin American jazz, all other musicians play different samples of the modern experimental fusion music. I think there is a need for such a festival but it really can't be called jazz."
Goloshchokin said that he thinks that in Russia the organizers of musical festivals sometimes make the same mistakes that their foreign colleagues used to make. "There was a good North Sea Jazz Festival held in the Hague. Then, in Europe, they started to move gradually from jazz to fusion, jazz rock and ethno jazz . And now 80 percent of performers who take part in the North Sea Jazz Festival are pop and rock musicians. There is no reason for St. Petersburg to take the same wrong track."
In Goloshchokin's opinion, most of the Jazz Q audience were young people who often get their first impressions of jazz at festivals.
"It would be wrong if they think that it is real jazz not just modern fusion," he said.
Having run his own jazz festival, White Nights Swing, which takes place in St. Petersburg in the middle of June, Goloshchokin thinks that Russian jazz healthier than foreign jazz.
"In the Soviet Era we got to jazz a bit later than America or Europe and have always been behind them. Maybe that's why, in Russia, we have more mainstream jazz than abroad."
According to Goloshchokin, the most important thing for young musicians is to study jazz heritage in order to improve their skills.
"Jazz is developing so fast that the young generation of jazz performers always tries new genres, not having yet found out about the old jazz music. And they can't develop fast without that essential knowledge of jazz background."
However, not only jazz has problems, Russian popular music is in deep crisis too, Goloshchokin said. "Although most of all I love jazz, I like good music in other genres too. For me, there can be just good and bad music and nothing else."
Goloshchokin considers modern popular music "a typical commercial product made for discotheques."
"I just can't take it seriously. Pop music is in deadlock now. I think later, we'll inevitably get back to our classical roots. It is always bad when commercial interests interfere in the development of art. And that's what we have now."
News source: sptimes.ru


Print this news
---
Culture news archive for 04 August' 2006.
Culture news archive for August' 2006.
Culture news archive for 2006 year.