Culture news
Smoke on the water
08.04.2006 14:50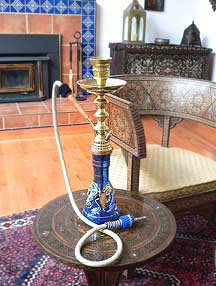 By Liza Hearon
Special to St. Petersburg Times
Hookahs may be the only nightlife trend that has existed for centuries.
Oxygen bars and swing music quickly became passő, and even the almighty sushi is last yearís news.
But everyone from grandfathers to students in southeast Asia and the Middle East have been puffing away on the tobacco pipes for hundreds of years before St. Petersburgís fashionable set got a hold of them, and the smoke shows no signs of clearing soon.
Hookah bars often spring up around college campuses first, then work their way into the nightlife scene. But in St. Petersburg, hookahs can be found everywhere from small Middle Eastern cafes to beach playgrounds for the rich and trendy.
A hookah is made up of the base, which is filled with water, and the bowl, which consists of the tobacco and heating apparatus. A pipe connects the two and is inserted into the water, and it is smoked through the hose, which connects to the air filled portion of the base.
Devotees say that smoking tobacco through a hookah is a lot smoother than smoking cigarettes, as the water cools the tobacco. Smoke is pulled away from the tobacco and filtered by the water before the smoker inhales it. The process also partially filters tar and nicotine from the tobacco. While some claim it is much healthier than smoking cigarettes, doctors arenít so sure.
The uncertainty isnít stopping anyone. At some places, the base can be filled with wine, milk or rum, giving what one smoker described as ďa total buzz, man.Ē There is often a huge variety of tobacco flavors, such as apple, strawberry, mint and cherry.
Hereís a sampling of some of the many hookah joints in St. Petersburg.
Ego Cafe
8 Sadovaya Ulitsa. Tel: 431 9836
www.egoclub.ru
This cafő tries to offer something for everyone, and certainly didnít want to miss out on the hookah craze. The atmosphere and menu are a curious mix of traditional, modern and vaguely Asian. While Ego doesnít really have a legitimate claim on the hookah tradition, hookahs donít seem entirely out of place here, and most patrons seem to order a hookah.
The couches in the upstairs area are cozy spots to share a hookah with friends. The vaguely international sounding music isnít pumped out too loudly, so itís easy to share whatever thoughts run through nicotene-laden brains. Hookahs run at 400 to 600 rubles ($14.94-$22.42), with a good selection of fruit flavored tobacco and choice of water or wine for the base.
Cynic
4 Antonenko Perulok. Tel: 312 9526
www.cynic.spb.ru
It may be a dingy basement bar, with rock and roll blasting until all hours of the night, but hookahs seem to strangely jibe with the atmosphere at Cynic.
Maybe itís the fact that in no way can Cynic be described as Asian or Middle Eastern, serving decent Russian food to the bohemian and punk rock types who frequent the bar. This poor student population is probably exactly the type who can happily wile away an evening puffing away, just like their students all over the world and throughout time.
So while the long tables and benches in Cynic are usually not teeming with hookahs, itís normal to see at least a couple of the contraptions in use, provided by man whose only job it it is to set the thing up for you and relight it when it goes out. Itís definitely not a place for those sensitive to smoke though. With no ventilation in the basement bar, the tobacco and hookah smoke linger in the air far longer than is probably healthy.
Magrib
84 Nevsky Prospekt. Tel: 275 1255
magrib.a-alliance.ru
Magrib place lays on the Middle Eastern touches thicker than the smoke at Cynic. There are ornate gold furnishings, tile and servers dressed to create an illusion of leaving Russia and entering a sensuous, exotic nightclub. Extremely dim lighting only helps the imagination.
The restaurant becomes a somewhat notorious dance club at night. Along with picking up some company for the evening, patrons can also try out, erm, a hookah.
The tables designated for hookah smoking are lined with couches and big, comfy cushions, right near the dance floor.
Hookahs are on the pricey here, at 600 rubles ($22.42), along with most everything else at this bar. Tobacco choice is limited to a few standard flavors, like cherry and apple.
Magrib is the type of place for people who want to see and be seen smoking the hookah, but the die-hard hookah fans who are more into the social experience might want to look elsewhere.
Barbaria
55 Marata Ulitsa. Tel: 164 7333
Barbaria is another Middle Eastern themed restaurant but without the pretentiousness of Magrib, and out of the way of Nevsky Prospekt crowds.
Advertisements claim that Barbaria has the cityís largest selection of hookahs, tobacco flavors and ways to replace the water in the chamber. This may or may not be true, but the restaurant does have a solid selection, ranging from a regular hookah with water for 390 rubles ($14.57), to the most expensive one of rum and milk for 900 rubles ($33.62) The tobacco selection is good, and includes apricot, apple, strawberry and cherry.
The hookahs are in good condition, and the staff is friendly and accommodating. Barbariaís menu features Middle Eastern specialties which are slightly overpriced.
While the music and atmosphere might not be draws in and of themselves, Barbaria is a good place for hookah conversation.
Kashmir
7 Bolshaya Moskovskaya Ul.
Tel: 314 2300
This small vegetarian Indian restaurant features hookahs on almost every table. Itís a refreshing change from the pseudo-hip atmospheres of other places, and the random dodgy hookah cafes that are sprinkled throughout the city.
Hookahs are reasonably priced at 400 rubles ($14.94) and while there is not the variety or the coolness factor of other places, it does make for an enjoyable after-dinner activity.
Royal Beach
12 Yuzhnaya Doroga, Krestovskiy Island. Tel: 916 6006
This beachside playground for the fabulous tries to feature everything and anything trendy and exciting, and this of course includes hookahs.
Styled after European beachside clubs, Royal Beach has outdoor style lounges, with DJs who are hip for people in the money crowd.
It practices strict ďface control,Ē and is a perfect example of how hookahs have moved from lowbrow cafes and bars to playgrounds for the trendy. It would be nice to include more information here, but they probably wouldnít let us in. We figure weíd better stick to Cynic.
News source: sptimes.ru


Print this news
---
Culture news archive for 04 August' 2006.
Culture news archive for August' 2006.
Culture news archive for 2006 year.