Culture news
City Bar is back!
08.11.2006 12:36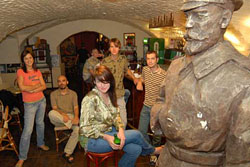 By Sergey Chernov
Staff Writer
Photo by Alexander Belenky
A popular bar for expats and independent travelers has ambitious plans.
City Bar, the ultimate expats' hangout that called it quits six months ago, has magically returned and will have what its hostess Aileen Exeter calls "quiet summer opening" on Friday.
"When I went back to America, I missed the bar so much," said Exeter this week. "I missed people coming in, most of the friends I have are from the bar."
The new City Bar at 20 Furshtatskaya Ulitsa, is well located right across the street from the U.S. consulate. The building also hosts the representative office of the President of Kalmykia, Kirsan Ilyumzhinov.
According to a plaque on its outer wall, the building was also frequented by Vladimir Lenin, who used the apartment of Bolshevik sympathizer Dmitry Stasov there as a hideout in 1917.
Exeter, who lives in the same building, said she got the idea to reopen City Bar there when she noticed that Polyglot restaurant, which occupied the basement, closed.
Arrangements to open the bar were made quickly (Exeter said she got the keys to the rooms early last month), but since the place was previously occupied it was in good condition and did not demand much reconstruction.
Although a telephone line has yet to be installed, Exeter said the place will soon be equipped with state-of-the-art technology, from free Wi-Fi to Internet television, Internet telephone and video phone — whatever expats and independent travelers may need.
The entertainment program will include intimate acoustic concerts, stand-up comedy and occasional DJs, said Exeter.
City Bar expects to get its liquor license in a month's time and to throw a bigger opening party in September, but for the time being serves beer: Baltika for 80 rubles and Fosters for 120 rubles.
City Bar's international menu has a stress on simple American cuisine and will include its famous hand-ground hamburgers (200 rubles) as well as pork chops, fried chickens, pizza, and pancakes with maple syrup.
According to Exeter, the major difference between the new place and the old City Bar is that she is no longer the principal owner. She has two young Russian partners, Yury Voskresensky and Alexei Ishutin, and 10 percent of the enterprise belongs to City Bar's staff, which is comprised mostly of students.
"It's very symbolic, but it's good, because people are working for ownership, too," said Exeter.
Voskresensky is the editor of the Stockholm School of Economics' U-Journal and Ishutin is the general director of the Russian arm of Mercury, a company that trades in speedboat motors.
As with the former place, the new City Bar is designed by American David Bienn.
Until it was closed in February, City Bar had been on the scene for nine and a half years. First launched in the Cappella building on Bolshaya Konyushennaya Ulitsa, it move to its second location not far away on Millionnaya Ulitsa in 2002.
A hit not least because of the personality of Exeter, who meets and chats with guests, City Bar was more than just a bar. It also served as a community center, a meeting place and an "ideas exchange," with some people discussing their businesses and making valuable contacts.
Having given the old City Bar's books and videos to the American Corner, Exeter has started a new small English-language library that she hopes will quickly grow as patrons start to add stuff to it.
The new bar marks Exeter's first attempt at franchising, with plans to launch expat-oriented bars, with City Bar's trademark menu and atmosphere, in Kiev and Warsaw next year.
"There's so much globalization, there's much global traveling, so it should work," she said.
City Bar, 20 Furshtatskaya,
M: Chernyshevskaya/Mayakovskaya.
www.citybar.ru.
News source: times.spb.ru


Print this news
---
Culture news archive for 11 August' 2006.
Culture news archive for August' 2006.
Culture news archive for 2006 year.