Culture news
Andrea Bocelli, Palace Square, St Petersburg
10.10.2006 13:55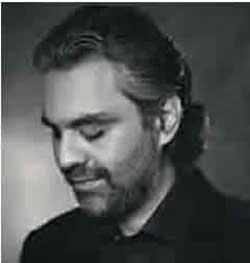 The opening night of Andrea Bocelli's European tour is also his first ever concert in Russia. Over 100,000 people have gathered in Palace Square for this free event funded by the road-sweeper-turned-billionaire Roustam Tariko, who is reportedly nostalgic for "Russia's imperial greatness", so the setting makes sense. The conductor Marcello Rota has his back to the majestic façade of the Hermitage, but live video-screen footage shot from the stage grants us a view of it.
The only worry, it seems, is the encroaching night chill. When Rota leads the blind Bocelli on to the stage, clouds of breath can be seen pluming from the Pisa-born tenor's nostrils. It isn't really singing weather, especially as the singing in question is so technically demanding.
Though Bocelli's forthcoming album Amore sees him covering songs made famous by, among others, Elvis Presley, tonight it is strictly opera. But his set isstill peppered with crowd-pleasers: Puccini's "E lucevan le stelle", Denza's "Funiculi, funicula", even "Nessun dorma!". Bocelli's easy, rich delivery of the last aria may not have the oomph of Pavarotti's , but it has charm enough to prompt women to throw flowers. Alas, the stage is high, and their bouquets keep bouncing back.
There are sonic bounces tonight, too. When the Bocelli diaphragm powers a crescendo, then stops on a rouble, it results in an odd echo from the surrounding buildings. These are not the acoustics - or temperatures - in which Bocelli can be accurately or fairly judged, then, but to these ears, he makes a heart-warmingly fine job of whetting the non-opera buff's appetite.
For all the recent gripes about his technique in The New York Times, moreover, it is not Bocelli but rather the baritone Alberto Gazale who can't quite hold the final note when the pair duet on Bizet's "Au fond du temple saint". Elsewhere, Bocelli's control and poise as he sings Lara's "Granada" gives me goose flesh, while the evening's third encore, a duet with the Albanian soprano Inva Mula on "Con te partiro" has the crowd drumming up thunder with their rapidly stamped feet.
As Bocelli and entourage speed to the airport, "Also sprach Zarathustra" booms from the PA system and fireworks light up the sky. A suitably climactic end to a wonderful night.
Andrea Bocelli tours the UK to 8 October
News source: independent.co.uk


Print this news
---
Culture news archive for 10 October' 2006.
Culture news archive for October' 2006.
Culture news archive for 2006 year.