Culture news
Sound waves
01.19.2007 11:49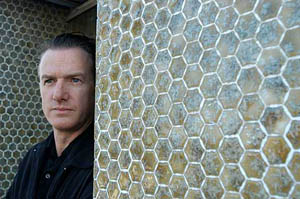 by Sergey Chernov
Staff Writer
Australian musician Mick Harvey, co-founder of Nick Cave & the Bad Seeds, Boys Next Door and The Birthday Party, has taken a break from playing with fellow Australian Cave to put together an album of his film music.
In a recent email interview from his home in Melbourne, Australia, the 48-year old Harvey, whose recorded solo work includes a pair of acclaimed tributes to the late French singer/songwriter Serge Gainsbourg, explained his interest in composing for films.
"It is a great creative outlet and challenge, to find the atmosphere and sense of the film in music," he said.
"Many people feel that music is the soul of a film and often that is the case, so it's a big responsibility and an exciting artistic endeavor."
Released in Russia on SBA/Gala Records Inc.-EMI, "Motion Picture Music '94-'05" is Harvey's second compilation of film music featuring pieces he wrote for a wide range of cinematic works, including "Lighting Fires," Geoff Bennett's documentary of Sydney-based painter Tim Storrier, to "Rien ne vas plus," a German "photo film" by Katja Pratschke and Gusztav Hamos featured at last year's Venice Film Festival, and "Chopper," Andrew Dominik's feature film based on the autobiography of legendary criminal Mark "Chopper" Read.
Harvey said these films do not have much in common.
"Not really, other than the filmmakers asking me to do the music, though all of them, perhaps unsurprisingly, have an element of tragedy about them," he said.
"There must be something about my body of work which attracts those particular filmmakers to me."
Though most of the films featured on the album are not available in Russia, Harvey reckons it is not necessary to watch the film to enjoy the album.
"Many people are interested in soundtrack works in general," he said.
"It's not a mainstream thing but then most of what I do isn't in the mainstream. I just had a lot of material from films I'd worked on over the years that I liked and I'm in the fortunate position of having some public profile and a record label which is interested in releasing my stuff. I can get it released so I do. Wouldn't you?"
Composing for soundtracks, is often a question of creative control — usually it is directors who have the final say on what music will be used, but Harvey said this is not the case with him.
"My special arrangement with the directors is usually that I'm friends with them or at the very least that I know them well," he said.
"It's true that the director, or in the worse case scenario, the producers have final say in what is used in a particular film. The only way around that is to have a very good working relationship with the director. This has worked for me so far. The couple of times this was not the case did not work out satisfactorily."
Film music is often supposed to be illustrative or create a mood and can hardly be separated from the picture, but Harvey said it was not a problem for him.
"I had a lot of music to choose from," he said.
"Obviously in instances where I felt this was the case I didn't use those pieces of music."
Twenty years ago Harvey and Cave's band The Bad Seeds was exposed to the camera in Wim Wenders' 1987 movie "Wings of Desire."
"I don't remember, but that certainly didn't help get me any film composing jobs," said Harvey.
"It was simply that friends of mine who were beginning to make films began asking me to write their music. Quite simple really."
"Motion Picture Music '94-'05" features material that Harvey recorded in his home music room over five years.
Apart from Harvey's own compositions, the album features "The Farewell Song, Go for Gold," co-written and sung by Nick Cave, but the Bad Seeds is now on hold, according to Harvey.
"Well, obviously it's on pause," he said.
"We haven't played since May 2005 in Australia and Nick has been immersed in film work and Grinderman. The plan is to record a new Bad Seeds album in the middle of 2007."
The next release from Nick Cave & The Bad Seeds will be a live double DVD called "The Abattoir Blues Tour" documenting the band's two shows from 2003 and 2004, due on Jan. 29.
Meanwhile, Harvey is finishing another album of songs, a follow-up to "One Man's Treasure," his 2005 solo effort, to be released in May, he said.
Harvey sings and plays guitar, bass, keyboards, and drums. He has been involved in many Cave-related and Bad Seeds' side projects. In the mid-1980s he formed the band Crime And The City Solution, with whom he recorded six albums until the group disbanded in 1991.
He also collaborated with British singer/songwriter PJ Harvey (no relation), playing on "To Bring You My Love" (1995) and "Is This Desire?" (1998) and producing her Mercury Prize-winning album, "Stories from the City, Stories from the Sea" (2000).
He translated into English and performed songs by Serge Gainsbourg on the albums "Intoxicated Man" (1995) and "Pink Elephants" (1997) that were reportedly praised by Gainsbourg's former wife and collaborator Jane Birkin.
Now again based in Australia after some time in Europe, Harvey said the move did not change his way of working.
"I work from here the same way I've worked from wherever I've lived for the last 20 years. I spend the time in the places where we all congregate to work and outside of that I do my own things in my own time."
Mick Harvey's "Motion Picture Music '94-'05" is out in Russia on SBA/Gala Records Inc.-EMI. Www.mickharvey.com
News source: times.spb.ru


Print this news
---
Culture news archive for 19 January' 2007.
Culture news archive for January' 2007.
Culture news archive for 2007 year.